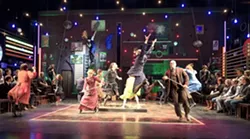 PHOTO COURTESY OF CAL POLY ARTS
SPRING FEVER : Spring Awakening, a daring rock musical based on a late-19th century German drama, won eight Tony awards, including Best Musical.
The question is: Shame—what is its origin?" Melchior Gabor asks himself in the rock musical Spring Awakening. "And why are we hounded by its miserable shadow?"
Melchior, played by Christopher Wood, poses the question that haunts Spring Awakening, a Broadway musical based on Frank Wedekind's 1891 German drama. "Angst" is German for "fear," and the show is an exploration of teen angst in the purest, most German sense of the word. Fears of rejection by peers, abuse by authority, and of the natural changes brought on by puberty—with no one to explain them properly—shape the lives of Awakening's youthful anti-heroes.
The show begins with the young Wendla Bergmann, frustrated with her mother's refusal to properly explain where babies come from. Frau Bergmann can't bring herself to address the topic with her adolescent daughter, giving her instead the unsatisfying answer that to have a child, a woman must love her husband with all her heart.
Wendla, played by Elizabeth Judd, pours her frustration into the heartrending "Mama Who Bore Me." It's the first of many bombastic, beautiful songs, the sheer force of which surprises even the singer.
The play takes us to a class of teenage boys who are studying Latin. The intelligent, brooding Melchior, after a teacher beats his classmate Moritz Stiefel with a stick, expresses his desire to put an end to the narrow-mindedness of the school system—and of society in general—in the song "All That's Known."
Coby Getzug, who plays the wild, enigmatic Moritz on Spring Awakening's tour, describes his character as "all over the place." Tormented by erotic dreams, which he has been told are a sign of insanity, Moritz turns to his friend Melchior for advice.
"He's very nervous," Getzug, 18, said of Moritz. "He's kind of tormented by the changes he's going through. He's searching for answers, and he can't get them."
Moritz's scattered nature helps Getzug keep the role fresh and spontaneous.
"I think it's kind of cool to play a part that's not perfect," the actor told New Times, "because there are so many ways you can go with that. And it allows it to be different every night. It never really has to be one set way."
Though the show deals with heavy issues such as teen pregnancy, suicide, and abuse by parents, reactions by critics and audiences have been overwhelmingly positive—even in the most conservative cities on the show's tour.
"It's not done in a way that would shock you," said Sarah Kleeman, a San Luis Obispo native who plays five adult women in the show. "The plot's about getting a message across."
She remembers thinking the script was powerful when she first read it.
"At the end of every performance, people are on their feet, because they've been moved," Kleeman said. "It does not matter where we are; people relate to it. It's just about humanity."

WAKE UP!: Spring Awakening comes to the Cal Poly Performing Arts Center Jan. 30 at 7 p.m. Visit pacslo.org for tickets, which cost $30 to $68.
There's a refreshing sparkle of humor in some of the musical's most painful situations. Songs like "My Junk" and "Totally Fucked" are honest, raw, sincere pleas to be heard and understood, delivered in the uncensored, unpolished lexicon of adolescence.
Stifled by the classroom environment, and frustrated by unfulfilled desires, Moritz's Latin class bursts into the rambunctious rock 'n' roll number "The Bitch of Living."
"It's just a wonderful thing to watch," Kleeman said. "The play kind of goes in and out of reality."
One minute, it's 1891, and the next minute it's now. "The Bitch of Living" is "one of the songs where they just let 'er rip," Kleeman said, "and they're jumping around, exploding with energy, doing crazy stuff."
Given her opera background, Kleeman, 32, never considered auditioning for a part in a rock musical about adolescents. But apparently, her reputation had preceded her: Kleeman was contacted by Spring Awakening last July, after being recommended for one of the show's adult roles.
"I got a call from Spring Awakening, saying, 'Would you be interested in submitting a video audition?"' Kleeman remembered. "And I'm like, 'Yeah, sure, why not?' At the time, I didn't know that the role had no singing in it—it's just acting."
With the exception of a few numbers in which Kleeman sings with the chorus, her role as all of the female teachers and parents in the characters' lives relies fully on her skills as an actor. Kleeman had studied acting intensively, but generally relied on her vocal talents until Spring Awakening caught her off guard.
"This definitely broadened my horizons, and expanded my ability. It has really pushed me," she said of the part. In the future, she said, "I definitely would look into more straight acting roles."
The 1891 Germany setting clashes wonderfully with Duncan Sheik and Steven Sater's lush rock anthems, and the show's themes, like Melchior's musings on the origin of shame, are as relevant today as they were when Wedekind's drama was written.
"Does the mare feel shame as she couples with a stallion?" Melchior writes in his diary. "Are they deaf to everything their loins are telling them until we grant them a marriage certificate? I think not. To my mind, shame is nothing but a product of education."
Education, perhaps, or lack thereof. More than just a sticky, hormonal romp in the hay, Awakening serves as a cautionary tale about the dangers of ignorance. ∆
Arts Editor Anna Weltner wants to complete the musical cycle with Summer Yawning, Fall Stretching, and Winter Finally Getting Out of Bed. Contact her at aweltner@newtimesslo.com.