Can I borrow your boat for a photo shoot?" asks New Times Managing Editor Ashley Schwellenbach.
PHOTOS BY GLEN STARKEY
DRAINING THE MUDHEN! : The rain-filled Garvey is bailed out and cleaned up as much as possible.
For the record, my "boat" is more of a dingy with a mast. It's a 14-foot flat-bottomed Garvey, a boat made for shallow waters like the back bay near Los Osos or Laguna Lake. Named the Mudhen and purportedly out of Palo Alto, it somehow made it to SLO County, wound up in the ownership of a friend, and was bequeathed to me several years ago. It sits in my driveway under a tarp awaiting refinishing, which my wife Anna believes will never, ever happen. Ever.
When Ashley comes to pick it up for the photo shoot, Anna indicates that she will not be disappointed if it's not returned. Ever.
PHOTOS BY GLEN STARKEY
SPLASH DOWN! : The Mudhen in the SLO Elks Lodge pool.
So it's a Saturday morning and it's been raining and the first thing Ashley has to do is bail out the boat, which is partially filled with water after all the rain. Note to self: You need a new tarp.
Long story short, Ashley and her minions—her boyfriend and ex-New Times staffer Colin Rigley, New Times writer Matt Fountain, and New Times photographer Steve E. Miller—finally drive off with the Mudhen to take it to the SLO Elks Lodge, which has graciously agreed to allow New Times to use its pool for this photo shoot.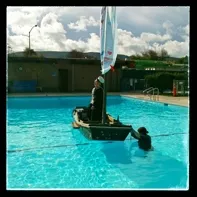 MODELS ON THE MUDHEN! : Adaire Salome and Kim Keating pose in the Mudhen as New Times Managing Editor Ashley Schwellenbach freezes her butt off holding the boat steady in the pool … for an hour!
Please indulge me a brief tangent. Ashley is always coming up with these labor-intensive cockamamie schemes for elaborate photo shoots. They frequently yield incredible results, like the series she and Miller collaborated on with local artists in death situations: an actor poisoned, a musician electrocuted, a dancer hung by the neck. Good stuff!
This time she's enlisted Adaire Salome and Kim Keating as models for the upcoming New Times "Brides" issue. The happy couple plans to be married next fall, and Kim, who's an active duty member of the U.S. Navy, has only recently been able to express her sexuality thanks to the demise of "Don't Ask, Don't Tell."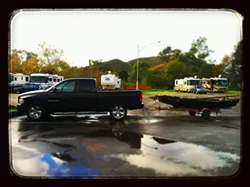 TRAILERED! : Mission accomplished, the Mudhen is trailered and ready for the ride back to my driveway (Sorry, Anna!).
"They're both really into [the 1985 film] The Goonies," Ashley says as she tries to explain her concept, "the whimsy of that, being little kids and running away and having an adventure. I thought putting it in a pool made more sense than the ocean, which would have been perilous and not something kids would do."
Ashley got Adaire to dress in what seemed to my untrained eye to be '40s fashion, while Kim wore a blue sailor's suit. The two women designed and created a sail they felt represented their relationship. It was affixed to the Mudhen's mast. Jennifer Marie Hix did the models' hair and make-up. It had been raining for much of the morning, and Miller set up his lights and equipment and prayed the rain would hold until after the shoot. Ashley jumped into the pool to hold the drifting boat in place.
I love the Elks Lodge pool … in the summer when they heat it! Right now, it's about 60 degrees at best, which is butt cold!
"It hurt in the beginning," Ashley recalls after the shoot, "but then I got used to it, but then it got to the point that I couldn't feel anything at all."
Ashley's been in the water for about an hour while Colin, Matt, my buddies Keith Bond and Cheri DePaulo, my wife Anna, and I are sitting in the 104 degree Jacuzzi sipping drinks and enjoying the show.
By the time Ashley is lifted out of the water, she's shaking uncontrollably, barely able to speak or walk. She slides into the Jacuzzi and seems to get better, but then she complains about how cold the water is … not a good sign! Hypothermia has definitely set in.
All this for one photo appearing in the Feb. 14 special issue? Is it worth it? All I know is, I sure enjoyed seeing my editor freeze her butt off for one of her ridiculous ideas!

Glen Starkey takes a beating and keeps on bleating. Keep up with him via twitter at twitter.com/glenstarkey, friend him at facebook.com/glenstarkey or myspace.com/glenstarkey, or contact him at gstarkey@newtimesslo.com.