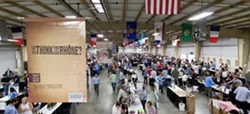 PHOTOS COURTESY OF HOSPICE DU RHONE
HOSPICE DU RHONE: The people behind the largest Rhone wine celebration in the world—set for Friday to Saturday, April 27 to 28, in the Paso Robles Event Center—invite you to immerse yourself in the diverse and endlessly fascinating world of Rhone wines by celebrating their 20th reunion with them.

"Because it's our 20th year, there's been an increase in ticket sales," explained Faith Wells, whose "communicator" title places her second only to HDR Director Vicki Carroll. "People are thinking: I've got to be part of this celebration. Our 20th is a big deal, and we're excited about it."

The seminars will take a look back at some of the first historic tastings that featured Christophe Baron of Cayuse in Washington State, Chester Osborn of d'Arenberg in South Australia, and several producers from Priorat, Spain. See where these popular producers stand today.

During the two-day event, the seminars and grand tastings will introduce guests to 22 distinctive varieties made by international winemakers driven by their passion for Rhone wines. Most winemakers return frequently for this annual Paso Robles gathering to join their peers in singing to the choir and celebrating everything connected with Rhone wines. But don't let the wine geeks intimidate you; HDR offers an edifying yet totally fun experience for the novice, too.

This year, Wells said they're showcasing culinary delights in the special Rhone-focused meals prepared by famed U.S. chefs, as well as treats from local artisan food companies that will be served during the grand tastings. On Friday night, the Rhone Rendezvous features chefs from the acclaimed Blackberry Farm in Tennessee, who will be serving their critically acclaimed foods for everyone. Blackberry Farm was ranked the "No. 1 resort in the continental U.S. and Canada" by Travel & Leisure Magazine.

"The auction is pretty great, too," Wells added. "We've received stunning offerings of rare wines and library wines that will never be found again because they've run out of that vintage."

Although you could always buy tickets for the grand tasting in the past, this year you can also buy tickets for individual seminars, like the Rosé lunch and auction, Rhone Rendezvous, and the farewell barbecue. Prices range from $100 to $155 per person. For more details and tickets, visit hospicedurhone.org. Many seminars are already sold out, so you'll need to reserve any spot that's still open soon or risk missing out.


Twenty years ago, Rhone wines certainly didn't have the cachet they do today, now that so many more Americans have become aware. Wine consumption is rising in America, partly thanks to millennials who realized that perhaps those boomers (or old geezers to them) have it right when it comes to wine appreciation. The upcoming Hospice du Rhone is proof that such wines as Syrah, Mourvedre, Viognier, and Roussanne, or blends of Rhone white or red wines, are no longer favored solely by winemakers and wine geeks. The general public is discovering that the joy of wine appreciation is hardly limited to Chardonnay and Cabernet Sauvignon (although they are still the best-selling varieties in the United States).
PHOTOS COURTESY OF HOSPICE DU RHONE
GOING RHONE : Alban Vineyards in Edna Valley was the first American vineyard to plant exclusively Rhone vines, and they're still promoting the varietal.
A true wine lover knows that it's all about staying open-minded to new experiences, which are more likely found while tasting distinctive varieties like Grenache, Marsanne, and Picpoul Blanc. That's why a tasting event like HDR continually grows in popularity—even after 20 years. It presents the finest Rhone wine producers in America, and the best from France, Spain, Chile, South Africa, New Zealand, and Australia. HDR also deserves credit for spotlighting Paso Robles among the most prominent destinations on the world map for wine connoisseurs.
Twenty years ago, varieties like Syrah, Grenache, Viognier, and Roussanne—among 18 other red and white Rhone wines—needed something more than the second shelf in the grocery store. HDR came into being after an ardent man with a vision named John Alban made a name for himself by planting Viognier and Syrah in Edna Valley. It was 1986, and there were only a few vintners around him, but they considered it Chardonnay country. Leave it to Alban to be the contrarian.
Besides being the first in Edna Valley to plant Rhone varieties, he was the first American vintner/winemaker to establish a winery devoted exclusively to the production of Rhone wines: Alban Vineyards. He attended the first Rhone tasting celebration back east when there were only 22 wineries in attendance. Alban is the founding director of HDR and the only winemaker who can claim he's never missed a single event in the 20 years it's taken place. This year, he'll be celebrating at the 20th anniversary reunion event. Although he said he plays more of a background role, he wouldn't miss it. The HDR celebration wasn't large in the beginning, but it didn't take long to become an international celebration, attracting hundreds of vintners and wine lovers.
"When HDR started, it was nothing and deserved to be nothing," Alban said modestly. "But it definitely took off. HDR changes each year, which is the reason so many return annually from around the world."
Over the first five years it was a one-day event, but it became a multi-day celebration that blew up tremendously, attracting vintners worldwide.
"As we sit today, it's not new. Twenty years is really nothing in terms of wine history," Alban explained. "But what happened over the last 20 years (in the United States) was more significant than what happened in generations preceding it."
Alban credited our local wineries that focused on Rhone varieties, which earned them worldwide acclaim: "A big part of the magic of Hospice is its purity. The event has been very true to being a celebration of the wines as opposed to becoming commercialized or a marketing effort. As long as I'm still alive," he chuckled, "I'll be at this celebration every year."

Contact New Times' Cuisine columnist at khardesty@newtimesslo.com.