Tattoos. Either you love 'em or hate 'em.
But those perma-ink lovers may be on the rise. A survey conducted by Harris Interactive in 2012 showed that 21 percent of the U.S. population has at least one tattoo. But surprisingly—except to those parents shaking their heads at their daughter's infinity-sign ink work—the survey also found that an estimated one in eight people said they regretted getting it.
In spite of the growing number of people jumping at the chance to remove the embarrassing reminder of their spring break shenanigans, San Luis Obispo County doesn't have a whole lot of clinics that offer the latest laser removal treatments.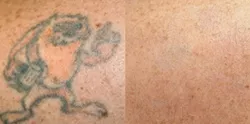 PHOTO COURTESY OF OPEN CANVAS
DISAPPEARING ACT: Open Canvas Tattoo Removal uses the latest laser technology to break down ink on the outer layer of skin.
Enter Open Canvas, which Dr. Wil McLeod and his wife, Emerald, who is a registered nurse, opened in February. The McLeods, who've lived in the area on and off since 1989, took notice of the lack of options for people who no longer want their tattoos, and decided this was something they could do as a team.
"We noticed that there wasn't really anyone offering tattoo removal," Emerald said. "There is a community program that offers free removal of gang tattoos for former convicts, but there wasn't anyone else doing it with the laser that we use, which is faster, quicker, and requires less treatments."
The McLeods started working together with tattoo shops throughout the county, most of which referred their clients to removal clinics in and around Los Angeles.
While tattoo removal in the past was ominous, painful, and even slightly dangerous, since the introduction of laser removal methods in the late 1960s, the procedure has become relatively non-invasive and considerably less painful. The laser works quickly, pushing through the outer layer of skin to break down the ink, allowing the body to process and absorb it. And the PicoSure Laser used at Open Canvas is currently the only laser approved by the U.S. Food and Drug Administration to remove tattoos and age spots, as well as fine lines and wrinkles, and even acne scarring—removal services for all of these are offered at Open Canvas.
"We get everyone from a college student who made a mistake and just didn't like it anymore, to a 60-year-old man who's tattoo doesn't really mean anything to him anymore," McLeod said. "I think everyone just needs to think a little more about what they're putting on their body and how it's going to affect their life and their job. And we're not anti-tattoo in any way, but people just need to think before they ink."
Open Canvas offers discounts to people trying to enter or advance in the military, as well as free tattoo removal for breast cancer survivors. Open Canvas is located in San Luis Obispo at 1242 Monterey St., suite 30. For more information, call 550-9007 or visit opencanvaslaser.com.

Fast fact
The Feline Network of the Central Coast is a nonprofit, humane organization dedicated to rescuing, adopting, and caring for kittens and cats. The network's in need of foster families for some adorable kittens this summer. The organization would provide food, litter, and medical care, as well as find families to adopt the kittens—right now, the network needs people to provide love and attention, and to help socialize the young animals before they find their forever homes. For more information about fostering, visit felinenetwork.org or call 549-9228.
Intern Adriana Catanzarite regrets that tattoo of former Arts Editor Jessica Peña on her lower back. Send your business and nonprofit news to strokes@newtimesslo.com.