A hot breeze pushes south along Huasna Valley Road in the fall, picking up dust and its scent along with that of bell peppers and manure. The road, the sole route in and out of the valley, is a narrow stretch of asphalt that winds tighter, the trees becoming denser, as it nears the site of a proposed oil operation.
Families in this rural area say Huasna living is nearly perfect it's safe, uninhibited, quiet, yet teeming with life—they work hard to keep it this way. Historically, when conflicts did occur, they usually stemmed from property rights. It's no different these days, except the concern is focused on the thick oil beneath the rolling hills. A small company has its eye on that oil, yet many residents have other notions about what should be done with Huasna's tar springs.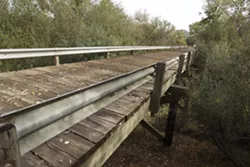 PHOTO BY STEVE E. MILLER
BRIDGES TO CROSS : Excelaron will have to pay for structural upgrades to this bridge to allow oil tankers to cross. Still, they may only be allowed to take smaller trucks across—with 67 barrels of oil—instead of the larger trucks for which they are seeking permits, whic
It's no secret that there is oil out here, but it is so thick that many would argue it is closer to road tar. Throughout the past century, countless oil exploration companies tried their luck, punching holes in the ground and sometimes leaving a mess behind them. Most of those projects were losing ventures, with the wells abandoned until the next company came along.
This time, the interested company is Excelaron, a fledgling exploration business based in San Luis Obispo, but owned in equal parts by the larger Australian Oil Company and a Canadian outfit—which appears to have little idea of what's happening in Huasna, judging by their website. Grant Jagelman, an Australian, is the oilman behind Excelaron and is a major shareholder and a board member of the Australian Oil Company.
The members of the revitalized Huasna Valley Association, a group of farmers, ranchers, truck drivers, and others, are not accepting at face value the oil exploration being proposed for their valley.
Members say they don't want the owners of the oil leases to be denied the investments, but they do want the county to take a more critical look at the project. For starters, they'd like the county to require an Environmental Impact Report.
"We don't do this for a living," is how group member Tracy Liskey puts the issue, noting that they're all volunteers. She contrasts that with the company: "They have people working full time on this."
It's a common sentiment among Huasna Valley residents that although they are not oil experts, when it comes to Excelaron's plans to search for oil in the valley, they feel compelled to dig deeper.
Why worry?
PHOTO BY STEVE E. MILLER
MEMBERS IN GOOD STANDING : Several key members of the Huasna Valley Association-—(left to right) Anna Gabriel, Lyn Schultz, Ron Skinner, and Doug Timewell— take time for a breath of fresh air.
Dennis Allan is a realtor and his wife Margaret manages several dozen head of cattle on their ranch. Allan recently decided to investigate all of the mineral leases on his property. He found that the mineral rights to his own land, more than two miles as the crow flies from the proposed drilling site, had been leased by Excelaron.
The Allans' property still has an old well on it as well as debris the original prospectors left when it turned out to be worthless. It produced three barrels over a period of three days in 1928, he said.
Dennis, in a new SUV, followed Margaret up the steep dirt road to a vantage where on a clear day Morro Rock is visible. The Allans are involved in a major brush-clearing project. Fire is a real threat to their home and cattle.
The closest fire department to Huasna is in Arroyo Grande—more than 12 miles distant. Mayor Tony Ferrara of that city, like many Huasna residents, is concerned that propane heaters that would be used near the proposed wells pose a bigger threat than the county has acknowledged.
"Originally," Dennis said, "they were just going to drill one new well, then two, and now they're just drilling all new wells, and we just want to know what they're doing. And if they're going for a big project, why aren't they treating it like a big project with the county? We asked one question after another, and nothing started making sense."
First cast doubt
At a May town-hall-style meeting, Excelaron announced plans to resurrect three old wells and drill one new one on former county supervisor Howard Mankins' ranch. Residents learned that any oil extracted would be trucked down the one-lane Huasna Townsite Road to Huasna Valley Road, and through the Village of Arroyo Grande to Santa Maria, along the way crossing two bridges of questionable integrity.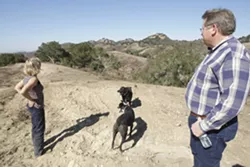 PHOTO BY STEVE E. MILLER
THE VIEW : The Allans look from a vantage at their ranch. The proposed oil operation would have oil tankers navigating roads like the one where they're standing.
Excelaron's goals in calling the meeting, according to project consultant Carol Florence, were to establish a line of communication with the townspeople, to be honest, and to hear and address any concerns. That has not changed, she said. Unfortunately for Excelaron, that message was lost on many the instant they heard oil tankers would make 12 round trips a day down their country roads.
In fact, many residents felt that holding a town-hall meeting more than a year after permits were applied for was not at all honest and upfront. Liskey, for one, said she only became skeptical of Excelaron after she attended that first assembly, organized by the company.
"I went to the meeting and it was very unsettling," Liskey said. "The information seemed vague and, I thought, not transparent. It was my impression that it was being greenwashed, for lack of a better word."
Liskey has spent considerable time since then scrutinizing the details of the proposed project. She still works fulltime, but steals away at lunch or whenever she can to collect documents and environmental reports.
The Huasna Valley Association's leadership is loose, but they've accomplished surprising feats by tapping the resources of the community members include a land surveyor, a realtor, and a web designer. After six months of investigation, the membership seems seasoned but still can't figure why the county is prepared to grant a negative declaration for the project, instead of demanding a more stringent Environmental Impact Report. Members feel the group, in other words, has had to pick up the county's slack.
Residents were outraged, for example, that the county, without any survey of the route, would let trucks carrying 107 barrels of oil each drive down their narrow road. So they arranged for their own professional survey of the road, and found that erosion was undercutting the pavement on one turn near a 40-foot sheer drop, and that trucks would be forced to cross into oncoming traffic lanes eight times in less than a half-mile stretch of road.
Excelaron held subsequent meetings with residents. They changed the trucking route in response to public outcry and a letter from the city of Arroyo Grande expressing concern.
The association members felt that a comprehensive EIR should have addressed issues including the road conditions instead they invested their own resources to complete the road study. And the new route, they say, raises a whole other set of problems, which residents say also warrants an EIR.
"How can the county not be good stewards?" Liskey asks.
Ferrara is not satisfied by the change in route either. He wrote a five-page letter to the County Planning Department telling them as much. John McKenzie, who is overseeing this project for the county, said that however strongly the residents or Mayor Ferrara may feel about this project, they have not presented any compelling reason for an Environmental Impact Report. And the fact that the project has changed dramatically in the last six months is not a good reason either.
According to the new plan, trucks will now take a dirt road out the back of the project to Los Alamos Road and Highway 166, and possibly to Oxnard, a move that has residents scratching their heads.
"It's going to take more energy to get [the oil] out than they're going to get back," Liskey speculated.
Excelaron officials would not address where the company would send the oil.
For Ron Skinner, the absence of a destination is just one puzzling element of a plan that doesn't add up. Skinner and Liskey have largely taken the lead in searching out project information. But Ron knows his wife, Jenn, has just about had it with his activism. The pair runs a small organic farm with the help of several apprentices. Ron points out that for all the time he has spent reading over old well logs and cryptic government reports, she has had to fill his shoes.
Still, he's not giving up. Skinner is worried that Excelaron is planning for a bigger project than the company will acknowledge, in hopes of avoiding a costly and time-consuming full environmental review.
PHOTO BY STEVE E. MILLER
THE SIMPLE LIFE : Ron Skinner and his wife Jenn have a small farm from which they can see the proposed drilling site.
"We know where it starts," Skinner said, "But where does it end?"
What makes him skeptical? A December 2007 article in an Australian investment magazine stated that Excelaron was seeking 3,000 acres of mineral rights—more than twice the number of acres they currently lease.
The article also stated that Excelaron was planning to drill seven wells, instead of the four it has discussed with the county.
Excelaron officials explained the discrepancy by noting that the company was originally planning to lease perhaps 3,000 acres in total. Excelaron's parent company even set up a second LLC, the Huasna Oil Company, to do that. CEO Jagelman said recently, however, that Excelaron no longer plans to increase its holdings, and they are staying with four wells.
Trust aside, residents have other, more basic, concerns.
Skinner stood out on his front porch next to a hammock before lunch time, shaded under a floppy grey hat, and listened to the wind.
"You have to be careful what you say out here," he joked. Then he added, seriously, "If the wind is blowing in the right direction I can hear my neighbors [across the valley] talking. You can't tell me that the sound of the generators is mitigatable. I'm sure we would get used to it," he shrugged, "but there is no white noise out here.
De ja vu
Newspaper clippings from the early 1980s suggest the current Huasna activism is nothing new. Back then, the Huasna Valley Association scrutinized a nearly identical project. The company in that case—Lorena of California—was applying for permits to test three wells, and that was cause enough for an EIR. Residents were critical of the report, which they said presented conclusions in conflict with the evidence. Then, as now, they were worried about poor roads and steep grades.
Mankins was on the Board of Supervisors then, but the specifics of that project escape him. Still, he said, his position has always been the same: he values his property rights, and respects the right of oil companies. Beyond that, he shows very little interest in mineral exploration at all. Mankins doesn't actually live at the ranch, but he said he will be more directly affected than anyone else.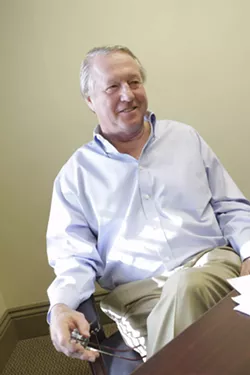 PHOTO BY STEVE E. MILLER
OILMAN : Grant Jagelman has had his eye on Huasna for several years. The Australian oil man is concerned that the project has been misrepresented in the media as well by the project's opponents.
What Mankins can recall most vividly about past explorations is the face of a young speculator who by Mankins' guess was in the valley around the mid- Šs. Sitting in a wooden chair in his office, Mankins rolled his head back and peered skyward from behind his rimless glasses to remember.
"There was a young man—under 30—and it seems to me what he did was to sell a bill of goods about what he was going to be able to extract. And he represented that he was fully financed. Now, he wasn't, and of course, they ran out of money. He left in the middle, with investors on his tail."
Many residents in fact agree that there was some sort of fleecing in Huasna Valley, but they don't all share the same version of the story.

Another old-timer recalls that it was sometime in the '30s that investors were bilked. Excelaron's Jagelman thinks it was in the '60s, and believes many records regarding the wells from that time are consequently unreliable.
Jagelman said he heard about the Huasna oilfield at a conference in London some years ago. He was particularly attracted to the thick oil, because there is less competition in that market. Huasna's heavy crude is less desirable than lighter grades because it is harder (read: more expensive) to extract, and fetches a lower price.
Jagelman, dressed in plain slacks and a blue button-down shirt open at the collar, while apparently forthright during a recent interview, sometimes could not recall project details, such as what mineral rights he has leased.
"Don't make me out to be some kind villain," Jagelman requested.
Lasting effects
PHOTO BY STEVE E. MILLER
VALLEY TRASH : Previous drilling operations have scarred Huasna with leaking wells and leftover trash. Ironically, Excelaron had to pay for an anthropological study to determine if the leftover debris at the proposed drilling site was historically significant.
The proposed drilling has had one unexpected side effect: the creation of a new and tighter community in Huasna. Most of the houses there are spread out among large ranches and up long driveways. Space makes for good neighbors, but is harder on friendships. That has changed. Excelaron's town-hall meetings have drawn crowds in the hundreds, and Huasna Valley Association's own fundraiser—a barbecue—attracted a good crowd, too. There even are plans to use the group's website as a community forum after the oil fight is concluded.
"I never really knew my neighbors before all this happened," Margaret Allan said. "Now, I see my neighbors, and I wave and say 'hi'. It's really brought the community closer."
The one neighbor conspicuously absent throughout the process is Mankins. Although his ranch is ground zero, he said he prefers to stay out of it. He has little stake in the ruckus, and he doesn't own the mineral rights beneath his land.
Mankins is an octogenarian whose family has been in the valley for generations. Mankins himself lived in Huasna from the time he was 2 years old, and attended class in the town's one-room school. Frankly, he says, he's seen the interest in Huasna oil ebb and flow so many times that he hardly remembers the different companies, or plans they had to extract oil. What he does remember is that they don't last long.
---
Staff writer Kylie Mendonca can be reached at kmendonca@newtimesslo.com.