PHOTO BY DAN HARDESTY
FLOWERING FLAVORS : Chef Anthony Reeves shows his love for California, French, and Asian cuisine in his menus at Orchid, the restaurant at the Inn at Morro Bay.
# It's not that far to Morro Bay, our service is good, and you don't have to be afraid to come to a hotel restaurant, Mark Roemer, director of food and beverage for Orchid at the Inn at Morro Bay, said of dining in this popular resort. People think Orchid is only for special occasions or that it's not comfortable, but it's our job to make the dining room attractive for locals as well as visitors.
And what's not to like? Orchid's dining room is perched over the estuary, like the black cormorants hanging out in the eucalyptus trees around the inn, providing diners with spectacular views of the waterfront. Ask for a window table you can watch the fishing boats with a perfect backdrop of Morro Rock that doesn't include those unsightly smoke stacks in the picture. Sunset is one of the best times for dining here, when Mother Nature shows off with her colorful skyline, and it's glorious. But it's also the reason the deck fills up with photographers hoping to capture that award-winning sunset shot.
The Inn at Morro Bay, like most of the Central Coast's most popular hotels, has certainly had its share of chefs come and go. But I have to hand it to King Ventures their Boutique Hotel Collection includes the Cliffs Resort and Seaventure, among other inns for luring talented chefs from outside the area. SLO County's blossoming wine country is part of the attraction for chefs, most of whom are wine lovers. When they leave the inn, it's usually because they want to open their own restaurant here, as chef Laurent Grangien of Bistro Laurent did in 1996.
Anthony Reeves worked here as chef de cuisine with executive chef Robert Root more than a year until Root left last fall. Under Root, the menu at Orchid demonstrated his fondness for Mediterranean cuisine. Reeves now heads the kitchen, but he didn't want to make dramatic changes all at once. He's now offering a contemporary new spring menu that reflects his love of California, French, and Asian cuisines.
Recently, the chef prepared a tasting for his servers so they could better explain all of the new dishes to diners. I've known Roemer since he was at the Cliffs Resort (before that he was at Seaventure), and I was pleased when he invited me to participate in tasting. Talk about fun Reeves brought them all out all out at once and explained their preparation and where the foods were sourced. I promise you this: You can't go wrong with any of them.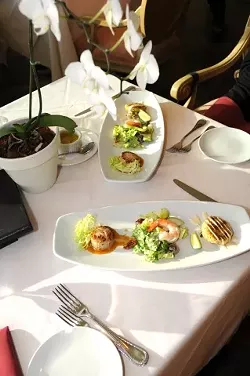 # I loved his crab cakes drizzled with chili-lime aioli, and a relish of roasted fennel, bells, garlic, and leeks. And they were just as they should be: mostly made up of fresh crab, with additions like bell pepper, leeks, and garlic a tangy relish on the side to add to the sweet crab to your liking. The generous bowl of tender, baby clams in their heady broth of white wine, butter, and garlic was irresistible, and equally so with chunks of crusty baguette. The crunchy wontons filled with tender lobster were served with a pan-Asian slaw tossed in a ginger-cilantro dressing. I could've eaten more of everything, but refrained from hogging up more than my fair share.
In fact, I'm eager to return and try other new tapas-style dishes, like five-spice duck spring rolls with mizuna salad and fig compote the Ocean Rose Farm abalone (its preparation changes daily) and the seared-rare, sesame-crusted Ahi tuna with cucumber, mint salad, and Tobiko caviar. Chef Reeves has 15 years of professional experience behind him. He worked for celebrity chef and cookbook author Tom Douglas, besides notable restaurants in Seattle and Palm Springs. When he relocated to the Central Coast, he became chef at Panolivo until he moved to the Inn at Morro Bay. For his menu at Orchid, Reeves prefers organic and sustainably grown produce and fish, free-range chicken, and the grass-fed beef from Hearst Ranch.
When I returned for dinner with my husband Dan, we thoroughly enjoyed that sunset I described above. Yet it didn't distract our attention from our delicious dinner. As usual, I ordered the New York steak and Dan ordered the Australian rack of lamb. Unfortunately, I just haven't learned to appreciate grass-fed beef yet. I crave the richness of a well-marbleized New York steak, and Dan loves lean meats such as Hearst beef and hearty cuts like buffalo or wild boar. When we traded plates, we both ended up supremely satisfied.
The steak is topped with a rich porcini compound butter served over tangy goat cheese mashed potatoes with perfectly al dente baby carrots and fresh asparagus. The decadent Port demi glace was delightful over the rich lamb rack, as well as the crusty, roasted red potatoes, served with carrots and asparagus.
The wine list is well chosen, with many fine local selections and a large selection of library wines in vintages going back to the mid-'90s. Worldly wine selections include France's Champagne and Rhone, as well as bottles from Australia and New Zealand. Prices are typical but not high, although you can find value-priced bottles. The by-the-glass selections start as low as $6, rising to $15, but the average price is only $8 for a generous pour. It's a good list that offers many options for the international cuisine Reeves is creating.
We chose the artisan cheese plate to enjoy with the rest of our wine in such situations, we rarely order dessert, too. But this is one time I'm glad we didn't pass it by. The chocolate mousse creamy and rich, but denser than the classic recipe served in an edible dark chocolate shell is a decadent treat.
In appreciation of the locals who dine there, Orchid offers several weekday specials online. They're titled love our locals, and offer 10 percent off a food order. They've always offered a monthly guest musician series, featuring extraordinary singers or a saxophone legend and no cover charge. Check out the details and calendar at www.innatmorrobay.com.
The Inn at Morro Bay offers a wonderful evening getaway for couples with a romantic dinner at Orchid followed by the terrific jazz combos in the lounge afterward.
For those who can afford to stay, there are affordable weekday specials. It's a great way to enjoy a date with your mate and rekindle the romance that brought you together.
---
You can reach New Times' Cuisine columnist at khardesty@newtimesslo.com.