If you're like me, the pipe organ reminds me of either going to church or watching horror movies like Phantom of the Opera—either way, there's something stodgy about the booming, wheezing, immovable instrument. It's either dorky or scary, but Cameron Carpenter seems to actually be making the organ cool! Crazy, I know!
The Juilliard School graduate holds both a bachelor's and master's degree from the famed conservatory, and he's been described as having the dazzling technique and "wild passion" of Vladimir Horowitz, the footwork of Fred Astaire, and the glam sensibility of David Bowie.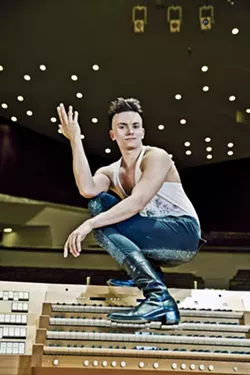 PHOTO COURTESY OF CAMERON CARPENTER
GET YOUR BOOT OFF MY ORGAN, MAN! : Amazing organist (not an oxymoron, really!) Cameron Carpenter returns to play the Cohan Center's Forbes Pipe Organ for an unprecedented third appearance on April 22.
On Tuesday, April 22, he'll return to the Cohan Center for an unprecedented third turn at the Forbes Pipe Organ at 7:30 p.m. Student and adult tickets range from $21 to $42 (call 756-4849 or visit calpolyarts.org).
According to Cal Poly Arts, "scintillating showmanship and undeniable virtuosity claim the hearts and ears of audiences wherever he goes."
The New York Times said, "Everything he touches turns fantastical and memorable … the audience's response was raucous."

This local stop is one of many on a spring and summer tour to promote his new Sony Classical debut album, If You Could Read My Mind. The CD/DVD album features Carpenter performing music by Scriabin, Bach, Dupré, Rachmaninoff, Piazzolla, Liszt and others; a cycle of paraphrases on songs by Gordon Lightfoot, Patsy Cline, Leonard Cohen, Burt Bacharach, and Leslie Bricusse; and the world-premiere recording of Carpenter's own "Music For An Imaginary Film."

He's the first organist ever nominated for a Grammy Award for a solo album (for his 2008 Telarc disc, Revolutionary), and he was recently awarded the prestigious Leonard Bernstein Prize at the Schleswig-Holstein Music Festival in northern Germany.

And according to our former Arts Editor Anna Weltner, he's "dreamy!"

Blooming!

PHOTO BY BARRY GOYETTE
MYSTERIOUS AND HAUNTING! : Check out the amazing sounds of Shadowlands, on April 19 at Steynberg Gallery.
Shadowlands continues their residency at Steynberg Gallery with monthly shows that allow fans to watch in real time as their collaboration continues to blossom and develop. The next one happens on Saturday, April 19, and it's a warm and casual affair in which proprietor Peter Steynberg cooks up a batch of his amazing curry, served beginning at 7 p.m., followed by an intimate concert at 8 p.m.
It's a good idea to reserve your table (call 547-0278, and be sure to tell them if you prefer vegetarian curry; the cost is $20 for a big bowl of curry and the concert, or $12 for the concert only … space permitting).
"The monthly residency continues with new songs and a few surprises," Peter said. "Since the last show, Shadowlands has been booked for this year's Live Oak Festival, the Eclectic Music Festival in South Pasadena, and Arroyo Grande's Summer Concert Series. We'd love to see you this Saturday!"
This is an incredible new band that keeps getting better. Learn more at shadowlandscalifornia.com.
More music …
Dr. Danger Band keyboardist Brent Dannells has a couple of upcoming solo gigs. "On Thursday, April 17, I'll be playing at Tap-It Brewing in SLO from 5:30 until 8 p.m., and on Saturday, April 26, I'll be playing at Willows Nipomo with special guest Chuck Rorabaugh on harmonica. At both shows, I'll be playing a variety of classic blues songs with a strong emphasis on boogie-woogie and rhumboogie bass patterns (think Professor Longhair), and mixing it up with some tunes that most people and not just blues aficionados will recognize—Beatles, Donovan, Dylan, and even a Ramones song! I'll also be doing a few originals." Check him out!

On Saturday, April 19, Boo Boo Records will take part in Record Store Day, a celebration of the independent record shop that has grown into an international event, with artists and record labels teaming up to release an impressive roster of exclusive and limited vinyl and CD releases. The store opens an hour early, at 9 a.m., and hosts music all day from 11 a.m. until 8 p.m. Bring a blank T-shirt or other printable item and get a silk-screen image from printer Greg of 3INK. Live acts include (in order on the hour) The Spaces Between, The Gal Fridays, The Booker Tease, The Shy & Wild, Dead Dirt, The Monroe, Reese Galido, Cuesta Ridge, and The Honey Trees. Support your local record store!

The Carolyn Mescher Band plays Wild Horse Winery in Templeton on Saturday, April 19 (1 p.m.; all ages; free). The Cal Poly grad, now living in Nashville, and her country band recently released Rockin' M, their debut. Born and raised in Camarillo, Carolyn was active in 4-H, raising steers and riding horses. She got a music scholarship to Cal Poly, graduated with a business degree, and then moved to Nashville. Here's to doing it your way! Amie Richie, Cheyenne McDonald, Steve Kindel, and Holly Ann Phillips will also perform.
Do I know how the Henry Miller Library manages to attract such amazing talent? I do not, but my guess is acts like The Pixies, who played April 15, dig the vibe. This Saturday, April 19, you can dig the HML vibe yourself when singer-songwriter Phoebe Hunt with accompanist Connor Forsyth plays at 8 p.m. for a $10 donation. The Nashville-based chanteuse just released her new album Live at the Cactus Café. You can visit henrymiller.org for details.
Americana singer-songwriter Natalie Haskins used to play around here a bunch, but she jumped ship, I think to Hawaii, but now she's back for a show this Saturday, April 19, at The Pour House beginning at 8:30 p.m. (21-and-older; free). "No special news to report," Natalie said, "just playing with my brother Bob Haskins and local drummer Benji Cheedle. They're promoting some upcoming SLO Brew shows as the Bob Lawrence Band, but this is just a fun Paso night of Americana."
It's sold out in the past, so don't drag your feet any longer if you want to go to Pozo Saloon's Higher Groundz Music Festival on Sunday, April 20 with Rebelution, Cypress Hill, Juicy J, Tribal Seeds, Nipsey Hussle, and Ty Dolla $ign. Visit ticketfly.com for your $35 to $150 tickets.
Funky reggae and jam band ZuhG returns to the area four upcoming shows starting on Monday, April 21, at Otter Rock Café at 6 p.m. "I live on the Oregon Coast now, and the rest of the guys are in California," said singer and guitarist Bryan Nichols. "We tour a lot so it works out just fine. We've toured the country several times, play all over California and the West Coast very often, and we consider SLO our second home. We've had great times there over the years. We also play a ton of festivals, and even throw our own festival we call ZuhGfest." If you miss them on Monday, they'll also perform next Saturday and Sunday, April 26 and 27, at Frog and Peach at 10 p.m., and Sunday, April 27, at the Honeymoon Café in Pismo at 1 p.m.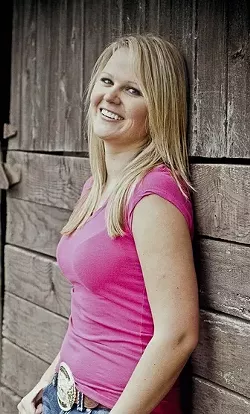 PHOTO COURTESY OF CAROLYN MESCHER
COUNTRY STRONG : The Carolyn Mescher Band plays Wild Horse Winery in Templeton on April 19.
Nick Deutsch, a New York-based singer-songwriter, plays Linnaea's Café this Tuesday, April 22 at 7 p.m. "I have a lot of family out in SLO, so it should be an awesome time," said Deutsch, originally from Wilmette, Ill. His musician mother inspired his early interest in music, helping to instill a deep love for classical and jazz piano. The award-winning performer has a charming voice and a clever way with words and melody! Quirky is the best way I can describe him, and totally worth a listen for fans of pop nuggets!
There's no time like the present!

If you're considering attending the Live Oak Music Festival, now's the time to buy tickets, because they're not getting any cheaper. Full festival adult passes are $125 (which doesn't include parking), $80 for teens (aged 13 to 17), and $40 for kids (aged 4 to 12; kids under 4 are free). There are also day passes available if you only want to attend one of the days. Visit liveoakfest.org and follow the links.
This year's got a real humdinger of a line-up, with some old favorites and some new up-and-comers. For instance, formerly of The Blasters, brothers Dave and Phil Alvin are reuniting for the first time in years with a show on Friday, June 13, and the very next night, my new favorite J.D. McPherson plays on Saturday, June 14. On Sunday, June 15, the big closing headliner is none other than Holly Williams. In between, you'll see acts such as Marley's Ghost, The Dustbowl Revival, Nathan and the Zydeco Cha Chas, Blind Boy Paxton, The Boogaloo Assassins, The Lions, Lily and Madeleine, The Eagle Rock Gospel Singers, La Santa Cecilia, and great local acts like Zongo All Stars and the amazing Shadowlands. As usual, multi-instrumentalist, raconteur, and musical circus ringleader Joe Craven will emcee the whole shebang!
After long putting it off and off, I attended my first Live Oak four years ago in 2010, and now I'm a believer! An entire community springs up out of the dust of Camp Live Oak, a sprawling 40-acre site just an 80-minute drive south of SLO Town off Hwy. 154.
It's a blast just to wander around the camp and see how people have made their camps like homes away from home. And it's great for kids and families. "Kids will be well-entertained with arts and crafts, juggling, music, workshops, a talent show, and more," say organizers. "Parents can relax at the Little Acorns Toddler Oasis, a fenced 30-by-30 area catering to Live Oak's youngest guests."
And if you don't like the hassle of camp cooking, you'll be amazed at the delicious and inexpensive vendor foods, from gyros (the best I've had), pizza, salads, burgers, Mexican food, ice cream, and more. There are also lots of craft vendors, workshops for people of all ages, and impromptu music jams all over the place!
It's an amazing way to kick off the summer! Get your tickets and get in on the fun! Plus, you'll be supporting KCBX 90.1FM, our local public radio station! Visit liveoakfest.org or call 781-3030.
And while we're talking tickets …
If you got a chance to attend one of the Vina Robles Amphitheatre concerts last year, you know what an amazing new venue we have here on the Central Coast. This year they've attached themselves to a new booking agent, Nederlander Concerts, which also books the Santa Barbara Bowl, so I'm expecting great things.
Nederlander has released the details of the first four concerts they've scheduled so far, and things are looking good for fans of classic rock and comedy.
On Friday, May 30, WAR and Cheech and Chong share the bill ($65, $50, and $40). Between the dope-filled comedy of the original stoners to songs such as "Low Rider," "Why Can't We Be Friends," "The Cisco Kid," "and "All Day Music," this ought to be a blast.
Seventies and '80s hit makers Chicago play Sunday, Sept. 14 ($91, $81, $61, and $41), delivering songs such as "Hard to Say I'm Sorry/Get Away," "You're the Inspiration," and "Colour My World."
Ventriloquist and stand-up comedian Jeff Dunham will bring his brand of observational and black comedy to the venue on Sunday, Sept. 21 ($65 and $40).
PHOTO BY CHRIS KISSINGER
ON SALE APRIL 19TH! : Tickets for Crosby, Stills, and Nash at the Vina Robles Amphitheatre go on sale at 10 a.m. on April 19 for their Sept. 30 show.
And the newest show, just announced, is An Evening with Crosby, Stills, and Nash on Tuesday, Sept. 30 ($91, $76, $56, and $41). This folk super group has the most amazing harmony vocals you'll ever hear! "Southern Cross," "Suite: Judy Blue Eyes," "Woodstock," "Our House," "Carry On"—the hits just keep on coming!
For the first three shows, tickets are on sale now. For this last one, tickets go on sale on Saturday, April 19, at 10 a.m. Visit vinarobles.eventticketscenter.com.


Keep up with Glen Starkey via twitter at twitter.com/glenstarkey, friend him at facebook.com/glenstarkey or myspace.com/glenstarkey, or contact him at gstarkey@newtimesslo.com.