Lyricist seeks composer," the Craigslist ad read.
Michael Kaplan, creator of the then musical-in-the-works, Danny, Come Home, was about halfway though the writing process when he got the online advertisement up. Kaplan only received three responses to that ad. He knew it was meant to be when he opened Mark Pietri's response.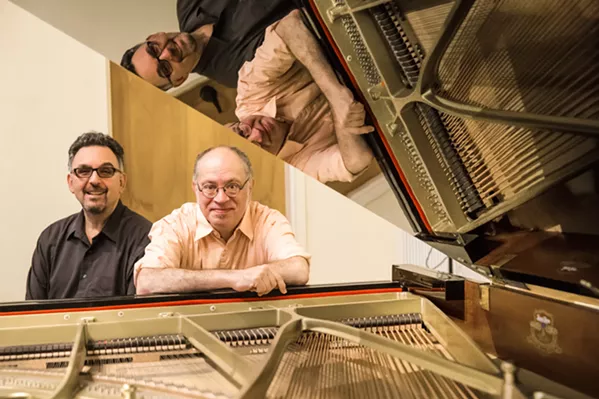 Photo By Jayson Mellom
A DOG GONE MUSICAL Writer Michael Kaplan (left) and composer Mark Pietri met through Craigslist and created the original musical Danny Come Home, inspired by true events about a dog ownership battle that took place in San Luis Obispo.
"What the hell are you doing writing a musical without a composer?" Pietri wrote. And so a creative partnership and friendship was born.
Not only are both gents based in the San Luis Obispo area, but the show itself is inspired by a local canine ownership controversy that went down in 2010, when an Australian shepherd, Annie, was adopted through the county's Animal Services, only to have her original owner show up to claim her shortly after she went home with her new family. Enough time had passed that, legally, the new owners didn't have to actually return Annie the dog.
Sides were taken, articles written, names leaked, radio interviews given, a Facebook group formed, and vigils held as the debate ensued over who was Annie's rightful owner. County 3rd District Supervisor Adam Hill even got involved in an attempt to broker peace. Ultimately, the then 8-year-old Annie was given back to her original owner, but the damage was done. While some saw the return of Annie to her first owner as a win, that outcome didn't sit right with Kaplan.
While Annie most likely crossed the rainbow bridge years ago, her memory lives on in the music and lyrics of Kaplan and Pietri. Wanting to create a better, albeit fictional, outcome, the pair sought to reimagine this real-life story. Danny, Come Home was performed as a staged reading last year at the Cambria Center for the Arts, and on Oct. 19 and 20, a concert-style performance (with narration to connect one number to the next) will be held at the Unitarian Universalist Church in San Luis Obispo.
Photo By Jayson Mellom
SEND ROVER RIGHT OVER When controversy erupted after a newly adopted dog's former owner showed up at Animal Services in San Luis Obispo to reclaim his pet, writer Michael Kaplan was inspired to create the musical, Danny Come Home.
"It struck me like a South Park episode because I saw the whole town divided and getting absolutely passionate over it," Kaplan said. "It turned into a big mess. Musical theater allows you to impose happy endings on things like that, so that's what we're trying to do."
Names have been changed to protect the (mostly) innocent. And so Annie becomes Danny the dog (but still an Australian shepherd, played by a human), lost and then adopted by a single woman, who gets in a fight with a radio host in favor of the dog being returned to its original owner. And then the two arguers get matched up on an online dating site and begin to fall in love à la You've Got Mail. Cue the revelations and shenanigans.
Danny gets to steal the show, of course, with a few musical numbers and duets in the tradition of Frank Lesser and catchy, classical musical songs.
"He's as frenetic as they come," Pietri said. "We worked very hard to create dog energy."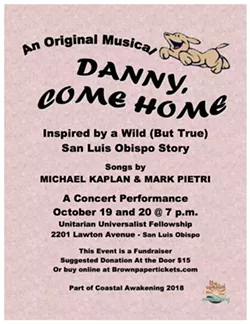 IMAGE COURTESY OF MICHAEL KAPLAN
The show will feature Pietri playing piano and Kaplan narrating to connect each song. The duo has plans to record numbers from the show and hopes to soon market the musical to regional theaters so it can be produced as a full-scale production.
"It's a really fun ride," Pietri said. "We're taking a show from nothing into something. You grow with it, like any other piece of theater that's in development, and I think that's a really fun journey." Δ
Arts Writer Ryah Cooley is playing fetch with her pit bull, Hercules. Contact her at rcooley@newtimesslo.com.