In truth, there are only a handful of performers who are true global sensations, but without a doubt, Ottmar Liebert & Luna Negra is one of them. It seems no matter where they perform, they have a legion of fans. It doesn't hurt that Liebert himself is a true citizen of the world.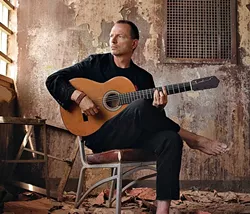 PHOTO COURTESY OF OTTMAR LIEBERT
STRING MASTER : Internationally renowned Ottmar Liebert & Luna Negra play a Numskull Productions and Good Medicine Presents show at SLO Brew on Aug. 6.
"Born in Cologne, Germany, to Chinese-German father and Hungarian mother, he began playing guitar at 11 and traveled extensively through Europe and Asia intent on fully absorbing each musical tradition he encountered," his bio explains. "After pursuing his rock 'n' roll dreams first in his native Germany and then in Boston, he abandoned the frustrations of the East Coast and settled in Santa Fe, New Mexico.
"By 1989, he had founded the first incarnation of his new band Luna Negra. Nouveau Flamenco began life as a self-produced local release called Marita: Shadows and Storms, copies of which local Indian artist Frank Howell distributed in his art galleries. When the record found its way to radio stations and began generating a buzz among programmers and an unprecedented response among listeners, Higher Octave Music picked it up and released a fully re-mastered version."
From there, Liebert's career blossomed.
"I was honestly happy playing this music in hotels and restaurants in Santa Fe, and going in one year from doing that to opening for Miles Davis was a pretty intense jump," he recalled in press materials. "Most shocking for me was to realize how many different people from so many diverse cultures embraced it. I still get letters from fans in Europe, South America, Australia, and Asia … it's been a really gratifying experience. I've had the opportunity to play in a wide variety of cultural settings with musicians from around the world, and that has been a great experience, too."
Since then, the five-time Grammy nominee's released more than two dozen studio albums, making him one of the most successful instrumental artists in the world. See him during a Numbskull Productions and Good Medicine Presents show on Thursday, Aug. 6, at SLO Brew (7:30 p.m.; 21-and-older; $30 presale or $35 at the door).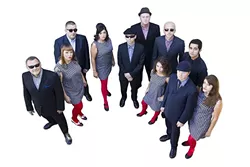 PHOTO BY TERRY WAY
SOUL, MAN: Santa Cruz-based old-school soul act The Inciters play a free Good Medicine Presents show on Aug. 7 at Tooth & Nail Winery.
This Friday, Aug. 7, at Tooth & Nail Winery (5 to 9 p.m.), Good Medicine Presents' free pop-up concert series features Santa Cruz old school soul band The Inciters, which are as close as you're going to get to feeling like you're in a scene from the 1991 film The Commitments, about a bunch of Irish musicians who decide to play American soul music. I caught these guys at SLO Brew during the Rides of March vintage scooter rally earlier this year, and they were a blast. A quartet of female vocalists trade off singing lead while the others sing backup, and the band's also got a great horn section.
Numbskull and Good Medicine are also bringing country act The Casey Donahew Band to SLO Brew this Saturday, Aug. 8 (7:30 p.m.: 21-and-older; $20 presale or $25 at the door).
PHOTO COURTESY OF THE CASEY DONAHEW BAND
COWBOY UP : Numbskull and Good Medicine bring country act The Casey Donahew Band to SLO Brew on Aug. 8.
The Lone Star State band's most recent album, Standoff, debuted at No. 1 on iTunes country chart and No. 8 on iTunes overall album chart, proving their decade of hard work touring around the country has paid off. Like the Eli Young Band and the Randy Rogers Band, Donahew seems poised to break out into mainstream attention.
They're also really tapping into nationalistic pride.
"We're big supporters of the Second Amendment, the right to bear arms and standing up for what you believe in," Donahew said in press materials. "We thought it was a great concept for the new album, hence the title. It also sums up a lot of how we've spent our career in the music business, too. We've done it on our own as outlaws outside the system. I'm very excited to take this new collection of songs out to the fans. It's always fun to make new music. I hope they enjoy it as much as I did writing and making it."
Coup de Grace!
PHOTO COURTESY OF GRACE POTTER
VOX DELUXE: Grace Potter brings her huge voice to Vina Robles Amphitheatre on Aug. 12.
You know who rocks so hard? Grace Potter! Imagine if Janis Joplin looked like a supermodel, and ka-bam! That's Grace Potter. She's build a career on rock and soul records, but her newest, Midnight, which will be released on Aug. 14, is decidedly more pop, though her singer-songwriter bona fides station her well above "pop star" on the musical credibility scale.
Her touchstones are Mick Jagger and Robert Plant, but she was weaned on a steady diet of Tina Turner as well as '80s and '90s rock. This Wednesday, Aug. 12, she'll hit the stage at Vina Robles Amphitheatre (7 p.m.; $35 to $45; vinaroblesamphitheatre.com).
Midnight is her first new music since 2012's The Lion The Beast The Beat, and if her upward charting trend continues, this one should zip up the album charts when it's released two days after this concert. The album's first single, "Alive Tonight," is already generating lots of buzz.
And while we're on the subject of Vina Robles, the venue also hosts legendary performer Jackson Browne on Saturday, Aug. 8 (7:30 p.m.; $51-$91; vinaroblesamphitheatre.com). He's a musician who needs no introduction. His songs such as "These Days," "The Pretender," "Running on Empty," "Doctor My Eyes," "Take it Easy," and "Somebody's Baby" have made him a superstar. His political activism has made him a statesman.
He's touring in support of Standing in the Breach, a new 10-song studio album "at turns deeply personal and political, exploring love, hope, and defiance in the face of the advancing uncertainties of modern life," according to his press materials.
Way out West
PHOTO COURTESY OF JACKSON BROWNE
DOCTOR MY EYES!: Iconic singer-songwriter Jackson Browne plays Vina Robles Amphitheatre on Aug. 8.
Most of the time when I think of cover bands, I think of those barroom workhorses playing classic rock like bosses. El Segundo is a cover band, too, but instead of Zeppelin, Springsteen, and The Eagles, they're laying down the likes of narrative country singer-songwriters such as Terry Allen, Robert Earl Keen, Guy Clark, Fred Eaglesmith, and Joe Ely.
The trio consists of Tony "Tex" Bennett (vocals and guitar), Eric Brittain (guitar, fiddle, mandolin, dobro), and Patrick Ferrel (percussion), and aside from their choice of cover material, what really sets them apart is their musicianship led by Brittain, an incredibly talented and versatile player whose multi-instrumental prowess lends lots of layers to the band's sound.
Songs like Bob Dylan's "Billy 1" and George Schroeder's "Red Tail Hawk" come to life in these players' capable hands, and Bennett's emotive voice sings 'em like he wrote 'em.
See El Segundo this Sunday, Aug. 9, from 3 to 6 p.m. at Morro Bay's Dockside Too. The show's free, you can pick up a copy of the band's CD Live at Painted Sky, and Dockside has great fish and chips. Win!
More music …
PHOTO BY AXLE PRESTON PRICE ETHINGTON
OUTLAWS! : Lorin Walker Madsen & The Hustlers bring their dangerous country sounds to The Pour House on Aug. 6.
I've never seen Lorin Walker Madsen & The Hustlers play live, but I like the cut of their jib. They just look like dangerous characters, and they play this Thursday, Aug. 6, at The Pour House as part of their Forever West Tour. "We'll be visiting a lot of our original stomping grounds on this tour," Lorin said. "We're excited to see old friends, make new friends, and for some whiskey drinking and dancing." They released their debut album The Kind of Man I Am in September 2013 and have toured relentlessly ever since.
Los Angeles jazz vocalist Julie Kelly plays D'Anbino's Tasting Room this Friday, Aug. 7, backed by the Marshall Otwell Trio, a local combo consisting of Marshall Otwell (piano), Dylan Johnson (bass), and Daryl Voss (percussion). Kelly is touring in support of her new CD, Happy To Be on the Jazzed Media label (8 p.m.; $10; 21-and-older).
So-Cal reggae troubadours, Babylon Rockers, have four shows cooked up for you this weekend: Friday, Aug. 7, from 4 to 8 p.m. at the Avila Beach Farmers Market; and again at 10 p.m. at the Frog and Peach; Saturday, Aug. 8, at 8 p.m. at Mr. Rick's; and the following Saturday, Aug. 15, at 9 p.m. at the Old Cayucos Tavern. "We really love the reception on the Central Coast," said guitarist and vocalist Matt G. "People have been coming out to see us since our first trip up here in 2013. People on the Central Coast know their reggae music, and we love it when people get up and dance at our shows."
Raised on a steady diet of '50s and '60s pop and inspired by rock 'n' roll prom king and queen Johnny Thunders and Joan Jett, Hayley Cain of SLO punk outfit Magazine Dirty is poised to unleash her newest project, Hayley and the Crushers. The trio is Hayley "Bring the Pain" Cain on guitar and lead vocals, partner in crime Reid Cain on bass, and well-bearded Ryan Jenkins on drums. It's all happening at Sweet Springs Saloon Friday, Aug. 7 (9 p.m.; 21+; $5 cover). Also on the bill is multitalented, charismatic Christian Cortez (of King Walrus fame), who will be crooning out a solo set. Headliner The Bar Room Riot of Bakersfield, known for slippery, sticky, genre-bending rock, will close out the night. Will there be a riot on the dance floor? Probably not, but you could fix that. The Bar Room Riot also plays Frog and Peach Pub on Saturday, Aug. 8 (10 p.m.), delivering a blistering evening of alt and indie rock. "The Bar Room Riot dares you to try and pin them down," the band said. "The Bakersfield rock quartet has an original sound that bleeds through into each of their songs, often crossing into different genres in the process. One minute you're submersed in a calming wave of indie ambiance and the next, you're smacked in the face with a chain made out of overdrive."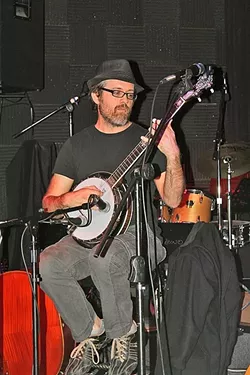 PHOTO COURTESY OF NATHAN MCEUEN
SON OF A GUN: Nathan McEuen plays a benefit concert at Bethel Lutheran Church of Templeton's Fellowship Hall on Aug. 8.
Hot Summer Soul II is coming to Castoro Cellars this Saturday, Aug. 8, with Burning James and the Funky Flames hosting two other hot acts: The Bobby Santa Cruz Band with Danny Weiss of Iron Butterfly fame on guitar, along with vocalist Daniel Formica, and Brian Freeman on drums; then The Irene Cathaway Blues Band from Los Angeles with local guitar master Dorian Michael; followed by Burning James and crew. "Last year's event was pretty spectacular so we wanted to do it again," James said. Tickets are $20 in advance; $25 the day of the show (at Castoro Cellars or brownpapertickets.com).
Are you ready for Ladyfest '15? Well, tough, because here it comes this Saturday, Aug. 8, at Sleeping Tiger Fitness (3595 Sueldo St., SLO; $10; all ages) from 2 to 9 p.m. "I've got back-to-back acts that highlight female musicians from SLO County (as well as a couple of national acts) performing between two stages," organizer and Hot Tina ax slinger Shea Kelly explained. "There are men performing with some of the bands, and of course men are invited to attend, if they think women are awesome! The proceeds will be donated to MUSE, a local nonprofit, that helps musicians that suffer from severe financial hardship and severe disabilities get instruments and lessons." Performers include Bill Knows Karate, Emily Franklin, Betrothed, Zen Mountain Poets, City Mouse, Sweetie Darling, and Hot Tina. And that's just one stage! Savannah Creech, Janine Elich, Kezia Liu, Holly Rohner & JJ, Mothra, and Sierra Gainer are on the other.
It's got to be tough to be the son of a famous performer. You're always introduced as Nathan McEuen, "son of well-known rock star banjo picker and Nitty Gritty Dirt Band founder John McEuen." Nathan's a fine performer in his own right, having appeared on the Grand Ole Opry, The Tonight Show, and American Idol with Steve Martin. This Saturday, Aug. 8, Nathan will play a benefit show for local charity Project Surf Camp, which educates those with special needs through a surfing experience, at Bethel Lutheran Church of Templeton's Fellowship Hall (all ages; 3 p.m.; $15 at brownpapertickets.com or the door) with opening act Amber Cross, a great local gospel, folk, and Americana singer-songwriter.
Charlie Shoemake (vibraphone, piano) has been a boon for local jazz fans for years and years after moving from the LA jazz scene to Cambria. His ongoing Famous Jazz Artist Series has brought plenty of big-name performers to the area, and of course Charlie himself is a well-known jazz man whose long association with George Shearing had him rubbing shoulders with jazz greats and led to work with everyone from Lalo Schifrin to Quincy Jones. This Sunday, Aug. 9, The Charlie Shoemake Trio (guitarist Josh Collins and bassist Keegan Harshman) will offer two intimate concerts at Painted Sky Studios (3 and 7 p.m.; $20 each or both shows for $30; $10 for students; tickets at the Cambria Music Shoppe or by calling 927-8330). Get bopping!
On Tuesday, Aug. 11, Frog and Peach hosts Boston-based Dubbest, who're touring in support of Light Flashes, a polished, laid-back collection of super chill dub reggae. Vintage instruments such as a Hammond B3 organ and vintage '50s Stratocaster guitars give the album a real '70s reggae sound. The free show stars at 10 p.m. (21-and-older).
Keep up with Glen Starkey via twitter at twitter.com/glenstarkey, friend him at facebook.com/glenstarkey, or contact him at gstarkey@newtimesslo.com.