Inclusion Starts With Me.
On first read, the words sound like a pithy phrase you'd hear in a middle school classroom—both corny and like something meant for an audience of students to chant over and over again.
Yet, the words are supposed to resonate deeply at Cal Poly San Luis Obispo. Incoming Cal Poly freshmen will repeatedly hear them during their Week of Welcome (WOW), the Mustangs' version of freshman orientation, and their meaning should be driven home by a Sept. 21 presentation from students and staff about "what it means to welcome others at Cal Poly."
"The intention of Inclusion Starts With Me is to drive that message of valuing everybody," said Jean DeCosta, the interim director of the Cal Poly Office of University Diversity and Inclusivity and a former dean of students at Cal Poly. "Everybody has a responsibility to address inclusion on campus."
PHOTO COURTESY OF CAL POLY
NO PLACE FOR HATE: Cal Poly President Jeffrey Armstrong (left) and junior Matt Klepfer lead a march through campus in December after a SLO Solidarity leader received a death threat from a peer.
While it may still sound rudimentary to some, the campaign is practically essential following a 2015-2016 school year that featured multiple hate-inspired crimes on campus and a full-blown student social movement calling out the university for failing to cultivate a safe and welcoming environment for underrepresented students.
Tensions boiled over last November, when anonymous students scribbled Islamophobic and transphobic remarks onto a "free speech wall" erected by the Cal Poly College Republicans club on Dexter Lawn.
A group of students started SLO Solidarity in response, joining movements at Yale University and the University of Missouri in bringing awareness to the experiences of underrepresented college students. It also put pressure on the Cal Poly administration to address campus climate issues through a list of 41 demands.
A month later, in December, one of SLO Solidarity's leaders, a member of the LGBT community, received a death threat from a Cal Poly student in a Facebook message.
"The day of the rope is coming soon, and you people will be the first to go," the threat read, from a fake account. "If you don't like how it is in this town, you can go somewhere else. We have a nice thing going here, and if you fuck with that you're going to have some angry young white man on your hands."
The student behind the threat was arrested after an investigation.
Then, in February, a student's dorm room was vandalized by a peer. His chair was snapped in two and the statements, "I love n**gers" and "I'm a fag," were written on his door. The perpetrator was charged with a vandalism misdemeanor in March.
The crimes were ugly and public, and according to those in the SLO Solidarity movement, they illuminated a hostile and bigoted undercurrent on campus. They also weren't the only recent instances of racism on display at Cal Poly. In 2008, a Cal Poly agriculture house was discovered donning a Confederate flag coupled with a sign that read: "No n**gers." Then, in 2013, an off-campus fraternity/sorority party was caught using the theme, "Colonial Bros and Nava-Hos."
For the 2016-2017 school year—and beyond—Cal Poly says it's doubling down on its efforts to cultivate a campus culture that will be safer for underrepresented students.
"They're getting slammed with this stuff this year," DeCosta said. "This a value we hold, and this is a strength you need to have."
DeCosta is overseeing a 174-pronged Diversity and Inclusion Action Plan designed to enhance campus climate.
"It's clear that we have to address this issue," she said. "I'm looking, and my office is looking, at to what degree are we addressing it effectively and holding people accountable to that."
Yet despite the new plans and efforts, one fact is unchanged: Cal Poly remains the least ethnically diverse four-year public university in California.
'Subtle racism'
Last year, Cal Poly enrolled 11,985 white students, making up 57 percent of the student body. It enrolled 166 African American students, or less than 1 percent of the student body; 3,262 Hispanic or Latino students attended, as well as 2,527 Asian American students, and 1,437 multi-racial students.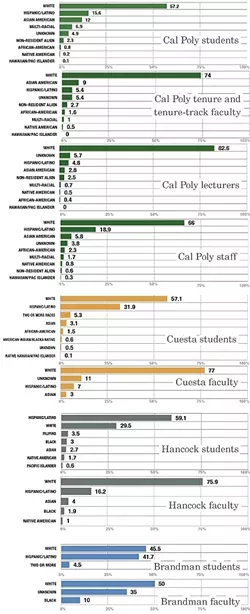 DATA COURTESY OF CAL POLY, ALLAN HANCOCK COLLEGE, CUESTA COLLEGE, AND BRANDMAN UNIVERSITY
THE BREAKDOWN: Cal Poly enrolls more white students than any four-year public university in California. These graphs break down racial demographics of four Central Coast colleges.
Totaled up, Cal Poly has more Caucasian students than any four-year public university in California. Even though 15 CSU and University of California (UC) campuses have larger student bodies, none have as many white students as Cal Poly.
That reality in itself can bring discomfort for underrepresented community members. A university-wide climate survey administered in 2014 shed light on some of the problems.
"From the survey, we know that when students come here, about 25 percent of them say they think about leaving Cal Poly at some point," DeCosta said. "And the primary reason [cited by 63 percent of respondents], is they don't feel like they're included. They don't feel like they have a place to belong."
The Office of University Diversity and Inclusivity is evaluating what factors, other than the diversity numbers, contribute to that perception.
Junior Matt Klepfer, a leader of SLO Solidarity and co-founder of the 2-year-old Cal Poly Queer Student Union, believes that Cal Poly has a reputation around the state that perpetuates a certain culture.
"There's a reputation of Cal Poly being a white school," Klepfer said. "And students come here because they know they're going to be protected, isolated, and comfortable. That's the type of student that the city appeals to."
Klepfer said that the campus culture is also built into Cal Poly's identity as a polytechnic university.
"Part of it is the fact that Cal Poly is about agriculture, STEM, and business, so students come here and they don't want to engage themselves in conversations around social justice, around race, around inequities, so they don't," he said. "That's why SLO is 'the happiest place in America,' because nobody's talking about social justice."
Junior Neel Kogali, the victim of the housing vandalism, shared his personal experiences of racism with the Mustang News in a video interview following the February crime. In the interview, framed behind Kogali is his dorm room door, ravaged and littered with hateful obscenities.
"This is the most blatant racism I've experienced," Kogali said in the video. "At Cal Poly, it's not like blatant racism, it's more like subtle racism. It's to the point where you can't really complain about it, because then you're seen as overacting to something that's very minimal. But it adds up. I notice being ostracized by certain groups. I noticed the judgment I get from other people."
And the problem isn't just one felt by students.
Almost three-fourths of Cal Poly's tenure-track faculty members, 82 percent of the part-time lecturers, and 66 percent of staff members, are also white. The campus climate survey revealed that 56 percent of Cal Poly faculty and 53 percent of staff seriously considered leaving Cal Poly in the past year.
Many African-American staff members actually did leave. In the last 18 months, 13 black staff members—or about 40 percent of Cal Poly's black staff—left the school for other jobs.
Unique Shaw-Smith, a Cal Poly sociology professor, chair of the Black Faculty and Staff Association and one of the 10 tenure-tracked African-American faculty members at Cal Poly, spoke with Cal Poly President Jeffrey Armstrong over the summer about some of the reasons they left.
"We talked about our own personal experience and why we thought people were leaving, ... trying to brainstorm what we can do to improve retention [of underrepresented faculty members]," Shaw-Smith told New Times. "I can't say that anything came out of it except him being a sounding board."
Shaw-Smith said she knows many of the staff were driven away by the environment on campus and the larger SLO area and that discussing those concerns with the administration often feels frustrating and unproductive.
"It always goes back to, 'Oh we need more people. We're going to recruit more people,'" Shaw-Smith said. "But that's not necessarily a solution, because you can't keep the people you have."
Rosyln M. Caldwell, another one of Cal Poly's 10 tenure-tracked African-American faculty members and the director of the Cal Poly Bakari Mentoring Program, recently filed a lawsuit against Cal Poly, alleging racial discrimination and harassment. Caldwell did not respond to requests for comment from New Times.
Big picture solutions
In 1996, affirmative action became illegal in California. Voters' passage of Proposition 209 placed a constitutional ban on "discriminating against or giving preferential treatment to any individual or group in public education on the basis of race, sex, color, ethnicity, or national origin." The law has been upheld in the California and U.S. supreme courts since.
FILE PHOTO BY PETER JOHNSON
MEAN SCRIBBLES: Cal Poly students gather around a "free speech wall" erect by the Cal Poly College Republicans last November. Anonymous students wrote bigoted messages about the religion of Islam and transgender students. The incident jumpstarted a student social movement: SLO Solidarity.
With that as the reality, how can Cal Poly go about diversifying its student body?
DeCosta says one solution lies in simply raising more money in order to provide more scholarships to low-income or first-generation prospective students. Cal Poly admits a more diverse set of applicants, DeCosta said, but some students aren't able to receive the financial support necessary to attend.
"As a state institution, we don't have the scholarship history that [other colleges] can provide," DeCosta said. "If somebody who's a very good student can get a full ride, then they're going to go there. We want to be able to offer the same opportunity for students who are qualified to come to Cal Poly, to be able to select Cal Poly."
Cal Poly's best hope for increasing scholarship funds is by soliciting more private donations. DeCosta said the university is having success with that strategy, and saw a "substantial increase in donations" over the past year.
The scholarship issue is compounded by the high cost of attending Cal Poly, DeCosta said. Cal Poly asks for the highest tuition price in the CSU system: $9,075 per year for in-state residents, which is almost $2,000 higher than second-place Sonoma State at $7,388.
But tuition is just one of the costs involved.
"The cost of housing, cost of books, cost of tuition—all of that is quite a sum," DeCosta said. "Many students can't afford it."
For the lower-income or first-generation college students who do choose Cal Poly, making ends meet can become an insurmountable burden.
"They get to Cal Poly and what happens is they have to work, they can't go full time [as a student], and they have to live at home again because they can't afford the room and board and all that it takes," DeCosta said.
But money won't solve everything. As the climate survey and the incidents of last year showed, Cal Poly must also become a place where students from all backgrounds can feel welcomed, comfortable, and a part of the fabric of the community. The Office of University Diversity and Inclusivity hopes to address that through its Diversity and Inclusion Action Plan.
FILE PHOTO BY DYLAN HONEA-BAUMANN
DEMANDING CHANGE: Students of the SLO Solidarity movement rallied at University Union in November 2015, days after a "free speech wall" on campus was marked up with Islamophobic and transphobic remarks.
A handful of action items include adding an anonymous online reporting system for victims of discrimination or harassment, collaborating with Associated Students Inc. to see how to boost underrepresented student involvement in student government, increasing opportunities for underrepresented groups to connect with each other, creating a new staff position in Cal Poly cross-cultural centers, increasing recruitment efforts for staff and faculty of color, and introducing new diversity-related curriculum.
"There's the ability to afford [Cal Poly], but then once you come here, there's the comfort of staying here," DeCosta said. "As a leading school in the country, we need to be able to keep our outstanding students once they arrive."
Shaw-Smith believes the same can be said about retaining Cal Poly staff and faculty, pointing back to the 13 African-American staff members who recently left.
"It's going to take more time and energy," Shaw-Smith said. "The [Cal Poly administrators] need to start going to conferences and learning about it. It has to be a top-down approach. The people on [Armstrong's] leadership cabinet, they have to be committed to diversity and inclusivity and retention and really trying to figure out ways that they can better the climate at Cal Poly. Once they're committed to it, then their supervisors and managers will have to be committed to it, and then the people under them will feel like this is somewhere they want to work."
DeCosta contends that the administration is already committed to that vision. She also placed her confidence in President Armstrong.
"If I walked up to Armstrong and said, 'President Armstrong, with all due respect, we need to do X, Y, or Z to make this better,' he would do everything he could to make it happen, when he has the resources and ability to."
Shaw-Smith and DeCosta agreed that for retaining staff and faculty, the issues concerning the Cal Poly work environment go beyond the confines of campus.
"People don't just work at Cal Poly; they live in SLO County," DeCosta said. "To say that Cal Poly is everything when you go home at 5 o'clock is not true. The community has to be equally as welcoming, equally as strong in its commitment to diversity and inclusion."
SLO County is even less diverse than Cal Poly. The 2010 census reported that 83 percent of SLO County inhabitants are white. On top of that, it isn't uncommon to see Confederate flags donned on cars or private property throughout the county.
DeCosta challenged the larger community to reflect on its values.
"This is an issue the community has to deal with," she said. "Are people [of color] finding communities when they leave work? Are they finding communities in their churches on weekends? Are they finding places where they can take their kids and where their kids can feel comfortable? If their kid is the only African-American in a classroom of white students in third grade, and one kid won't play with him because he's African-American, they're going to feel hurt."
DeCosta will stay on as the interim leader of the Office of Diversity and Inclusivity, which is only 4 years old, until Cal Poly can find a long-term replacement. The university hired a national search firm to recruit candidates.
"We're making great movement," DeCosta concluded. "Time will tell, obviously."
Students cope
SLO Solidarity, at the very least, added urgency to an issue Cal Poly administrators were perhaps already looking at.
Cal Poly is offering gender-neutral housing options this year, for example. "Inclusivity Starts With Me," the WOW campaign, was an item high on the priority list for SLO Solidarity as well.
But as the students in the movement lobbied for institutional changes, not all their peers were behind them. The Cal Poly College Republicans was one organization that took issue with what SLO Solidarity was asking of the university.
"The SLO Solidarity movement, originally, we were in support of because they were a calm, collected movement," said Katherine Rueckert, president of the Cal Poly College Republicans. "Their movement changed. When they started demanding actions from the president and his advisory, we saw the true colors of this movement."
Rueckert said that the club, along with a number of other students they spoke with, opposed SLO Solidarity's demands to implement policies close to affirmative action and to require an ethnic or gender studies class for all students.
"In engineering, we're already crammed for classes," Rueckert said. "To add on more classes, that would make us have to stay for over four years."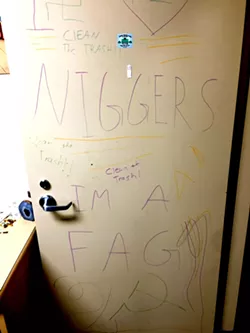 PHOTO COURTESY OF MATT KLEPFER
VANDALIZED: In February, a student's Poly Canyon Village apartment door was marked up with hateful messages, the second hate-inspired crime of the school year.
Reminiscent of the national political conversation, the exchanges between the groups primarily take place online, through snippy email exchanges and or web posts.
For instance, on the Cal Poly College Republicans' website, the club calls SLO Solidarity's demands list "ridiculous" and describes the movement's reaction to the December death threat as taking "an opportunity to say how much they are victims."
On SLO Solidarity's side, Mick Bruckner, a Cal Poly junior and SLO Solidarity leader, recently copied New Times on an email to Cal Poly College Republicans club advisor Brian Kennelly—subject line: "Brian Kennelly Promotes Racism on Campus"—accusing the club of "perpetuating violence and racism" at Cal Poly by inviting controversial media personality Milo Yiannopoulos to speak on campus.
Yet, when asked about the schism, Klepfer said, "There really isn't a conflict. We just never interact."
While SLO Solidarity "fizzled out" last spring after many of its leaders graduated, "that's not to say there isn't a community in SLO that doesn't want [it]," Klepfer said.
He believes the "Inclusion Starts With Me" campaign is a step in the right direction for WOW, at the very least in what it says about the university's intentions.
"For me and for a lot of students, we really view WOW as the first time where new students come and they're subverted into that Cal Poly norm," Klepfer said. "They're really wanting to change this culture when students come in."
He encouraged the fresh-faced Cal Poly freshmen to be unafraid of challenging the campus culture and making their voices heard.
"There's a desperate need," Klepfer said. "If you're not doing it, nobody is."
Staff Writer Peter Johnson can be reached at pjohnson@newtimesslo.com.
Want more?
Read more stories from Student Guide 2016!
Your microwavable miracle! | Things you wish you knew! | Cuesta goes nuclear! | Tattoos are personal! | Get your butt out of the bubble!