New Times headed to Paso Robles to find out what services are being offered for the homeless. Check out the slideshow.
On a blisteringly hot day in Paso Robles, Steve Bentley walks down Riverside Avenue toward the Second Baptist Church.
Not on his way to Sunday mass, Bentley, 40, is homeless and in need of a meal on a Tuesday. Luckily for him and dozens of others, the People's Kitchen at Second Baptist is a dependable place to find one and has been for 13 years.
"There's good people and good food here," Bentley says, while sharing that he's been homeless for about four years since coming out of jail and struggling to sustain work.
PHOTOS BY DYLAN HONEA-BAUMANN
NUTRITION: A mother, Cheryl, and her 4-year-old son, Zaden, pick up dinner at the People's Kitchen in Paso Robles before walking across the street to Pioneer Park.
Bentley meanders over to a table on the lawn outside the church's bible school, where a group of volunteers is handing out paper bag dinners (baloney sandwiches, fruit, chips, and cold water bottles) to a growing line of diverse people: single men, single women, couples—even young children.
It's just an ordinary evening at the People's Kitchen. Dinner is provided five nights a week, Monday through Friday, with volunteers from various faith-based organizations in Paso Robles taking turns as servers.
"I think of it as $20 not spent on a dinner out, instead spent for those who need it," Kathy Turner, a longtime volunteer, says.
The People's Kitchen is one of the not-too-many resources available for homeless people in Paso Robles. While it's a valuable lifeline and clearly appreciated, it's not exactly a route to beating homelessness.
"There needs to be more resources for them in the community" Turner acknowledges. "They need help finding housing."
But that help is rarely available.
Paso Robles doesn't have a homeless shelter, and the North County region as a whole suffers from a lack of homeless services, despite having the largest homeless population in the county.
"If you're in SLO, they can wrap you around tight in a baby blanket of services," said Cherie Michaelson, the president of nonprofit Paso Cares, which addresses homelessness in the area. "Up here, they say there's half of a social worker for the North County. So what do you do with that? That's really difficult."
Michaelson and other community members have been busy pushing Paso and SLO County to better address homelessness in North County, heightening awareness of the lack of accessible social services in the area.
"Over the past year or so, we've had some really good conversations about the services that are available and the services that are not available to the homeless," said Steve Martin, Mayor of Paso Robles.
Now, Martin and other local elected officials are making a push to take ownership of a 160-acre, defunct, state-owned juvenile correctional facility near the Paso Robles Airport, with a vision of repurposing a portion of it into transitional housing for the homeless.
Out of reach
According to SLO County point-in-time counts, the total number of homeless individuals in the county decreased by 30 percent between 2013 and 2015 and SLO's "sheltering rate" for the homeless went from a woeful 10 percent (fourth worst in the nation) to 26 percent.
However, above the Cuesta Grade, point-in-time count statistics show the issue has actually become worse. The number of individuals in North County who are homeless increased by 35 percent between 2013 and 2015. An estimated 700 homeless people are living in the North County region right now.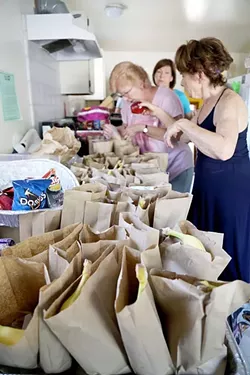 PHOTO BY DYLAN HONEA-BAUMANN
PEOPLE'S KITCHEN: Volunteers Debbie, Clara, and Mary (left to right) prepare paper bag dinners at Second Baptist Church in Paso Robles for locals in need. The People's Kitchen is able to serve dinners Monday through Friday because of the efforts of faith-based organizations.
Only 19 percent of the homeless population in Paso Robles is considered to be sheltered.
"Those numbers are very alarming," Michaelson said. "I don't think people really realize the extent of the population of homeless people."
Laurel Weir, the director of homeless services for the SLO County Department of Social Services, said it's difficult to pinpoint a reason for the increase of individuals in the region. But she said a lack of services for homeless people in North County makes it difficult for them to get the help that they need.
"Certainly there are more resources here in San Luis Obispo for assisting people who are homeless," Weir said. "People who are homeless in the North County face additional challenges because it's difficult to access services."
Resources are sparse for the services that do actually make their way up north, and the county has to allocate them carefully. Help is usually prioritized for families and veterans, but even people in those groups fall through the cracks, Weir said.
The county and its programs—like 50 Now, which targets the 50 most at-risk homeless individuals and finds housing for them—have to constantly make tough calls on who to extend services to.
"It's limited resources," Weir said. "We have to choose who gets it and what kind."
Paso Mayor Martin, who is the city liaison to the SLO County Homeless Services Oversight Council, said that it's his impression that people in his city oftentimes simply don't have the means to reach services.
"It became obvious to me that the challenge for homeless folks, at least in this end of the county, is often there are services available to help them, but there's no way to get them to those services," Martin said.
Last October, Martin proposed an event to bridge that gap. He called it, "Mobile Assistance and Services Addressing Homelessness" (MASH), and it was an opportunity for the homeless to make connections with social services providers. About 80 homeless people showed up to the event with 25 service providers.
Though efforts to coordinate and consolidate services through events like the MASH are helpful, housing is the most important element to confronting homelessness, and it's missing.
Push for solutions
When the El Niño rains and freezing overnight temperatures started hitting the Central Coast last winter, the Homeless Services Oversight Council called on the county and its cities to declare a "shelter crisis" and open up public buildings as potential locations for warming centers.
PHOTO BY DYLAN HONEA-BAUMANN
CHERIE CARES: Cherie Michaelson, president of the Paso Robles nonprofit Paso Cares, helps prepare dinner at the People's Kitchen. Paso has the second largest homeless population in the county behind SLO.
Paso Robles felt the impacts of the crisis harder than most, in part because of the many homeless encampments near the Salinas River in immediate danger of being washed away by El Niño floods.
The city wound up staging a clear-out of the camps in March. According to the Paso Robles Police Department, 46 encampments were cleared out in the process.
"We didn't lose anybody [in the floods]," Michaelson said. "We did have a couple of rescues of people who got stranded."
Just like the people living in the homeless camps were brought out of the riverbed and into the public view, the divisive issue of homelessness also spilled out into the public discourse.
"[The winter] really got the city and the community more aware of what's going on and the need that's facing the homeless," Michaelson said.
Despite the harsh winter, Paso Cares' warming stations never hit full capacity. Some people perceived that to mean the homeless are just fine living by the river or at the park.
Weir and Michaelson beg to differ.
"I think people sometimes get confused about people wanting to be homeless," Weir said. "It's really important to distinguish the difference between someone saying 'no' to an emergency shelter, where they're going to be sleeping on the floor with a bunch of people they don't know and having to leave their possessions and animals behind ... versus [someone] saying, 'Hey, we have an apartment for you where you can have your dog and your possessions with you.' It's really not an illogical decision sometimes to say 'no' to shelter. It doesn't mean that they really want to be homeless."
Weir said that a full-blown homeless shelter is by far the biggest need in North County. Experts are finding that a "housing first" approach to the homeless is the most successful way to address the issues that may have led an individual into homelessness. With shelter to call home, overcoming a health issue—physical or mental—is much more manageable, and ultimately, less costly.
"We're seeing a decline in usage of healthcare systems after putting people into housing," Weir said. "It's showing a nice benefit to the public by decreasing the use of those various public health and safety resources."
Atascadero is home to the El Camino Homeless Organization (ECHO), a nonprofit sheltering program with 50 beds that aims to transition people from homelessness to a job and an apartment. ECHO asks that its residents chip in to the operation through cleaning and other work, in exchange for food, case management, and social services.
Michaelson at Paso Cares likes that model for Paso Robles, but making it a reality is a whole other challenge.
"The bottom line is we need housing," Michaelson said. "We need somewhere for them to go where they can be out of the heat or the cold. Have a rest if they need to, get on a computer to network, go to meetings, and have AA [alcoholics anonymous]."
Acres of hope
Paso Robles farmer Floyd Butterfield jokingly calls the massive and defunct juvenile correctional facility adjacent to his property a "great neighbor."
Since it was emptied of its 1,000 youth and shut down in 2008, Butterfield hasn't heard a peep from behind its menacing barbed wire fence.
Since 2008, the Estrella Juvenile Correctional Facility on Airport Boulevard has been in a "warm shut down," which means that the state spends between $700,000 and $900,000 per year to keep all its buildings—which are numerous—maintained and to provide three staffers on site.
Mayor Martin and other local community leaders would rather see that property be put to use. After receiving some inquiries about connecting the facility with solutions to homelessness, Martin penned an open letter in April to state Assemblyman Katcho Achadjian [R-San Luis Obispo] and state Sen. Bill Monning [D-Carmel] inquiring about the availability of the land for the purpose of a "Beyond Homelessness" campus, or a transitional shelter program similar to ECHO in Atascadero.
But the property is stuck in bureaucratic molasses. The facility, managed now by the California Department of General Services (DGS), is being offered to other state departments, and those get priority over Paso Robles or SLO County.
"At this time, DGS is still looking to see if there is interest at the state government level," Jacqueline Cummings, a DGS public information officer, told New Times. "The next step would be to determine whether there is any interest at the local government level, and then the private sector."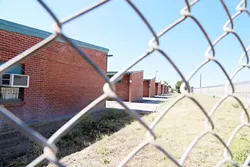 PHOTO BY DYLAN HONEA-BAUMANN
MOON SHOT: The Estrella Juvenile Correctional Facility in Paso Robles was shut down by the state of California in 2008. Paso Robles Mayor Steve Martin hopes the city can obtain the 160 acres of land by the airport and use part of it for a transitional homeless shelter.
Martin, along with SLO County 1st District Supervisor Frank Mecham and Paso City Councilman Steve Gregory, hope to speed the decision process by explaining their plans directly to the governor's office.
"We need to get somebody on the line who can make a decision on this. I'm not going to wait for long," Mecham said, adding that he hopes to get a phone call set up this summer.
While the details of a pitch to the governor are still under discussion, the common vision for the facility is to split it up for multiple uses. Part of it could be used by Cal Fire, which already has a station just north of the property but has expressed interest in expanding that. Another proposed use is to transform the currently decrepit sports fields on the land into playing fields for local youth sports.
And finally, the roughly seven homes for staff that already exist on the property could become the infrastructure for a transitional homeless shelter.
Butterfield, the farmer who neighbors the facility, is already in talks with Gregory about an idea to farm the remaining land and, in turn, provide work for people going through the transitional housing program.
"I'm interested in helping people, and there's no question homelessness in Paso is a problem," Butterfield told New Times. "I know that [Councilmember] Steve and others at government levels are looking to a longer term solution for the homeless. Part of that to me is helping them find work. So if I can help do both, that's good."
Weir at SLO County Social Services called the plan "not an insignificant undertaking" but expressed optimism at the possibility.
"Having a place where we could put housing or other resources could be very helpful," Weir said.
Not waiting around
As officials marvel at the potential of the Estrella facility, Michaelson of Paso Cares isn't holding her breath. Her hopes that the 160 acres of land on Airport Boulevard will become available to solve homelessness in Paso are not so high.
"This could be a 10-years-out thing before we even see anything," Michaelson said. "I'm more about the immediate future right now, working with the city about setting up some sort of camping for them come next winter, because we can only take 12 to 15 people [at the warming stations]. If we get 40 people, where are they going to go?"
Michaelson hopes that the close collaboration during the El Niño crisis between Paso Cares and the city of Paso will be the start of a productive relationship going forward.
"I hope we can partner with them and we can come up with some sort of game plan for next winter," Michaelson said.
On that brutally hot Paso afternoon at Second Baptist Church, Mike Harris, a Paso-raised man with a history of housing struggles, rests on a rail as he bites into his sandwich.
"This is a blessing," Harris says, wiping away sweat from his face and taking a swig from the water bottle. "I don't know what I'd do without this. These ladies are angels to us."
When asked if he and others could make use of more services, in particular a formal transitional housing program, Harris doesn't hesitate to answer affirmatively.
"A shower, a job center, a place to go during the winter so you don't freeze to death… That would be huge," he says.
Staff Writer Peter Johnson can be reached at pjohnson@newtimesslo.com.