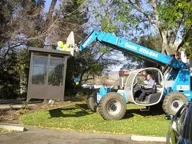 PHOTO COURTESY OF SIERRA VISTA REGIONAL MEDICAL CENTER
BUTT HUT CUT : Rick Ford, director of Plant Operations for SLO's Sierra Vista Regional Medical Center removes the first of two now-banished smoking shelters, or "Butt Huts," from the hospital's campus. Under a new policy, use of tobacco products is banned from all of the hospital's properties. About a dozen employees are being provided nicotine patches as part of a quit-smoking effort.
Newbie SLO County Supervisors Adam Hill and Frank Mecham officially took their seats on Jan. 5, spurring not only a change in faces, but what some expect will be a significant shift in county government.

Hill and Mecham's swearing-in ceremony was tinged with speeches about change in county government and rejuvenating public trust. Supervisor Jim Patterson said the last several weeks in the board chambers had been "fairly arduous," referring primarily to the Santa Margarita Ranch project appeal, one of the most hotly contested recent board decisions. Patterson added that the board should work to restore "a sense of hope" in the coming year.

Supervisor Bruce Gibson replaced Patterson as board chair. Mecham was named vice chair.

As chair, Gibson said one of his goals would be to eliminate last-minute paperwork. Gibson said flurries of late-arriving documents, which often go unread and clog the public process, would be stopped under his chairmanship. He proposed that no new information would be accepted within 72 hours of a meeting. Other supervisors and the public were largely in agreement.

But Gibson also said he wanted more timely and streamlined meetings, which sparked some of the only fireworks in an otherwise dry and routine day. Gibson said that hours of public testimony and subsequent board discussions could harm final board decisions.

"Our decision-making abilities—how shall I say—get a little dull if we go too long into our meetings," he said.

Gibson got slammed when he tried to actually implement that idea. Early in the day he asked a public speaker to stick to county business and get to the point, but was later accused by David Duggan, a regular speaker at board meetings, of silencing the public.

Duggan pointed his finger at Gibson and said everyone in the public is entitled to three minutes of speaking time regardless of how long it takes them to get to the point. He asked Gibson to apologize and threatened to make videos chronicling when the public is cut off and publish them online and on public access TV.

Gibson defended himself by saying that public comments should be related to county government and not just an open forum for free advertising. County Counsel Warren Jensen backed Gibson's position that public comment should stay focused on county government.

Following a chaotic end to 2008, filled with last-minute controversial 3-2 votes, the new board began 2009 with a much more muted tone. Every item on the Jan. 6 agenda received unanimous votes.

The new board members only had three hearing items to vote on, including two small appeals of county fees and one item allocating grant funds for the Sheriff's Department.

Hill and Mecham also got their first official update on the Los Osos sewer project during the Public Works monthly update. The public comment period is coming to a close on what type of system will be used. A consistently vocal group from Los Osos continued to criticize the county for pursuing what they called an expensive and environmentally inferior sewage system. County officials have maintained that the system will not be overly expensive or hazardous and a final design has still not been selected.