Some good news for all who delight in our area's splendid scenery, and for those who recognize its benefit to our tourism economic base. Intrusion by billboards along Highway 101 was recently reduced between Avila and San Luis Obispo. Although 10 billboards remain in this scenic stretch, this number pales in contrast with 30 along Cuesta Grade plus six in SLO. Between the Santa Margarita and Avila exits are almost 50 billboards.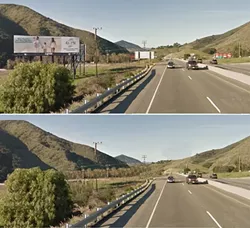 PHOTO AND PHOTO ILLUSTRATION COURTESY OF PS101
WITH AND WITHOUT: Pictured is Highway 101 north of San Luis Obispo as it stands today, and what it could look like without billboards.
Two billboards just south of SLO, on the Johnson Ranch open space owned by the city, were recently removed by city action. The council's foresight in establishing a greenbelt around the urban area was enhanced by its elimination of the two ranch billboards.
The general plans of the city and the county prohibit new billboards and encourage the elimination of existing billboards through programs that include citizen involvement and city-county cooperation. Unfortunately, no programs have been established.
Local citizens have formed Protect Scenic 101 (PS101) to help move billboard retirements along in a non-confrontational, case-by-case manner. The group is sensitive to the financial interests of landowners, sign companies, and advertising businesses and is researching ways to engage with each. Vested interests could benefit from compensations, which include public recognition and tax deduction for donating billboard rights. PS101 is also researching billboard removal laws and practices at state and federal levels and is encouraging city--county cooperation to accomplish billboard retirement.
At the bottom line, even for billboard companies, is the growing awareness that these intrusive signs are an outdated technology. Increasingly, travelers rely on print or online media with reviews for lodging and restaurants. Few billboards advertise local services located along the highway; many annoy more than help. When illuminated at night on the Grade, they can be a dangerous distraction.
San Luis Obispo is the only county on the Central Coast to have billboards. The nearest city with billboards is Los Angeles. Ventura, Santa Barbara, and Monterey counties eliminated them years ago, before large billboard companies became as litigious and intimidating as they are today.

BOARD OUT OF YOUR MIND: PS101 will give a brief presentation followed by the documentary Billboard Wars at the Steynberg Gallery, 1531 Monterey, SLO, at 7 p.m. on Wednesday, Sept. 24. The suggested donation for the projectionist is $10. Food and beverages will be available for purchase, and socializing starts at 6 p.m.
States high in tourist draw—Vermont, Maine, Hawaii, and Alaska—have eliminated billboards entirely. San Luis Obispo County could provide its residents and visitors a scenic experience equally devoid of clutter.
If you're among those who'd like not to have advertisements forced upon you as you drive, there are ways you can help:
Participate in PS101 meetings and/or endorse its mission as an individual or an organization.
Inform local billboard advertisers about your response to their billboard ads. You can also encourage advertisers to gauge effectiveness of their billboard ads. Advertising is often a multi-media contract with an advertising agency, and a business is sometimes unaware of appearing on a billboard.
PS101 has been endorsed by local individuals and organizations and is available for presentations. For more information, email sherri39@charter.net or rwilvert@sbcglobal.net, or call 595-2208 or 544-8365.
Together, we can create an even happier San Luis Obispo County.
Rosemary Wilvert of SLO is publicity chair for PS101. Sherri Danof of the Avila area is the group's coordinator. Send comments to the executive editor at rmiller@newtimesslo.com.