As first-year Cal Poly students line Grand Avenue to lay eyes on their campus for the first time, they'll most certainly notice a massive construction project towering over the school's stone-gray entrance sign.
It's impossible to miss: a nearly half-a-million square-foot site with seven, half-baked three- to five-story structures—which will eventually serve as dorms for 1,450 students.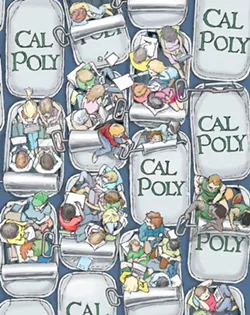 Illustration By Russell Hodin
The dorms aren't ready for move-in this year—that'll wait another year—but this incoming class of 2021, their slightly older peers, and San Luis Obispo city residents sure wish they were. And while they're wishing, they'd also ask for Fremont Hall back, a student residence put out of commission last year by flooding.
Beds are sorely needed because Cal Poly is expecting 800 to 850 more students than it planned for this year, according to recent university estimates (final enrollment numbers won't be available until October, Cal Poly said). The unanticipated increase consists mostly of freshmen and transfer students who accepted their admission offers at a higher rate than ever, as well as more upper-classmen who decided to return to school.
University officials explained the increase as a miscalculation. A blip. An unintentional deviation from the "steady state" growth plan they've committed to publicly. It was a phenomenon that was also experienced at other CSUs (California State University) and UCs (University of California) this year.
Administrators are still trying to get to the bottom of why it happened. They believe it's partially linked to the removal of the "early decision" option for Cal Poly applicants. Early decision was eliminated last year because it supposedly disadvantaged students from low-income backgrounds who were reluctant to commit to Cal Poly, the most expensive CSU, before financial aid packages were dealt.
While the strategy seemed to work—Cal Poly anticipates a 30 percent increase in under-represented minorities in the incoming class compared to last year's—it also made the admissions process less predictable, officials said.
Photo By Jayson Mellom
NOT READY YET These Cal Poly dorms under construction will not be ready to house the 800 to 850 more students the university's taking on than it expected this year.
Now, Cal Poly and SLO are facing at least four years of higher-than-expected student enrollment before its infrastructure can catch up.
"Cal Poly has been planning to be at steady state enrollment for several years until we can add more residence halls, faculty offices, and teaching space. ... This was an unplanned enrollment increase," Cal Poly Vice President for Student Affairs Keith Humphrey explained to the SLO City Council in an Aug. 15 presentation. "I think it will take several years for us to correct it and get it back down."
To make things work for this year, Cal Poly has added 1,000 beds to the Poly Canyon Village and Cerro Vista apartment complexes. In some apartments, that means doubling their capacity with bunk beds (for example, a four-person becoming an eight-person suite). Additional faculty and staff were hired; more study and classroom spaces were created; the IT infrastructure got boosted; and classes and sections were added and rescheduled to try to accommodate higher demand.
While Cal Poly student Erica Hudson and recent graduate Sinead Schouten told New Times student housing was already overcrowded and classes and class sections already too competitive, the school's administration believes its efforts will suffice.
"The physical campus can safely and efficiently accommodate all enrolled students for the coming year," university spokesman Matt Lazier wrote in an email to New Times, adding that Cal Poly consulted with the state Fire Marshal's Office to make sure all of the reconfiguring passed fire safety tests. "The university is taking every step to ensure the student experience inside and outside of the classroom meets the high standards our students expect and deserve."
For the city of SLO, the student increase translates to more impacts to neighborhoods, the local rental housing market, and the demand for municipal services like fire and police protection.
"We have a lot of impact locally," SLO City Councilmember Andy Pease told Humphrey following his Aug. 15 presentation. "When we had our chance to meet with the president and go over the master plan, the commitment to us, which we then shared with the community, was steady state [enrollment]."
Photo By Peter Johnson
TOWN AND GOWN Cal Poly Vice President for Student Affairs Keith Humphrey talks to the SLO City Council about the higher-than-expected student enrollment this fall.
SLO is currently calculating what it thinks the student increase will mean in direct costs to the community. The city will then bring that analysis to Cal Poly in the coming days to negotiate a compensation agreement, which the school says it's open to obliging.
"We maintain an open line of communication with city officials," Lazier said. "The university is always willing to pay its fair share."
SLO anticipates impacts to its emergency response services, law enforcement, water and sewer, transit service, neighborhood wellness initiatives, and IT infrastructure.
"Emergency response is a big one," SLO Community Development Director Michael Codron said. "We have to monitor that closely and make sure we're not inadvertently underserving some other part of the city."
In addition to expected increases in the number of noise and alcohol-related complaints and police calls, the presence of another neighborhood impact—long-term off-campus parking—is anticipated.
Cal Poly is banning freshmen from bringing cars to campus this year, a decision school officials say was two years in the making. The city is concerned, though, that students will still bring their cars and park them in off-campus neighborhoods that are unmetered and don't require parking permits.
"What's going to happen is we're going to get complaints," Codron said. "We're going to have to spend a lot more time tagging vehicles and then checking back in 72 hours to see if they've moved."
The recent interplay between SLO and Cal Poly over the higher enrollment is just another chapter in the long-standing and ongoing negotiation between the two institutions. Cal Poly has pledged to house 65 percent of its students by 2035. Last year saw a dip in student living on campus—down to 34 percent from 37 percent. While this year could mark another setback in that goal, the university leadership believes it's still on the right track.
The new dorms on Grand Avenue will offer some relief next year. Eventually, Cal Poly plans to require second-year students to live on campus.
"We have not dropped that, and plans are continuing to advance," Humphrey told the City Council. "We're in a very aggressive campaign with our student body to help them understand the academic value of living on campus." Δ
Staff Writer Peter Johnson can be reached at pjohnson@newtimesslo.com.