Chronic Cellars cofounder and winemaker Josh Beckett commutes between two distinct "offices": the vineyard and the beach.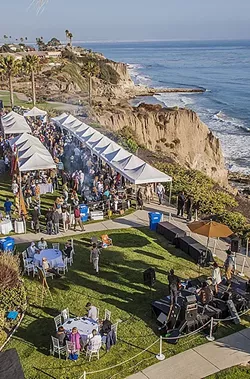 PHOTO COURTESY OF WINE, WAVES & BEYOND
ENDLESS SUMMER FLAVOR : This year's Wine, Waves & Beyond event benefiting GleanSLO culminates in a groovy celebration of food, wine, beer, and surf culture at the Cliffs Resort in Pismo Beach this April 29. The full event takes place April 27 through May 1 and includes surfer flicks, surf content, a winemakers dinner, VW bus car show, and more.
"Fortunately, most of the great wine regions around the world—South Africa, Australia, South America—are near epic surf, and the Central Coast happens to be one of them," Beckett said. "Usually, I get up and check the surf. Some days, you know you gotta be in the vineyard or the winery for bottling and blending first thing. But when it's on my schedule, I like to get up and get wet. It clears my mind, gets me ready for the day, and allows me to let go for a minute. Then, I can get after my work stoked and refreshed."
Needless to say, the Morro Bay resident knows the stretch of Old Creek Road and Highway 46 West that cuts from the ocean to Paso Robles like the back of his hand. After all, it's the drive that takes him to and from his two life passions—which, when you think about it, show some uncanny similarities.
"Wine and surfing are both about self-expression, and every winemaker or surfer has a different philosophy and ideas about how to do it," Beckett said. "We all have our own style and we ride different equipment; we all have cool surf spots that we always go to and hold tight to our hearts, kind of like those special vineyard blocks."
If you, too, are enticed by this laid-back intersection of surf, wine, sun, and sand, you'll want to splash into this year's Wine, Waves & Beyond (WW&B) lineup this April 27 through May 1.
The sweet set includes a surf flick double feature at the Fremont, a barrel tasting of more than 50 wineries and breweries, and a killer winemakers dinner on Saturday, April 30, hosted by Sycamore Mineral Springs Resort featuring the culinary talents of four local restaurants paired with Culton Wines (French wines from Defi du Vin Français will be poured alongside the Culton selections).
For the second year in a row, the event benefits GleanSLO, a nonprofit putting produce that would otherwise be wasted into the hands of needy folks across the county.
According to Charles Crelin, WW&B board member, the benefit has raised more than $130,000 for local charities and nonprofits over the past six years. Past recipients include AmpSurf, a nonprofit that helps promote, inspire, educate, and rehabilitate amputees with the power of good old-fashioned surfing.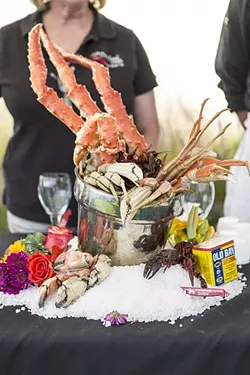 PHOTO COURTESY OF
WINE, WAVES & BEYOND
"Our overall fundraising has a lot to do with helping organizations that help others in the realm of surfing lifestyle and food security," Crelin said. "The event really brings all walks of life together. During our Surf Movie Night at the Fremont Theatre—happening Wednesday, April 27, this year—you'll see hundreds of locals, from young kids to families to world famous surfers."
A very colorful group is expected to converge at the Cliffs Resort in Pismo Beach on Friday, April 29, for the Barrel to Barrel tasting event, where the Central Coast's best beer, wine, and food from about a dozen local restaurants will come together (no, there is no dress code; yes, you can and should wear your coolest flip-flops). This year's silent auction items are no joke, either. You could win three nights in Mexico or a trip to Vegas.
Need a little chill-out sesh after all that grubbin'? On Sunday, May 1, check out the 805 Surf Classic Contest, featuring long boarders, short borders, and adaptive athletes who have pushed beyond physical limitations to ride the tide with the best of them. Nearby, a gaggle of VW busses—more than 100 to be almost exact—will gurgle their way into the Addie Street parking lot in Pismo Beach, just a stone's throw from crashing waves. Groove to live music by Proxima Parada and The Kicks, hang out in the beer garden, or satiate your munchies with a caravan of food trucks. Just don't hop inside any of the parked VW buses without the owner's permission (they have been lovingly restored to cherry condition).

STAY FROTHY, SAN LUIS OBISPO!: For more information and tickets for the Wine, Waves & Beyond event kicking off this April 27 through May 1 around SLO County, visit

winewavesandbeyond.com

.
For those of a certain generation, these candy colored vehicles crafted in the '60s and '70s offer more than a ride down memory lane. They represent freedom, free love, and a quintessentially California dream. What happens in the bus stays in the bus.
"I'm old enough to remember the Beach Boys," Crelin said with a chuckle. "But even if you aren't, this event really brings you to that era, a time when surfers actually drove these VWs down to the beach. Everyone is hanging out and having fun. It's just the perfect mix of the Southern California surf and Central Coast food and wine."
Hayley Thomas caught a wave and is sitting on top of the world. She can be reached at hthomas@newtimesslo.com.