The boys of Still Time like to boast about their van, a "sweet" Ford Econoline with "double cassette player and VCR," the same van that's been hauling the SLO Town band up and down the West Coast this past summer in an endless loop of concerts. I peak my head into the van and can still faintly smell the reeking dregs of socks worn for too many days in a row and the stale odor of convenience store microwavable burritos. Ah, life on the road.
PHOTO BY WILL FIGG
CHAIRMEN OF THE BOARD : The close knit yet pantsless boys of Still Time plays a doubleheader at Downtown Brew this weekend, opening for the Dirty Heads on Sept. 26, with the Dirty Heads opening for them on Sept. 27.
I'm chilling with Still Time over brews to discuss what the band's been up to, and seriously, other than touring and working on new material for the next album, they haven't done much. In fact, they've been on the road so much that four of the six members shack up in the same two-bedroom rathole, with lead singer Dan Curcio sleeping in the garage while the band's official photographer Will Figg frequently sleeps on the floor.
All but one of them graduated from Cal Poly and, ignoring what their degrees trained them for, Curcio and fellow bandmates Paul Smith-Stewart, Jon Vucinich, Chris Arntzen, Nick Bilich, and newest member T-Bone Steak, the only married and non-Cal Poly alum, have committed totally to their music. This band of brothers is living, eating, sleeping, and breathing rock'n'roll. And to prove how serious they are, Downtown Brew co-owner Todd Newman has come on as their manager, hoping to propel the clearly talented group to the Next Level! Da da dunt!
"It made sense," says Curcio. "Instead of all of us doing the work haphazardly, we got someone who's good with business.
Still Time has sold out the club six or seven times," notes Newman with a tug on his beer. "That's why we've got them booked for two nights this weekend. Other than the Expendables, that's the only band we've done this with."
So wait a minute! Has the band gotten overly serious? Part of their allure has always been the good time vibe they give off in live concerts.
"Last Monday we were drinking cheap tequila chased by tortilla chips and hot sauce while we played [the video game] Rock Band with our neighbors," offers Curcio as proof that the band still knows how to party.
Still, the band members often clock 10- or 12-hour days spreading the word via the Internet and booking shows. There are benefits to such work, of course.
"I was on-line for 12 hours the other day booking shows on the Internet, but when I'm at home, I don't have to put on pants. Fuck pants," says Smith-Stewart.
Yes, fuck pants. Sure, these guys could be pulling down $40 or $50K a year each instead of sharing a ghettofabulous apartment, but instead they're rockers. Deal with it, bitches!
See Still Time on Friday, Sept. 26, when they open for the Dirty Heads at Downtown Brew, and again on Saturday, Sept. 27, when the Dirty Heads open for them. Each show costs $10 presale or $12 at the door. Friday is all ages Saturday is 21-and-older. Pants optional.
See more band photos at figgphoto.com, and catch up with Still Time's ongoing blog at www.blogspot/stilltimemedia.com.
To SLO, with one love
One of the many marvelous things about Wendy Oliver, owner of Bali Isle and tireless promoter of reggae and world music, is her indefatigable spirit. She's absolutely unflagging in her love of music, and this year she's hoping SLO County will catch her fire as she promotes her third annual SLO Music Fest, schedule for this Saturday, Sept. 27 in the SLO Mission Plaza.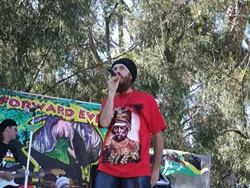 PHOTO COURTESY OF LAMSBREAD
SLO MUSIC FEST III ALL : day on Sept. 27, check out the third annual SLO Music Festival at the Mission Plaza, with reggae, ska, world music, drumming, and tribal dancing, plus a whole lot more, including Lambsbread (pictured.).
From 10 a.m. to 10 p.m., the sounds of reggae, world music, and ska will heat up the main stage. A second stage will feature acoustic music, drumming, and tribal dancers.
"The SLO Music Fest is about our community, families, and commerce, too," explained event organizers."Festival goers will be able to explore a marketplace featuring green and exotic ethnic and world vendors and artists.They can tap into local community groups, meet citizens running for office, and register to vote.A children's play area will be open during the afternoon hours.International cuisine will be available and a beer garden will be open for those who are age 21 and older.The Earth Day Alliance, a nonprofit organization responsible for coordinating the annual free Earth Day event, will be a beneficiary of SLO Music Fest."
Keifas & Ark Roots Band, The Kicks, Mrs. Brown, Shival Experience, Vance of Resination, Leroy Shakespeare, Ras Rebel, Ras Danny & the Reggae All Star Band, and Stevie Culture are all scheduled to appear.
Get $8 advance tickets at Bali Isle, Boo Boo Records, or Information Press. Tickets will cost $10 at the gate.
"[The SLO Music Festival] is a joyful way of pulling all of the best things in SLO together—business, community, and students," said Oliver, who also produces the Tribal Fusion Festival, an annual celebration of the winter solstice and belly dance.This year's festival is on Dec. 13 at the SLO Veterans Hall, so mark your calendar. For more SLO Music Fest info, call 544-7662 or visit www.slomusicfest.com.
Bound for glory!
PHOTO BY JENNIFER OLSON
GOOD AGAINST EVIL! : Honor Bound Heroes (pictured) goes head to head with Christian metal band Perceive the Symphony, on Sept. 27 at Hoover's Live.
From the opening riff of the lead track "Rock & Roll" on No Regrets, the raging new CD from Honor Bound Heroes, it's clear this trio has come for your blood! The songs are crisp, brief, and freakin' dangerous.
The power trio ram-rods through 17 tracks on their new disc, mixing straight-ahead punk, hardcore, and glimmers of surf guitar into hook-laden nuggets featuring a tight rhythm section and ripping guitar work, not to mention balls-out harmony vocals. If each song didn't feel like a sucker punch to the gut, you could almost call them pop punk.
On Saturday, Sept. 27, the band goes head to head with Christian metal band Perceive The Symphony during Hoover's Battle of the Bands. Attendees receive ballots and vote for who moves onto the next round.
You can hear an interview with Honor Bound Heroes as well as a couple of acoustic songs on the New Rock 107.3 FM, 4 Minutes to Freedom Show with Tristan at the 4 o'clock hour on Thursday, Sept. 25..
According to Perceive The Symphony, they're a Christian band that's not quite metal, but harder than alternative rock music."We sometimes refer to ourselves as 'Petal Music' (Punk/Metal)," said the quintet. "What we desire to do is spread the word of God through our music."
Will it be a battle of good versus evil? Be there and bear witness. The show starts at 9 p.m. and costs $3.
And now for something completely different!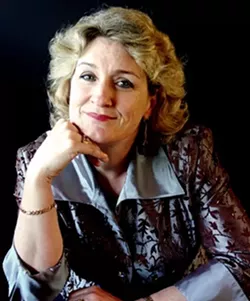 PHOTO COURTESY OF JACALYN KREITZER
WORDS AND MUSIC : One Sept. 27, Mezzo-soprano Jacalyn Krietzer presents "The Great Poets in Song: 1900 and Beyond!" in the Spanos Theatre, featuring poems by the likes of Dickinson and Apollinaire set to music by the likes of Weill and Bernstein.
Cal Poly Music Department faculty members Jacalyn Kreitzer, mezzo-soprano, and Susan Azaret Davies, pianist, will cook up something strange and delicious—food for your mind, candy to your ears—when they present "The Great Poets in Song: 1900 and Beyond!" at 8 p.m. Saturday, Sept. 27, in the Spanos Theatre.
According to Kreitzer, the recital will feature "the lilting and exquisite melodies of composers whose subjects and texts are delicious and sometimes manic."
Expect works by Frances Poulenc, Charles Loeffler, Kurt Weill, Jake Heggie, Franz Lehar, and Leonard Bernstein, with texts by Bertolt Brecht, Paul Verlaine, Edna St. Vincent Millay, Emily Dickinson, and Guillaume Apollinaire.
Sounds wicked!
Kreitzer and Davies will also premiere "Utterances," a piece composed by recent Music Department graduate and SLO native Alex Kato-Willis. Guest appearances will be made by Nancy Nagano, cello, and music major Adrienne Stallings, mezzo-soprano.
Tickets cost $10 for the public and $6 for senior citizens and students. Buy in advance at the PAC Ticket Office or call 756-2787.
More music
The always popular HorrorPops, hot off the heels of their Vans Warped Tour appearances, return to Downtown Brew this Thursday, Sept. 25 for their "All Hallows Eve Tour 2008" tour. Touring in support of their critically acclaimed third album, Kiss Kiss Kill Kill, the crowd-pleasing psychobilly and pop punkers hit the stage at 7 p.m. for a 16-and-older, $14-presale show ($15 at the door). Longway will open.
PHOTO COURTESY OF HORRORPOPS
HORROLECIOUS! : Pop punk and psychobilly heroes the HorrorPops return to Downtown Brew Sept. 25 for a stop on the band's "All Hallows Eve Tour 2008" tour.
The Damon Castillo Band plays the Main Stage this Thursday, Sept. 25 at the SLO Farmers' Market, from 7 to 8:30 p.m. at the intersection of Nipomo and Higuera Streets. "It's always special for us to play for the people of SLO, where we've grown up. We're also looking forward to playing some of the new material coming out on our next album," said Castillo, referring to Laurel Lane, a 13-track collection that he describes as "a more distilled version of the band sound," "autobiographical," and a "statement" among "this day of manufactured music." Castillo will also play an "unplugged" show at Linnaea's Cafe on Saturday, Sept. 27, at 8 p.m.
At 6 p.m. this Friday, Sept. 26, Stacked Stone Cellars hosts a performance by James Paul Dyer and the Streets of California Band, performing music from their CD Streets of California. Tennessee Jimmy Harrell will open the show backed by the Streets Of California Band, followed by Dyer at 7. This is the last Stacked Stone concert of the season and admission is free. The venue is located at 1525 Peachy Canyon Road, about a mile off Spring Street, just west of Paso Robles. For more info call 238-7872.
The Refugees play a 7 p.m. Musica Del Rio House Concert this Friday, Sept. 26. The all-female harmonizing folk band has been described as a female version of Crosby, Stills & Nash. They are all working mothers and even grandmothers who have had individual careers. Visit musicadelrio.org for more info.
Larisa Stow—winner of the Los Angeles Music Awards' Singer-Songwriter of the Year—isn't your ordinary performer. Her aim isn't merely to entertain she also wants to inspire a spiritual awakening in her listeners. Stow integrates the sounds of popular music, world-based rhythms and melodies, with the ancient form of Kirtan: devotional call and response music. On Saturday, Sept. 27 at 7 p.m., Larisa Stow & Shakti Tribe will hold a Circle of Spiritual Enlightenment, at the Adult School, Room J-2, 1500 Lizzie St., in SLO. Tickets cost $15 in advance (995-1390 or spiritualcircle.org) or $20 at the door.
PHOTO COURTESY OF DAMON CASTILLO BAND
NEW ALBUM COMING : Get a first taste of new music by the Damon Castillo Band when they play Farmers Markey on Sept. 25 and an unplugged Linnaea's cafe show on Sept. 27.
SLOfolks has a sweet show lined up when Mike Marshall and Choro Famoso play Saturday, Sept. 27 at 7 p.m. at Castoro Cellars (doors open at 6 p.m. with a catered dinner). Marshall—who's played such iconic venues as Carnegie Hall and the Lincoln Center—has worked with everyone from the David Grisman Quartet to the group Montreux, The Modern Mandolin Quartet,Psychograss, and New Grange. While he's well known as a bluegrass artist, few are familiar with his passion for Brazilian music. Choro Famoso was formed as an outlet for this passion. Buy your $22 tickets at Boo Boo Records or the venue (238-0725).
Hailing from Austin, Texas, but a longtime SLO favorite, Michael Fracasso makes his annual West Coast swing with local openers Bob and Wendy this Sunday, Sept. 28, at 8 p.m. in the Steynberg Gallery (Tickets cost $10 at the venue). Expect well-crafted songs performed by seasoned singer-songwriters, and because Bob & Wendy and Fracasso are longtime friends, expect some magical collaboration!
Welsh rockers People in Planes open for Filter on Tuesday, Sep. 30 at Downtown Brew at 8 p.m. for an 18-and-older show ($15 advance at Boo Boo Records and the venue $17 at the door). People in Planes just released their sophomore album, Beyond the Horizon, while Filter's newest, Anthems for the Damned, is its first in five years since The Amalgamut. Filter lead man Richard Patrick calls this new album his "howl in the night," a harsh indictment of civilization that doesn't exclude himself from its vision of a world falling apart.
CD Reviews
Lykke Li—Youth Novels
Swedish born Lykke Li Zachrisson has the gift of voice that's embedded with seductive personality rather than whopping power. It's feathery thin yet charmingly captivating, and with backing production over-seen by Bjorn Yttling of Peter Bjˆrn and John, she delivers a debut album of promising success. Mixing jaunty pop tracks finessed with laptop rhythms, and ballads that are stripped of schmaltzy fluff, Youth Novels is resourceful with the less-is-more mantra. Sparse piano and drumming leave plenty of room on "Time Flies" for Li's breathy coos that seem to border on tears. Her appeal is captured perfectly on the ballad "Tonight"—aching emotions wrapped in her repetitively sung chorus that are partially colored with a sensual pout. Despite a few freshman underachievements—an a cappella opener on "Melodies & Desires" can be skipped—Youth Novels grows with each listen, offering an intelligent debut of adult confessions.
GZA—Pro Tools
Known as the most lyrically dexterous MC within hip-hop's super group The Wu-Tang Clan, the GZA is still one of the Clan's surest bets. Each of its eight-member squad has released at least one solo album, but few have captured the exhilarating spark ignited on their individual debuts. Not that Pro Tools matches the timeless qualities of GZA's celebrated first album Liquid Swords. Not much will. Still, he manages to merge his verbal finesse with lean, minimally produced beats that sound like the epitome of Wu-Tang Clan musical representation: ominous production with the sharpest focus on wordplay. On "Alphabets," GZA crams every single letter into a densely worded chorus, while he stuffs A% Finance" with various allusions and references to the automotive industry, all at a pace that would tongue-tie most. A few sluggish and monotonous tracks slow down GZA's usually spirited and fluid delivery—the few shortcomings of this album. But even with his slower flow, he still hypnotizes, pulling you headfirst into his world of intriguing narratives.
—Malik Miko Thorne, of Boo Boo Records and KCBX's "Night Train."
---
Glen Starkey spent his vacation thinking of you. Tell him how much that creeps you out at gstarkey@newtimesslo.com.