In 10 years, long-term homelessness in SLO County will be a thing of the past. At least that's the plan. It's on paper, a 254-page document aptly named the San Luis Obispo Countywide 10-year Plan to End Chronic Homelessness.
PHOTO BY STEVE E. MILLER
PUSHING THE PLAN EOC : Executive Director Biz Steinberg doubts a 10-year plan will end homelessness, but she is passionate about the objective.
The first step toward creating that document was awkward. To free the money for the effort, officials opted to delay rebuilding the Maxine Lewis Memorial Shelter, the worn, 49-bed overnight shelter that is one of the few refuges for local citizens who have no homes.
Nearly $75,000 in Community Development Block Grant funds the county possessed would have been used to develop a replacement for the aging shelter. Instead, the money was spent on the 10-year plan.
On Dec. 18, the Board of Supervisors approved using $67,233 of the grant money to hire HomeBase, a nonprofit San Francisco law firm that specializes in designing such 10-year plans. The firm got $26,767 more eight months later; the county spent the $1,767 remainder of the grant funds and SLO City donated $25,000 from its own grant funds.
HomeBase has been leading the project, with input from a group of about 40 advisors. That group, the Leadership Council, includes various county and city officials, social service representatives, and members of the public.
But is the county smart to use money toward a plan to end homelessness rather than building a shelter? Those in charge say they had a good reason for their decision.
Basically, the 10-year plan makes SLO County eligible for aid from a huge pool of funds through the federal Housing and Urban Development Department (HUD). The plan is, in other words, a means to an end and not much seems to be expected from the plan itself. At its heart, at the federal level, the 10-year-plan program is a lever to force communities into showing what they would do to end homelessness.
No one is trying to break the mold; it's about putting something on paper. However, even some who are writing the plan worry it's nothing more than a paper tiger.
Few, if any, of the people responsible for the plan believe it can actually end homelessness, let alone in 10 years. Regardless, as one person writing the plan said, not adopting a plan is like being afraid of free money.
Though it's now just a rough draft, merely having the plan qualifies the county to check a box on a grant application. On Oct. 16, SLO County's request for about $1.7 million was to make its way to HUD for approval.
"It doesn't matter whether you've implemented half your plan or not," HomeBase Executive Director Marty Fleetwood emphasized to the homelessness Leadership Council, "it matters that you have one."
PHOTO BY STEVE E. MILLER
CHRONIC : Don is one of the subjects of the effort to end homelessness, but he's more interested in a bed and a meal than a plan.
Worlds apart
Crisp morning light poured through the windows of the Ludwig Community Center. A pot of coffee softly steeped and bubbled; surrounding it were trays of cookies and assorted bite-sized brownies.
Fleetwood quietly paced through the middle of a roundtable of laminate tables. She listened for ideas from a group of about 40 people on the Leadership Council and scribbled them on large pieces of poster paper. No one, however, was paying much attention to what she wrote.
Toys sat in front of every seat, just in case Leadership Council members lost interest in the subject at hand, which was the actual 10-year-plan to end homelessness. At one of the tables a middle-aged woman smiled as she playfully danced a finger puppet in front of her.
Fleetwood described the toys as "tools" for facilitators. Facilitators always need them, she said, and HomeBase has used the toys at other "retreats" in about 20 communities that have drafted their own 10-year plans under HomeBase's direction.
On that day the Leadership Council talked in detail about the plan format, about grant applications, and about the next administrative steps. The one subject that rarely made it into the discussion was homelessness itself.
A few weeks later, at the Maxine Lewis Memorial Shelter, things were a little different.
PHOTO BY STEVE E. MILLER
WHAT PLAN? : Maxine Lewis Memorial Shelter volunteer Elia Partida never heard of a 10-year plan to end homelessness; she focuses her energy on handing out utensils and toiletries.
The sun had just started to sink below the nearby hills as a line grew outside the shelter. About 50 people waited for their meal.
Inside the shelter a line of steam trays awaited. A thick odor wafted from a tray of hot dogs that floated in a pool of steaming water.
There were no cookies, no brownies, no coffee, and no finger puppets. There were, however, a few bunk beds, a room full of hungry people, and several volunteers.
Don sat down with his tray of food: a hot dog, beans, and some boiled peppers. He wore a thick gray coat over a flannel shirt. His right arm was bound in a cast and suspended from a sling that draped across his narrow shoulders. He said he broke it after running into a pole on a dark night in Long Beach. At the other end of the table a young kid with bright bluish-green hair struggled to hold back coughing fits.
Don is 64 years old and has had no shelter off and on since 1988. He served in the U.S. Army for three years during the Cold War, but had trouble finding work afterward and wound up on the streets. He moved from San Luis Obispo to Long Beach and enrolled in a Veterans Affairs hospital alcohol program, which helped him land a "transitional" studio apartment. But, after a string of bad luck, he was back on the street, he recalled.
According to HUD, Don is chronically homeless. Defined as unaccompanied people who have been continuously without a home for more than a year, chronically homeless people are the primary target of HUD's 10-year plan program.
But Don and others eating their meal at the shelter had dim hopes that a 10-year plan would provide anything new.
"It's not [about] ending homelessness," Don said. "There will always be homeless."
The plan
In 2003, HUD set out to end chronic homelessness. The administration's chronic homelessness initiative was the birth of what is now HUD's 10-year plan program.
Having a plan doesn't guarantee HUD will award a grant but not having a plan is a big negative for any community submitting an application. This year, HUD has made available $1.42 billion. More than 300 cities and counties are clamoring for a share of that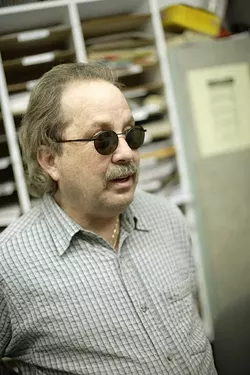 PHOTO BY STEVE E. MILLER
WHAT PLAN? : Maxine Lewis Memorial Shelter volunteer Greg Regnar thinks a plan to end homelessness is fine, but what he really wants is more milk for the shelter.
money.
Larry Bush, a public affairs official for HUD's western region, was adamant that a 10-year plan is not mandatory for grant funding. HUD only encourages communities to develop a plan, he said.
That sentiment seemed lost on the Leadership Council, which referred to the plan and the money as one in the same.
"We have a plan that we can use to go out and get some great funding," said Paul Brown, SLO City Council member and member of the Leadership Council.
According to Bush, most communities run homeless service programs on a two- to four-year cycle. When it's time to ask for more money, chances are slim they'll get it without measurable signs of progress.
Chicago, for example, has proclaimed success in reducing its homeless population as a result of the city's 10-year plan. That plan has been in place since 2003 and was designed to redirect homeless services from shelter housing to permanent housing.
There have been signs of progress. Between 2005 and 2007, Chicago's homeless population shrank about 12 percent. During the same two-year period the city's funding for homeless services and housing increased 28 percent as a result of the plan. In 2007, the city received a "record grant" of $45.3 million from HUD.
Responding to questions in an e-mail, Ellen Sahli, Commissioner of the Chicago Department of Housing, could not name new ideas that came from the plan. She instead called it a "vehicle for public and private stakeholders to address homelessness in new ways, even though change—particularly systems change—is hard."
PHOTO BY STEVE E. MILLER
MORE THAN CHRONIC : Ending homelessness is about much more than just ending chronic homelessness, said Michael Ian, who spent more than two years on the streets.
Change is not HUD's goal either.
"For the most part—given funding realities—what we've been funding in most communities is a renewal of existing programs," Bush said.
Who benefits?
After spending more than two years on the streets, Michael Ian is blunt about how homelessness is handled.
"I'm of the opinion ; that the 10-year plan to end homelessness is going to fail," he said.
After an accident, beset by mounting medical bills, Ian lost his job and his home. He has managed to pull himself out of homelessness and writes regularly about the people who have no shelter, in his blog, slohomeless.wordpress.com.
Ian described 10-year plans as a forced response to a federal mandate. But they address only chronic homelessness; and only a small fraction of all people who have no homes are categorized as chronically homeless.
Only about 10 percent of the people in SLO County who have no homes are categorized as chronically homeless, according to the draft 10-year plan. A 2006 study counted 2,408 people in the county who had no shelter of their own. Accordingly, HUD's funding would be dedicated to only about 240 of them.
"Targeting this very small segment of people is asinine as far as I'm concerned," Ian said. He conceded there are people behind the plan who genuinely care, but argues they are caught in a scramble for grant money.
"Developing a plan is the first step, but it's not the solution we need in every small, medium, and large [community]," said Michael Stoops, executive director of the National Coalition for the Homeless in Washington, D.C. "If we want to end homelessness we need to address the root cause of poverty in this country.
"One of our concerns is in [officials of] cities right now trying to get more chronic-homeless dollars, beating their chest saying that the number of chronic homeless are down ; but they can never tell you where those homeless went."
Rock and a hard place
Even those who work on the plan admit that it probably will not be the panacea to homelessness that its name implies. HUD's standards are so stringent that a community's plan must contain at least the words 10-year, homeless, and plan to be legitimate, Fleetwood told the Leadership Council.
PHOTO BY STEVE E. MILLER
THE COUNCIL : The Leadership Council has been working on SLO County's plan to end homelessness since January with the help of HomeBase, which was paid nearly $100,000 for its services.
When Biz Steinberg, chief executive officer of the San Luis Obispo Economic Opportunity Commission, talked about the plan recently she expressed deep concern for the homeless. The corners of her mouth crinkled in a gentle smile and she leaned forward, barely speaking above a whisper.
"Obviously [homelessness] probably will never totally end," she stated. "But we're trying to greatly reduce it. I think we have to have the goal of ending it or the dream of ending it."
She emphasized her conviction that SLO County must have a plan, but acknowledged that the plan alone is not a solution. "It's being more intentional about what is needed, making the needs known but then acting on it and no one organization has the ability to do that, it takes all of us working together," she said.
With all the members of the Leadership Council in one room, that message was often buried beneath politics and bureaucracy. After months of work the plan was finally in a workable form, but one of the group's main assignments was how to package the plan in a small, easy-to-read pamphlet.
A 10-year what?
If it weren't for the line stretching out the door, you'd barely notice the Maxine Lewis Memorial Shelter. Tucked between a gas station and offices, it seems almost impossible that dozens of people manage to cycle through for a meal each night.
In the shelter's uncomfortably small office—a cot took up most of the room—volunteer Greg Regnar seemed more intent on distributing eating utensils than answering questions one recent evening.
Regnar is an office assistant for the shelter, where he has volunteered for 11 years. His time is typically spent dispensing toiletries, plastic bags, towels, and anything else the shelter has at its disposal.
Plans are fine, Regnar said, but what the shelter really needed that night was milk.
Maxine Lewis Memorial Shelter depends heavily on donations and the few grant dollars it receives. But such basic provisions as milk and cereal are the biggest priorities for shelter volunteers. "We have a very, very stringent budget, which is very difficult to meet," Regnar said.
Elia Partida has been a staff member with the shelter for five years. She occasionally answered questions about her day-to-day work, but only in between phone calls and quests to help people in search of spoons and towels.
Regnar and Partida are on the ground floor of homeless services, but when asked about the 10-year plan, their faces went blank. Neither had been contacted by the Leadership Council and neither had any idea such a plan exists.
"That is interesting," is what Partida had to say. She and Regnar seemed most concerned with keeping their clients fed, clothed, and sheltered. While the 10-year plan elicited a little more than raised eyebrows, what really got them interested was the prospect of more money that they could use to buy more supplies.
Regnar said the shelter suffers from having limited resources, but, "I think it works about as best as it can on the budget it has."
But it's easy to see how $75,000 could go a long way.
And, as Michael Stoops said, "If we can bail out Freddie Mac and Fannie Mae, we can bail out the homeless, too."
---
Writer Colin Rigley can be reached at crigley@newtimesslo.com.