Broke, unemployed, and living at home in Orange County. That was how opera orchestra director Brian Asher Alhadeff found himself in 2007 when his job in Michigan was eliminated after budget cuts—the exact stereotype of the struggling artist.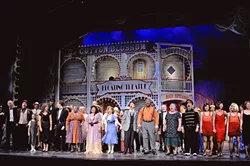 PHOTO COURTESY OF LUIS ESCOBAR REFLECTIONS PHOTOGRAPHY STUDIO
SHOW TIME : OperaSLO performs a production of Show Boat at the Cal Poly PAC in 2014.
Hungry to get back in the game, Alhadeff reached out to friends and colleagues and wound up working gigs here and there, including shadowing the director at Opera San Luis Obispo and running the supertitles for La Bohème in 2010. Six years later, as the artist director of OperaSLO, he's bringing back the Italian opera that tells a tale of struggling artists in 1830s Paris. It will be onstage at the Cal Poly Performing Arts Center Oct. 15 and 16, on the heels of the group's 30th anniversary.
"La Bohème is a celebration of all the art in San Luis Obispo," he said. "It's a mirror image of the thriving times we live in and the artistic fabric that really makes this a place that's special to stay in."
That same passion for the arts and collaboration is what brought opera to SLO in the '80s, when two friends, Jill Anderson and Jean Cook, started singing numbers from operas at Linnaea's Café with a pianist. It grew to become a full-scale opera company with about a 62-person orchestra and two productions each year.
PHOTO COURTESY OF LUIS ESCOBAR REFLECTIONS PHOTOGRAPHY STUDIO
SINGING OUT LOUD: Soprano Katharine Gunnink as Nedda sings opposite Tenor David Gustafson as Canio in OperaSLO's production of Leoncavallo's Pagliacci at the Cal Poly PAC in 2015.
When Alhadeff stepped into the role of artistic director in 2012, his goal was to make opera beloved by all, in spite of the perceptions the public has about opera being an expensive affair with someone yelling at them in a language they can't understand.
"Opera's a five-letter word, there's no way around it," Alhadeff said. "How do you convince a society that 'shit' is a good word? It takes time."
One way Alhadeff is changing those feelings about opera at the local level is by incorporating multiple community art programs in OperaSLO's productions. With a cast of close to 200 artists, this production of La Bohème is a collaboration featuring California Opera Association, Central Coast Children's Choir, Civic Ballet San Luis Obispo, Deyo Dances, and Studio @Ryan's American Dance.
"Why not take each of those genres and bring a sense of personal ownership to the game?" Alhadeff said.
PHOTO COURTESY OF LUIS ESCOBAR REFLECTIONS PHOTOGRAPHY STUDIO
MASTER OF THE OPERA: Artistic Director Brian Asher Alhadeff conducts OperaSLO's production of Leoncavallo's Pagliacci in 2015.
The opera bug first bit OperaSLO board member Suzan Boatman in the '90s. She had a music degree but wound up working as a lawyer in the area when she started singing in the chorus for OperaSLO. Her daughter, Jessica, was also a singer. When Jessica was in high school, Boatman had the idea for her to join the chorus for the production of La Tosca, where she scored a solo singing spot as a little shepherd boy.
"She was hooked," Boatman said. "Since then she went on to Berkeley, got a minor in music, and directed an opera that was written by another student. After graduating, she came back and assistant-directed Carmen with OperaSLO."
All that led to Boatman's daughter working on more operas in the Bay Area and the upcoming potential of working on another opera in Germany in the future.
"It's just amazing what the kids get when they get the experience of being on stage," Boatman said.
That kind of life-altering feeling is exactly what Alhadeff is trying to ignite in future opera lovers in SLO.

A NIGHT OUT AT THE OPERA : 'La Bohème' will show at the Cal Poly PAC on Oct. 15 at 7 p.m. and Oct. 16 at 2 p.m. Tickets range from $10.50 to $80. Visit operaslo.org and pacslo.org for more information.
"I'm trying to remind people that this is what opera is supposed to be like, and you can rest assured that when you buy a ticket, it's going to change your life," Alhadeff said.
Ryah Cooley is waiting for the curtain to go up at rcooley@newtimesslo.com.