It's a solid service offered to the men and women who served our country—and one that's historically been offered at military bases across the nation as a way to thank and support veterans and their families.
As far back as the various veterans affairs and military base personnel who spoke to New Times for this article said they could remember, bases have traditionally offered overnight RV parking—all the hookups included—for retired veterans, as well as for people who've been deemed 100 percent disabled by a certified veterans clinic.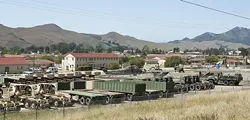 PHOTO BY STEVE E. MILLER
SORRY, CAMPERS : Michael Bell—who said he's a Vietnam vet—told New Times he was turned away from Camp San Luis Obispo after trying to take advantage of the camp's low-cost overnight RV parking services, as he'd done in years past.
It's a service Morro Bay resident Michael Bell, who identified himself as a Vietnam veteran, said he's taken advantage of at bases across the state—until he pulled his motor home into Camp San Luis Obispo on March 26.
Bell told New Times he served with the Marines Corps in Vietnam from 1968 to 1970, and during his tours saw "a lot" of combat. He wasn't wounded in the war, but said he was discharged on full disability and that he suffers severe post-traumatic stress disorder, struggling with vivid flashbacks.
"Unfortunately, it just doesn't go away," he said.
Those aren't all of Bell's problems. He said he's currently undergoing treatment for cancer at Stanford University, regularly seeing a medical counselor with the veterans affairs office in Santa Maria, and recently separated from his wife. As such, Bell spends a lot of time traveling.
According to Bell, on March 26, after a long day on the road, he pulled up to Camp San Luis Obispo to get a good deal on an overnight stay, as he'd done before as recently as 2011. When he got there, he said, he was told that because he's a disabled veteran—not technically a retired veteran—he wouldn't be allowed. He said he showed his clinic-issued card that identified him as having been evaluated as 100 percent disabled for his service-related disabilities.
"I was miffed. I was livid," Bell said. "I had never been so embarrassed. … I'm just looking for a place to park my motor home for a few days."
Bell said he was told by the guard at the gate that the rules have changed since a new base commander recently took over, though New Times wasn't able to independently verify that conversation.
In November 2012, Lt. Col. Nicole Balliet—who worked at Camp San Luis Obispo for 17 years—left her long-held post to accept a job as executive officer to the adjutant general of the California National Guard in Sacramento. Balliet was replaced by Lt. Col. Joseph Righello, a former army aviator and commander. Bell contends that his refusal of parking services is due to a change in policy.
"They weren't full," Bell said.
He then headed south to Vandenberg Air Force Base, where he said he had no problem securing an overnight parking space. He said he later filed a claim with the Veterans of Foreign Wars, the largest American organization of war veterans, of which he's reportedly a member. Several New Times calls to VFW's supervising claims officer, Michele Collier, weren't returned.
Other bases contacted by New Times have long offered similar billeting services, such as an RV park. According to the U.S. Department of Veterans Affairs, most—if not all—bases in the country offer similar lodging services to both retired and 100 percent disabled service men and women. Both Vandenberg AFB and Camp Roberts representatives told New Times they hadn't heard of Camp San Luis Obispo turning away veterans who have a 100 percent total disability.
According to the Vandenberg Public Affairs Office, the base offers RV parking to both retired and disabled veterans, but the disabled guests must have proof from a veterans clinic showing they've been classified as 100 percent disabled. Many veterans don't qualify, a public information officer told New Times.
New Times was unable to obtain proof from Bell of his disabled status.
However, even if a veteran doesn't qualify for a stay in the RV park, Vandenberg offers 139 visiting quarters—essentially hotel rooms—that are available to U.S. Department of Defense ID-carrying combat and retired veterans on a space-available basis, according to Daniel Becker, general manager of Vandenberg's lodging services.
Camp Roberts also provides rooms and overnight parking for as little as $10 a night, and includes all the necessary hookups.
A representative for the Department of Veteran Affairs told New Times she wasn't aware of the office receiving any complaints about billeting services at Camp San Luis Obispo, but that she would look into it.
A volunteer at the San Luis Obispo County Department of Veteran Services who answered a New Times phone call said she frequently receives inquiries about overnight RV parking at Camp San Luis Obispo from veterans either passing through town or needing a temporary place to park the motor home. Dana Cummings, veterans service officer for the county, said most bases provide low-cost access to their RV parks only if the individual is either retired or officially classified as 100 percent disabled.
The base's website lists the services as open to active duty soldiers, guardsmen, and reserve members of the armed forces; families of service members with proper identification; state and Department of Defense government employees; and retired service members.
But there's nothing about disabled service members.
Following numerous calls to Camp San Luis Obispo, New Times finally got through to someone at the National Guard, though outside of the public affairs office in Sacramento. According to one officer—who didn't want to give a name because the officer wasn't permitted to speak to the press—the rules have changed. Following Righello's arrival, the officer said, the base has been reviewing all of its policies to make sure they comply with Army regulations. One of those regulations, the officer said, is that the base must be certified to provide what they call "Family Morale, Welfare, and Recreation programs," or MWRs, for certain services. Camp San Luis Obispo wasn't, the officer said, and discontinued the service to disabled veterans; since then, however, the base has been working to secure an MWR provider, which would again allow the base to give disabled veterans access to the RV park.
"This is all kind of brand new. We did allow it, but then we didn't," the officer said. "But it's being worked out now."
Bell, however, said he reached out to New Times in the hopes of bringing attention to the change in requirements so that disabled veterans looking for a place to park their RV overnight won't be caught off guard. Of course, he would also like the base to change the rules back.
"I just hope no one else has to go through it," he said. "We'll see."
Staff Writer Nick Powell provided additional reporting for this article and can be reached at npowell@newtimesslo.com. Staff Writer Matt Fountain can be reached at mfountain@newtimesslo.com.