An abandoned mattress.
A rotting wooden pallet.
Crumbling cement parking stops.
Graffiti.
Plastic Solo cups.
Broken glass.
These are the things to avoid when skateboarding the spot where the Nipomo Community Center used to stand. It burned down in the early 2000s. The building was privately owned at the time—no longer part of the community—and the vacant lot that remains long after its absence is still privately owned.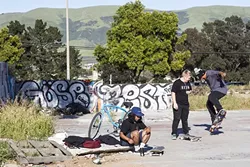 PHOTO BY JAYSON MELLOM
THE SPOT: Matt Diaz, Cody Barrackman, and Anthony Cruz have all skated in this abandoned lot in Nipomo since they were kids. "We've been told we were going to get a skate park since I was 12," said Diaz, who's 21 now.
Skateboard wheels dodge piles of refuse, skirt around spots of vegetation, and attempt to steer clear of pebbles. Approaching the wheelchair ramp that once led into the building, a foot hits the ground for speed.
"Urrchh," one wheel squeaks, stalling out and sending a body lurching forward onto the cement. He stumbles, catching himself without falling, and tries again.
"Did you hear that?" asks Tim Krauk, a 15-year-old Nipomo High School student. "That was a pebble. It makes your wheels stop."
He's been visiting the lot next to Little Jocko's (the famous steak place's younger brother) on South Frontage Road for as long as he's had his feet on a skateboard. And so have the four others practicing their favorite sport on the afternoon of Monday, March 6.
"This is probably the worst this place has ever been," Krauk says as he points to a corner of the lot where an oak tree stands with grass surrounding it. "That's where the hobos sleep."
As if it was planned, a sun-weathered middle-aged man on a bike shows up, shakily riding in circles around everyone. Krauk just shrugs his shoulders. The crew of skateboarders is used to sharing this space with homeless residents during the day, and at night, Krauk says, is when members of area gangs come hang out. But, obviously, nobody's skateboarding here at night. There's sort of a weird harmony to how everyone shares the open, seemingly abandoned lot.
This is the only place where these kids can skate without being hassled. They get chased out of the parking lots on Tefft Street and the school campuses scattered around Nipomo. People threaten to call the cops all the time. Over the years, the abandoned lot has yo-yoed between having lots of skate structures and not having any. It's a liability issue—and as Krauk launches into the air off a 5-foot ledge, it's easy to understand why.
That's why Krauk and his friends want the skate park they've been lobbying for since before he was in junior high. But similar to many recreational needs around San Luis Obispo County, one of the biggest hurdles to completing that skate park is funding.
Like running into a pebble, that's where all the forward momentum stops short, lurching forward in spurts through bake sales, T-shirt sales, tri-tip fundraisers, and the occasional grant. A $10 sandwich can make raising money for a $1 million-plus project seem impossible.
And many Nipomo residents feel as if their desired recreational projects (the skate park, Jack Ready Imagination Park, Jim O'Miller Memorial Park, a new community center) didn't just hit a series of pint-sized rocks. They feel like they hit a wall of boulders, one that divides South County from its neighbors to the north. The term "stepchild" is thrown around a lot as a descriptor of how they say they've felt for a long time.
That awkward relationship was clear at the March 7 Board of Supervisors meeting, where dozens of Nipomo-ites shared concerns about a lack of recreational facilities for kids in the area and urged the Board of Supervisors to make Nipomo parks a priority in the future. They pleaded with their elected officials to make up for the way funding created by housing development in Nipomo over the last two decades (Trilogy, Black Lake, and Cypress) has been allocated to other spots in the county.
"We [Nipomo] have experienced the better part of the growth in this county. One, the land was available and the developers were pushed down there for a number of reasons," former county supervisor Ruth Brackett said at the meeting. "I understand that we need to spread the monies around, but they're not being spread around very far in Nipomo."
Whose spending money?
Brackett spoke after a terse back-and-forth between Nipomo's supervisor, Lynn Compton, who pushed to agendize the issue, and supervisors Adam Hill and Bruce Gibson, who say it's a nonissue and accused Compton of "spreading misinformation" and riling up her constituents.
"The numbers don't lie," Compton said during the meeting on March 7. "In the 20 years I've lived in Nipomo, it's almost doubled in size. … And if you ask anybody in Nipomo, they'll say that county services haven't kept up with that growth."
DATA FROM SLO COUNTY PLANNING AND BUILDING, GRAPHIC BY ALEX ZUNIGA
UNEVEN DISTRIBUTION: The SLO County Board of Supervisors received an update on March 7 about public facility fee revenues and expenditures since 2004. The fees are collected from certain development permits (such as residential) and distributed to mitigate the impacts of that development on specific county resources—government services (GOV), law enforcement (LAW), libraries (LIB), Parks (PARKS), and fire protection (FIRE). Fourth District Supervisor Lynn Compton points to the numbers as evidence that public facility fees weren't allocated fairly, and her district, which encompasses most of the South County area, paid way more fees than it received.
On the surface things look pretty black and white: In the last 12 years, development in South County has generated $10.88 million in public facilities fees (PFFs), according to numbers from SLO County's Public Works and Planning and Building departments.
PFFs are levied against both housing and commercial development; 2,913 construction permits have paid PFFs since 2004 in South County. Those fees are approximately $5,675 per single-family residential dwelling unit and are less for multi-family units and small non-residential units. The fees are specific—collected and earmarked for parks, law enforcement, general government, fire, and libraries.
Park fees paid by South County developers total around $3.85 million for the last 12 years. Since 2004, only $2.02 million in PFFs have been spent on public facilities in South County, almost $2 million of that was for parks.
The reverse is true for some other areas of the county.
The way the county's divided for PFF collection and allocation isn't strictly based on supervisorial districts, but it's pretty close. For instance, South County includes Nipomo, Arroyo Grande, and portions of Grover Beach (in Hill's district) and Oceano, but not areas that skirt the shoreline (which are considered part of Compton's district). That shoreline is part of what's called the Coastal Zone, which runs the length of the county and largely encompasses Gibson's supervisorial district—including Los Osos, Morro Bay, Cayucos, Cambria, and San Simeon. San Luis Obispo, which is somewhat split between Hill and Supervisor Debbie Arnold, is considered to be its own development area for PFFs.
Since 2004, 767 construction permits in the Coastal Zone have generated $2.23 million in PFFs (park-specific fees brought in about $609,000) while $8.2 million has been spent: roughly $4.7 million was for parks. In the San Luis Obispo area, $1.7 million in PFFs have been generated through 409 construction permits in the last 12 years. About $9.65 million was spent: $5.5 million for government (most of that was for the new county building downtown) and $1.9 million of it was for parks. PFF spending and revenue for the North County and Carrizo areas were about even.
Hill and Gibson both take issue with strictly looking at the numbers to determine whether the county was fair with the last decade or more of PFF revenues and expenditures.
"I disagree with Supervisor Compton that Nipomo has been slighted. Any injustice that's suggested is manufactured," Gibson said during the meeting on March 7. "What there's been is an uneven allocation of funds."
Of course, PFFs aren't the only source of funding in the county. At the Feb. 21 meeting where supervisors adopted the five-year infrastructure improvement plan, SLO County Administrative Officer Dan Buckshi showed the supervisors 10-year spending totals on county projects: $66 million in South County (much of that was the Willow Road interchange in Nipomo), $167 million in San Luis Obispo, $224 million in the Coastal Zone (much of that was the Los Osos sewer project), $90 million in North County, and $795,000 in Carrizo.
Compton told the New Times that she realizes South County has benefitted from the county's pooled resources, but she counters that PFFs are collected for a specific purpose: to mitigate the impacts of development in a certain area.
According to SLO County's Public Facilities Fees Ordinance, which has been amended several times since 1991, the county needs to "determine that there is a reasonable relationship between the need for the public facilities and the impacts caused by the type of development project on which the fee is imposed; and … determine that there is a reasonable relationship between the amount of the fees and the cost of the public facilities, or portion of the public facilities, attributable to the development projects on which the fees are imposed."
Interpreting the "reasonable relationship" part of the ordinance (which is also how California's Mitigation Fee Act is worded) is where things appear to color grayer than black and white.
According to Wesley Drysdale from the county's planning department: "The county's position is that a reasonable relationship may be established between a project's impact and the use of public facilities fees when those fees are allocated to public facilities that serve the county as a whole.
"For example, the new government center, the Bob Jones Trail, and the Pismo Preserve all received public facilities fees and all are intended to serve the entire county. So although those projects are not located within the boundaries of Nipomo or the South County planning area, they do serve the residents of those areas," Drysdale wrote in an email to the New Times.
Serving residents
Compton and some of her constituents say the county's "reasonable relationship" definition may work for something like the government center or the SLO Airport's rescue aircraft ($1.44 million in PFFs), but it doesn't hold water when it comes to something like the Los Osos Skate Park ($1.17 million in PFFs).
"I don't believe the county is on firm legal ground saying there is a nexus between projects in the South County and expenditures 50 miles away," Nipomo resident and attorney Jesse Hill told the New Times. "Kids can't ride their bikes that far. Poor families can't make the commute."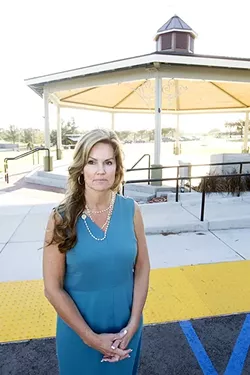 PHOTO BY JAYSON MELLOM
LEADING THE FIGHT: SLO County Supervisor Lynn Compton stands in front of Nipomo Community Park's new gazebo/bandstand, which was built after a lawsuit against the park's master plan concluded in 2016. Compton is spearheading Nipomo's recent push to get back some of the public facility fees residents believe were unfairly allocated to other areas of the county.
He cites a California Supreme Court case decision as the law that backs him up. A 2010 opinion issued on an appeal of the case Homebuilders Association of Tulare/Kings Counties Inc. v. City of Lemoore specifies that there needs to be a nexus between the mitigation fees levied against a development and the public facilities that are necessary because of it. The homebuilders association (HBA) asserted that the city of Lemoore was imposing fire impact fees on the east side of the city, an area that didn't need additional fire protection services.
"HBA contends that no nexus exists between the fees and the burden posed by new housing," the court's opinion states. "HBA is correct."
Jesse (no relation to Supervisor Adam Hill) said the court decided there was no nexus between east side fire impact fees and building up fire protection on the west side of Lemoore, a small city of 5 square miles. Therefore, he's convinced that should he decide to sue SLO County over PFF allocations, he will prevail.
He's already sued the county once over development mitigation fees. In 2003, a group called Building a Better Environment asked Jesse to sue the county over Quimby fees, which are levied specifically to benefit parks and recreation that will serve the development paying the fees. The money was being generated by development in Nipomo but wasn't necessarily being spent there. Jesse believes Nipomo lost more than $4.5 million in PFF and Quimby fees to other areas of the county before 2003. He eventually settled the case with the county, believing that PFFs and Quimby fees would be brought back to Nipomo in the future.
He said he was told, "The county needs to move the PFFs around, but they will come back." In fact, after the suit was settled, the county agreed to purchase more than 100 acres of land next to the Nipomo Dana Adobe, spending $1.64 million in PFFs (which the county counts as part of South County's PFF expenditures over the last 12 years) to prevent development and preserve open space.
"That is what was promised before, 'Don't worry the funds will come back.' That is what we call déjà vu," Jesse said. "[It's] much harder to believe at this point in time."
When Jesse heard that the skate park was raising money last year through bake sales and T-shirt sales, he called up Supervisor Compton and told her there was a pot of PFF-generated revenue she should be able to pull from.
"I didn't believe him at first," Compton told New Times in early February. "[The county] had already told me there's no money to build the skate park."
But the more she looked into things, the more upset she got.
"Most of the money from Trilogy went outside of my district. … We can't even get $1 million for a skate park," she said. "When you have areas with low development, you shouldn't get the benefit of development [impact] fees."
So she did what politicians do. She started to spread the word around Nipomo, hoping that eventually the county would come around to her point of view. Park projects in Nipomo should be moved to the top of the county list of PFF-funded priorities without diverting the money already allocated to things like the Bob Jones Trail.
"I know going forward, it's going to take us 30 years to catch up, but that's not fair," she told a room full of Blacklake residents on a Saturday morning in February. "So this is the fight. I need your help to get involved in this."
Priorities and process
Since February, things have changed for Nipomo—at least on paper. During the Feb. 21 Board of Supervisors meeting, Compton received enough support from fellow board members to push four area park projects up on the capital improvements plan priorities list. Supervisors Hill and Gibson voted against her motion. On March 7, Compton received enough support to get $150,000 of PFFs allocated to start the planning work for the Nipomo skate park. Hill voted against the motion.
"I have supported every parks project brought before us, including ones in South County, and including the regional park for Nipomo, which until recently, has been tied up in a lawsuit," Hill wrote in an email to New Times. "The need for more projects always outpaces funding, thus we have a system to develop projects, use leverage (grant money, private donations), and phase projects."
He said he voted against Compton's motions because she chose to circumvent normal county processes.
According to Nick Franco, the head of the SLO County Parks and Recreation Department, that process goes like this: Parks projects are presented to the county Parks and Recreation Commission, which votes to prioritize projects on which to spend Quimby fees and parks-specific PFFs. The Bob Jones Trail, for example, has been a top priority on that list for the last 40 years. Those recommendations are then presented to the Board of Supervisors annually through the capital improvement plan, which supervisors voted on during the Feb. 21 meeting.
PHOTO BY JAYSON MELLOM
NEW DIGS : Dorian Brzykey, 10, shreds on a Sunday afternoon at the Los Osos Skate Park, which received more than $1 million in public facility fees funding. Nipomo skateboarders, who don't have access to a nearby skate park, sometimes ride the bus up to skate parks in Los Osos and San Luis Obispo, but it takes about an hour and a half.
Nipomo park and rec projects have been conspicuously absent from the capital plan in the recent past. In 2004, Nipomo and county parks started working on the Nipomo Community Park Master Plan laying out potential projects and priorities in the area's regional park—which is also its only park. It was adopted by the Board of Supervisors in 2012 and held up by a lawsuit filed in 2013.
"During the process of concluding the suit, we could not start any significant projects associated with the master plan since it was being challenged," Franco said. "We did prevail in 2016, so now the plan is final and we can proceed."
The skate park was part of that master plan. While waiting for the lawsuit to conclude, money that could have gone to something like Nipomo's skate park was spent on other parks in the county, Franco said, because "we'd prefer to implement projects that benefit the community as soon as we can for projects that are ready to proceed."
But the other parks projects in Nipomo weren't constrained by a lawsuit, even though increasing parks and recreational opportunities in Nipomo was pegged as a "likely priority" in the county's public facilities financing plan adopted in 2011. Marina Washburn, the executive director of the Dana Adobe Nipomo Amigos who grew up in Nipomo and knows the residents spearheading other area projects, said that the reason Nipomo's desired parks haven't made the county's capital plan is because every group pushing a project was told there was no money available to fund it. And that's where the conversation usually stops.
"We have all gone through this. We have all approached our supervisors," she said, adding that Nipomo has had four different supervisors over the last eight years. "Our supervisors were telling us what they knew. And their information was there is no funding. And our information is there is no funding."
Hill chastised Washburn at the March 7 meeting for encouraging people to show up and speak out on the PFF issue, saying the county has always supported the Adobe's projects.
"We're so grateful to the county for all their help over the years," Washburn told New Times. "I know people have said this is a political issue, but it isn't. … I know what it is to grow up without access to a local community park. … We should have been advocating louder."
Supervisor Compton said she felt that the only way to get Nipomo projects on that capital improvement plan priority list was to push hard and be loud.
"I hate to say you have to be pushy, but you do," she said. "I hate to make it a dog and pony show, but I'm telling you, the squeaky wheel gets the oil."
Editor Camillia Lanham can be reached at clanham@newtimesslo.com.