People often say that great artists never get their due during their lifetime. Well somewhere, artist Maria Ascension "Cen" Dallidet is nodding in agreement from the grave. Her first solo art show is currently on display at the San Luis Obispo Museum of Art, but she's been dead for more than 100 years.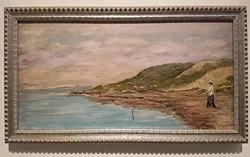 PHOTO COURTESY OF THE SAN LUIS OBISPO MUSEUM OF ART
ADVENTURING: Artist Marie Ascension Dallidet traveled abroad with her sister toward the end of her life and painted local landscapes like the piece 'English River Scene' somewhere along the Liverpool and Leeds Canal, circa 1907.
Until now, her paintings hung in her home, the Dallidet Adobe in SLO. Her younger brother, Paul, donated the house and its contents, including Dallidet's paintings, to the History Center of SLO County in 1953. It became a museum in 1958 after he died.
Although Dallidet was a woman during a time when marriage was the ideal, she was instead allowed to pursue art. Her father, Pierre, was a vintner and the family was well off enough that she never had to work or marry to survive.
"It's astonishing that a young woman in that time period went to art school," Ruta Saliklis, curator for the museum said. "It wasn't common. Women were painting china and embroidering, and she was set up with a painting studio and she traveled."
The exhibit Cen Dallidet: At the Edge of a New World is a collaboration with the History Center and includes 18 paintings and drawings of landscapes and portraits with an impressionistic influence. Eva Ulz, History Center director, said there are even more paintings at the Dallidet Adobe that could be the artist's work.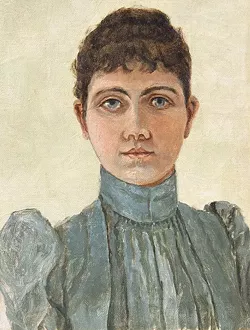 PHOTO COURTESY OF THE SAN LUIS OBISPO MUSEUM OF ART
PORTAIT OF AN ARTIST: In addition to drawing herself, 19th century artist Marie Ascension Dallidet also painted her family members.
"Her painting style changed over the years, and there are some pieces that aren't signed, so we may never know for sure," Ulz said.
There's a lot we don't know about Dallidet. So much, that the History Center hired a researcher to find out more definitive information about the Central Coast artist. Those findings will be released over the next several years via public programs, guided tours, and possibly a book.
We do know she attended the Mark Hopkins Institute of Art (now the San Francisco Institute of Fine Art) in the early 1890s. After that time, her brush strokes become bolder, possibly with the confidence of further artistic training. We know she traveled to Europe toward the end of her life with a sister. One of her paintings captures a river in the Liverpool area.
And while she never married, it appears that Dallidet was in love, at least once, with a French explorer named Leon, who lived with the family for a time. The last we hear of him is when he writes Dallidet from a cave where he's become a hermit. His family has died and lost their fortune, and he's lost the funding for his expedition.
Men. Typical.
"He never got back; she never married," Ulz said. "If you don't get married in the 19th century, it gave you the opportunity to do other things."

A LOOK AT THE PAST : Cen Dallidet: At The Edge of a New World is on display at the San Luis Obispo Museum of Art through Oct. 2. The museum is open every day from 11 a.m. to 5 p.m. except for Tuesday. Visit sloma.org for more information.
And while Dallidet might have been heartbroken, she continued to paint until her death in 1913 at age 54.
"There's just something about art: It's a pure expression of human emotion, and to stand in front of something someone did, it's just a way to connect with them that we really couldn't do without being face to face," Ulz said.
Send Ryah Cooley art history tidbits at rcooley@newtimesslo.com.