Somewhere, buried in a box of old VHS tapes, is a video of the Rock Steady Posse guys at an after-hours party at my house in maybe 1989 or so, and I'm 100 percent sure it's filled with blackmail material. Thankfully, the statute of limitations is long past.
It was back when I used to manage D.K.'s West Indies bar, and Eric Cotton's band was a huge draw, mixing funk, reggae, hip-hop, and more into flat-out, butt-shaking party music. People turned out in droves!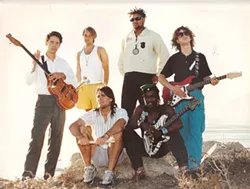 PHOTO COURTESY OF ERIC COTTON
SO '80S-TASTIC! : Past members of the great late-'80s and '90s local band Rock Steady Posse will reunite at Mr. Ricks on April 20.
While my crazy daze like the night on that old VHS tape are history, that's not going to stop me from heading to Mr. Rick's on Friday, April 20, at 8 p.m. to relive a few fuzzy memories when Eric Cotton brings together some of the guys for a Rock Steady Posse reunion.
"I'm going to bring back some old members and introduce some new," said Cotton, who now fronts The Cheeseballs, a popular touring band. "I'm going to be playing songs from the Fundamentals CD as well as songs from that old cassette Rhymin n Skankin, which some of you still have. I'll even have a couple songs you may not have heard. All in all, this is going to be a great time and a chance to see some old friends."
Old members such as Greg Ichikawa, Mike Rogers, Paul Irving, Ron Gilcreast, and Jim "Wiggles" Theobald will be joined by Mike Annotti, Andrew Wise, and Jenning Jacobsen.
"I started RSP way back in 1986," Cotton recalled. "We were famous for the outrageous 'Scrotum' song, as well as 'Thunderbird.' Later we produced songs such as 'Liberation,' 'Crisis,' 'Mr. Officer,' and 'Da Middle.' We had a long history and appeared with a wide array of bands including the P-funk All-Stars, Blues Traveler, Pato Banton, Fishbone, The Untouchables, Sugar Minott, Dave Wakelin, Lucky Dube, Let's Go Bowling, Eek a Mouse, No Doubt, Roger, and Zapp, to name a few."
While the band went through a lot of members, the one constant was Eric Cotton and his diverse songwriting skills—songs that ranged from silly to political to downright nonsensical, or, as Cotton once described it, his music is "Superdopelyricalnonsense."
Head to Avila Beach at 4 p.m. and catch the Zongo All-Stars at the Farmers Market from 4 to 8, with a 5:30 to 6 p.m. set by the African Showboyz. Boombala will open the RSP show at Mr. Rick's at 8 p.m. Cotton and company play from 9:30 to 1 a.m. This one's gonna be off the hook, yo!
Shot through the soul
Curtis Salgado's new Alligator Records release, Soul Shot, is crazy good—the sort of soul-drenched, phat-horned collection that makes you get up
and dance.
It kicks off with Bobby Womack's 1968 classic, "What You Gonna Do?" before sliding right into Salgado's own "Love Comfort Zone," and the seamless blend of the two songs is listeners' first clue that Salgado is worthy of carrying on the torch of '60s- and '70s-era soul
and R&B.
PHOTO COURTESY OF CURTIS SALGADO
SOUL MAN : Incredible soul and R&B singer-harmonica player Curtis Salgado plays April 21 at the SLO Vets Hall.
Award-winning vocalist-songwriter-harmonica player Curtis Salgado celebrates the release of his blistering Alligator debut with a SLO Blues Society show at the SLO Vets Hall on Saturday, April 21 ($20 at the door, or $17 for Blues Society members; 21-and-older).
On Soul Shot, Salgado—winner of the 2010 Blues Music Award for Soul Blues Artist of the Year—also covers songs by Johnny "Guitar" Watson, George Clinton, and Otis Redding, yet incredibly, his original songs hold up effortlessly with these classic tracks.
Thanks to his parents' record collection, Salgado grew up listening to everything from Count Basie to Fats Waller, and his older siblings introduced him to the soul and blues of Wilson Pickett and Muddy Waters. After seeing Count Basie perform when he was 13, Salgado knew what he wanted to do. Listening to Little Walter and Paul Butterfield, he taught himself to play harmonica. He played his first professional gig at age 16.
If it weren't for Salgado, we might not have the Blues Brothers.
"In 1977, comedian-actor John Belushi was in Eugene, Oregon, filming Animal House. During downtime from filming, Belushi caught a typically balls-out Salgado performance," according to Salgado's press info. "Afterwards, the two got to talking and a friendship grew. Before long, Salgado began playing old records for Belushi, teaching him about blues and R&B. Belushi soaked up the music like a sponge and soon developed his idea for the Blues Brothers, first as a skit on Saturday Night Live and then as a major motion picture and a best-selling record album and concert tour."
Don't miss your chance to witness this fire-breathing live performer!
"Always give it your best," he says. "Be honest and be real. Treat every show like it's the biggest night of your life."
Take free dance lessons from 7:30 to 8 p.m. The Dr. Danger Band kicks off the show at 8 p.m., with Salgado hitting the stage at 9:15 p.m.
RIP, Red
PHOTO COURTESY OF RED HOLLOWAY
SEND HIM OFF IN STYLE : A memorial for Red Holloway happens April 22 in the Cambria Vets Hall.
Red Holloway was a happy dude, and why not? He had an amazing career, was a deeply respected musician, loved to laugh, and got to live in Cambria when he wasn't touring the world. He was also a regular fixture at the Famous Jazz Artist Series, always playing the first concert of every new year, though not this year. Red Holloway died in February at age 84.
To celebrate his life, his Cambria friends are holding a memorial on Sunday, April 22, beginning at 1 p.m. in the Cambria Vets Hall.
"Here in Cambria, most of us have known Red Holloway as that friendly, smiling face we'd say hi to at the Post Office or the farmers market," wrote Richard Stacy, who's organizing the memorial. "We've probably all seen him play at Charlie and Sandi Shoemake's jazz concerts, at the Vets Hall with the local musicians, or as the featured artist with the Cuesta jazz band. We remember him taking care of his aunt Geneva, and her junkyard dog. We didn't just know Red's music; we knew Red.
"We knew he traveled all the time, earning his way through life, playing the music that nourished his soul. We knew he could stand on any stage in the world with any of the giants in blues or jazz and make the music soar with his trademark sound.
"He was there at the beginning of be-bop. He was there in Chicago throughout the Chess Records era with Muddy Waters, Buddy Guy, Howlin Wolf, Etta James, Willie Dixon, Little Walter, and on and on. One of my all-time favorite movies is Cadillac Records, not because of its historical accuracy, but because it captured the excitement of the birth of the Chicago blues. We had someone in our midst for 25 years that was an integral part of that unique sound. Red was a living, breathing, historical figure that was there for one of the most significant time periods in American musical history."
The public is invited to attend the memorial, and as Stacy said, "Our plan is to blow the roof off the Vets Hall, and we want you to be there."
Jim Conroy is arranging the entertainment and acting as host to the memorial, which will include "an opening jazz set with top local guys including Charlie Shoemake, followed by a video and stories and then a blues set."
Come celebrate Red's life!
CSN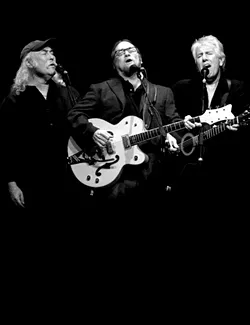 PHOTO COURTESY OF CROSBY, STILLS, AND NASH
THEY'VE STILL GOT IT! : Hear all their hit songs in their patented three-part harmonies when Crosby, Stills, and Nash play the SLOPAC on April 22.
I saw David Crosby with his son once when they played at the old theater at Cuesta College. Good lord, could that man sing. And when you add in Steven Stills and Graham Nash, it's got to be even better! Just for kicks, I youtubed CS&N's 1969 Woodstock performance of "Judy Blue Eyes," and man, their harmonies are freakin' perfect!
On Sunday, April 22, Crosby, Stills, and Nash play the San Luis Obispo Performing Arts Center in a concert co-produced by Otter Productions, Inc. and Cal Poly Arts at 7:30 p.m.
It's hard to believe these three first started harmonizing more than four decades ago in famed Laurel Canyon, and that their first show was Woodstock. Each has been inducted into the Rock and Roll Hall of Fame twice—once with Crosby, Stills, and Nash, and a second time with The Byrds (Crosby), Buffalo Springfield (Stills), and The Hollies (Nash). They're also all in the Songwriters Hall of Fame, as both a group and as individual solo artists.
These guys are legends, and they sound just as good today as they did singing out to 100,000 hippies 43 years ago. Tickets range from $40 to $90, plus applicable service charges. Call 756-2787. This show is just one of four U.S. dates sandwiched in between their Australian and South American tours, so feel lucky they're in SLO!
More music …
PHOTO COURTESY OF CADENCE BURNS
SONG BIRD : Cadence Burns plays The Porch on April 19.
Tatam Reeves and Cadence Burns are the co-featured players at The Porch on Thursday, April 19, for Steve Key's Songwriters at Play series (6:30 p.m.; all ages; free). Tatam's dazzling fingerpicking guitar work is inspired by Ani Difranco and Kelly Joe Phelps. Cadence's style has been compared to Suzanne Vega and Jewel. Go to songwritersatplay.com for their whole lineup for the week.
Eric Andersen—who first came to prominence in the early-'60s in Greenwich Village alongside artists such as Phil Ochs, Tom Paxton, Dave Van Ronk, and Bob Dylan—plays two SLOfolks shows this week: Friday, April 20, at Coalesce Bookstore at 7 p.m. (772-2880), and Saturday, April 21, at Castoro Cellars at 7:30 p.m. (238-0725). Andersen's co-written songs with Bob Weir, Townes Van Zandt, Rick Danko, and Lou Reed, and his songs have been covered by Mary Chapin Carpenter, Judy Collins, Fairport Convention, Linda Ronstadt, The Blues Project, Gillian Welch, Linda Thompson, and Peter, Paul, and Mary! Tickets are $25. Sonnie Brown will interview Andersen on Song Town, Saturday around 2:30 p.m., on KCBX 90.1FM.
See blues act Guy Budd and the Gypsy Souls on Friday, April 20 (8 p.m.; 21-and-older; $10,) and jazz act ZZAH on Saturday, April 21 (8 p.m.; 21-and-older; $10), at D'Anbino Vineyards and Cellars.
On Saturday, April 21, from 10 a.m. to 2 p.m., celebrate Earth Day with folk rock duo Acoustic (David Orr on guitar and Valerie Cornejo on the stand-up bass) when they play Coffee Express in the lovely backyard. Bring some extra dough, because the Anchor Faith Church will be selling barbecued chicken or ribs for $8 and $10!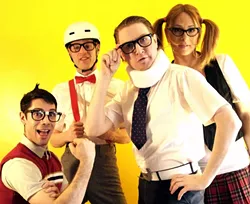 PHOTO COURTESY OF THE SPAZMATICS
NERD ROCK! : Eighties rockers The Spazmatics return to SLO Brew on April 21.
Nerd rockers The Spazmatics return to SLO Brew on Saturday, April 21 (7:30 p.m.; 21-and-older; $10), to deliver a night of killer '80s rock and new wave! Go to slobrewingco.com to get the venue's full lineup.
On Sunday, April 22, the Cal Poly Music Department will hold a Faculty Recital called "Railroads and Cabaret" at 3 p.m. in Room 218 of the Davidson Music Center (Building 45) on campus. Soprano Katherine Arthur and pianist Susan Azaret Davies will perform an afternoon of 20th-century songs, including works by Ernst Krenek and Arnold Schoenberg. The program will begin with Krenek's "The Ballad of the Railroads," an autobiographical journey, which will be accompanied by an archive of railroad photo projections provided by Curtis Reinhardt, director of the Central Coast Railroad Festival. The program will end with Schoenberg's "Brettl Lieder" (Cabaret Songs), which he composed in Berlin in the beginning of the 20th century. Admission is $5 at the door.
The New West Guitar Group plays an intimate concert on Monday, April 23, at 8 p.m., in Painted Sky Recording Studios' new location in the Old Creamery Building at Harmony. The new space can only hold 55 people, so call 927-8330 or visit the Cambria Business Center to get your $17 tickets in advance.
Former Jimdangles member Paul Roth is heading back to town with his new trio. "I live in Berlin now, but am coming through the West Coast along with two great musicians from L.A. (bassist Jake Rosenzweig and percussionist Mike Lockwood), at Steynberg Gallery on Tuesday, April 24," said Roth. "The music is a lot of stuff I've been involved with in the Berlin scene—kind of non-jazz improvised music, a mix of noise, minimalism, experimental. 'Berlin reductionism' is one way to call it over here." This all ages show starts at 8 p.m.
Keep up with Glen Starkey via twitter at twitter.com/glenstarkey, friend him at facebook.com/glenstarkey or myspace.com/glenstarkey, or contact him at gstarkey@newtimesslo.com.