PHOTO BY GLEN STARKEY
FACES IN THE CROWD : About 40 or 50 people gathered throughout the afternoon for Linda Castellon's art opening at Sustenance Cooking Studio.
The first thing you need to know is that tempeh is made from fermented soybeans. Does that sound horrible? Yes, it does, but it's actually delicious! I know this because I have arrived at Linda Castellon's art opening at 4 p.m. on Saturday, June 12 in Sustenance, and the very first thing I do is slather one of these tempeh-stuffed, golden brown, Cuban pastelitos with mango chutney and then shove it in my mouth. Whoa, baby! Then I grab one of the fruit and cheese-stuffed pastelitos and eat it. People, you don't know what you're missing! Pure heaven.
I see my prom date Anna Robertshaw hanging outside with her BFF Jenny Bierbaum (her last name means beer tree in German! Awesome!), so I go over and say hello, filling in Anna on the details of the prom we're going to later tonight. My lovely neighbors Cyndi and Shaw Hafley decided to host an "Enchantment Under the Stars" prom for grown ups, and I've promised Anna to make a matching corsage and boutonnière with duct tape and flowers from my garden. I'm classy like that.
PHOTO BY GLEN STARKEY
FAST FRIENDS : Sustenance proprietor Seamus Finn-Chandler and Stacie Benefield, who traveled from Oregon to see the show, cozy up for a photo.
First, though, we're hanging out eating, drinking, checking out Linda's expressively emotional art, and conversing with people like Stacie Benefield, who came all the way from Oregon, and William Nicholson, who traveled from New York to be here. Both are friends with Linda and knew her longtime partner Jeremy Veator, who died two years ago from cancer, which prompted Linda to take up painting as a way to cope.
Just then, Linda sweeps into the room. Tall, dark, with tendrils of hair cascading down her back, she makes a striking figure in her slinky red dress and red choker. She rushes up and kisses me, kisses everyone! She's a kisser and a hugger extraordinaire, and she's overwhelmed by all the support and all her friends who traveled to join her.
I see Sustenance owner Seamus Finn-Chandler, who overhears me talking about the Elks Lodge pool and says, "You went to the pool without me?"
PHOTO BY GLEN STARKEY
CHEERS TO GOOD TIMES AND LOTS OF WINE : Jenny Bierbaum, whose last name means beer tree in German, toasts to the music, provided by William Nicholson, who came from New York to perform.
"Yes, I did. I also took a sauna and got in the Jacuzzi! And I didn't think of you once!"
Snap!
Then Seamus begins to describe how beautiful Linda is.
"You're a poet," I say, "a poet of porn."
"You've got to be good at something," replies Seamus.
Then William Nicholson starts playing guitar, and Linda opens a bottle of Catherine Valley Wine, which comes from Jeremy's family's vineyard. It's a real party now.
PHOTO BY GLEN STARKEY
TAKE YOUR PICK : There was no shortage of wines to choose from, and the fun continued past the 8 p.m. cutoff time.
I'm preparing to tuck into my third pastelito when Cheri DePaulo stands in front of me.
"Don't ever get between a man and his pastelito," I caution, pushing her aside and attacking the little pastry like a rabid dog.
Then Jenny "Beer Tree" Bierbaum takes a long pull on her glass of red and announces, "I should probably look around at the art some time."
When she comes back I ask her, "Well, how was it?"
"I love it," she gushes. "I love how three dimensional it is."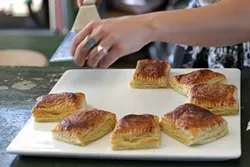 PHOTO BY GLEN STARKEY
PUFF PASTRIES, CUBAN STYLE! : Guests had a choice between savory tempeh and buffalo-stuffed or sweet fruit and cheese-filled pastries—Cuban specialties called pastelitos, which means little pies.
Apparently she doesn't like the way I'm looking at her, so she adds insecurely, "I'm not an art critic. I don't know what to say. I just like it. I have to watch what I say around you, don't I? Put down your notepad."
Then she runs away shrieking … right to another glass of wine.
Then Anna and I decide to go get ready for our next engagement.
"Have fun at the prom," says my friend Keith Bond, completely without irony.
How was your Saturday?
Glen Starkey takes a beating and keeps on bleating. Contact him at gstarkey@newtimesslo.com; follow him at twitter.com/glenstarkey.