I've loved Mexican food since I was a kid, and jumped at the chance to eat dinner at my best friend's for her mom's handmade tamales. But I developed a greater appreciation for it while living in San Francisco. The Mission District has excellent, freshly made foods at the taquerias, and it's downright cheap at shops up and down Mission Street. That's the reason I was thrilled when the chef who created Chipotle opened their first burrito shop in SLO. The California Culinary Academy (CCA) alumnus loved the Mission's burritos in San Francisco, and built his fast food empire upon the concept. His shops, however, offer better quality foods than you'll find in most Mexican eateries locally.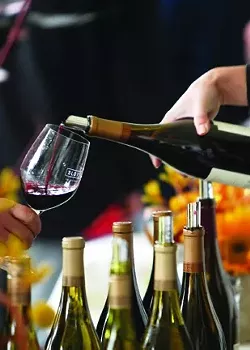 PHOTOS COURTESTY OF SLO WINE COUNTRY ASSOCIATION
A FARM-TO-TABLE EVENT : The SLO Wine Country Association offers the inaugural FarmFest event to connect consumers with local wineries, restaurants, and farms.
Still, Chipotle isn't the upscale Mexican cuisine I've been hoping to find and I have lamented that fact many times in this column over the years. Seventeen years, exactly, but I'm not whining anymore with the opening of Pasión Comida Mexicana in Old Orcutt. I drove over with my husband Dan to check it out. At the first taste we both agreed, we were blown away. Seriously, we couldn't believe how good the fine cuisine was, from our first taste of the tender barbacoa (beef) in crispy taquitos with avocado to the perfect quacamole, and grilled shrimp we added to the San Antonio salad. The quality and freshness was obvious in each amazing, delightful dish.
Once I heard Pasión's consulting chef was Ryan Gromfin, a CCA alumnus who earned a rave review from the chef at the Santa Maria Mall Deli, it made sense. A cook with an exceptional palate, Gromfin created the menu and trained the staff. Pasión is owned by Cynthia and Gabriel "Gabe" Segura, formerly from Texas, who realized their longtime dream of opening a restaurant. Gromfin provided them a menu that is a tribute to their Texan lifestyle. Typically, restaurateurs without experience don't start out with such expert cooking but the Seguras wisely sought the advice of an excellent professional chef.
That said, although my server was really personable and seemed experienced, he and the rest of the wait staff were swamped and barely keeping up with the crowd in the dining room, and it's still busy. Nonetheless, every dish was excellently prepared by the kitchen team, perfectly seasoned, and provided a dining experience that had me eager to return to try more. During three satisfying visits only one dish disappointed, but now I tell everyone I'm glad they're in Orcutt or I'd be tempted to return too frequently.
Uniquely, the meal doesn't start with the ubiquitous chips and salsa. Pasión has two expert cooks rolling out freshly made corn tortillas. The orange scented butter accompanying them melts deliciously over the warm, tender tortillas. If you order the fresh crispy chips with salsa ($3), do order the guacamole ($2/small or $7/large) with them. Like everything here it's freshly made, perfectly chunky yet creamy, and not overly seasoned so you can appreciate the delicate buttery avocado. Another amazing starter we enjoyed: The generously portioned San Antonio mixed greens with charred corn, jicama, tomatoes, queso anejo, and roasted peppers with cilantro ranch dressing and delightfully crunchy cornbread croutons ($12).

PASIóN COMIDA MEXICANA: 165 W. Clark Ave. Old Orcutt 314-2191
We found the huge bowl of clams in spicy tomato chorizo broth ($11) plentiful and irresistible. Equally impressive was the local cod and sour orange ceviche tostadita ($10). At the taco bar you can sit and watch the cooks preparing tacos to order. We enjoyed pork carnitas and grilled shrimp ($3.50 and $4.50 respectively); there are several meat options. My only disappointment was the lamb shank birriya ($23), braised lamb shoulder in red chili broth, which was tasty but not tender. I wouldn't judge them harshly strictly based on that when everything else was incredibly delicious and original.
Although it's not usually appealing to me, I tried the strawberry wine margarita and actually thought it was delicious. Sweeter than I like my wine, it's more like a strawberry soda. I'd rather stick to the well-chosen and fairly priced wine list, which has many great Santa Barbara County labels. The Presqu'ile 2011 Rose was so complementary with the cuisine we ordered it all three visits. With food this rich (and so high in calories), I never order dessert but they'll have something to satisfy a sweet tooth. Check it out on Facebook or their webpage at PasionComidaMexicana.com. I'll be returning often for their savory foods that still have me craving another lunch or dinner which, fortunately, is offered dail
Saturday, April 26
SLO Wine Country's Farm-to-Fork culture at the inaugural FarmFest
Get to know the ardent farmers who grow and produce our excellent SLO grown foods and wines at the upcoming FarmFest at the Dinosaur Caves in Pismo Beach. Agrarians will team up with local chefs and wineries to serve their guests the best of SLO County.
"This event is distinctive in that each tasting station will showcase something in its raw or natural form next to that same item in a prepared form to be enjoyed with local wines," said Heather Muran, executive director of the SLO Wine Country Association. "It's a wonderful way to learn about food producers while enjoying an exclusive taste of fresh, sustainably grown local edibles." Cal Poly's Wine & Viticulture program, Talley Farms Fresh Harvest, and SLO Farm Supply, among others, will provide demonstrations about sustainable farming, with experts offering their insight on horticulture and viticultural practices.
Among the unique pairings you'll enjoy, Rutiz Farms will join Sidecar Restaurant, the Lavender Smiths Farm will join Marisol, and Los Osos Ranch will join A.J. Soups. All winery members of the SLO Wine Country Association will have tables alongside the restaurants and farms.
FarmFest takes place Saturday, April 26 from 4 to 7 p.m. beside the Pacific, and admission is only $40 per person which includes all food and wine samples, and live music. Tickets are limited but you can still get them at SLOWine.com. For a full weekend experience you can also enjoy Taste of Pismo on Sunday, April 27 and save money on the package price at only $80 per person. For details or to get the package price, go to PismoChamber.com or SLOWine.com. Both events provide an outstanding celebration of SLO County's renowned agriculture and the passionate artisans who produce our local food and wine.
Contact Cuisine columnist Kathy Marcks Hardesty at khardesty@newtimesslo.com.