The city of Paso Robles is negotiating with the state to acquire property with a shuttered juvenile prison, property it hopes to transform into a multi-use campus with homeless services and other projects.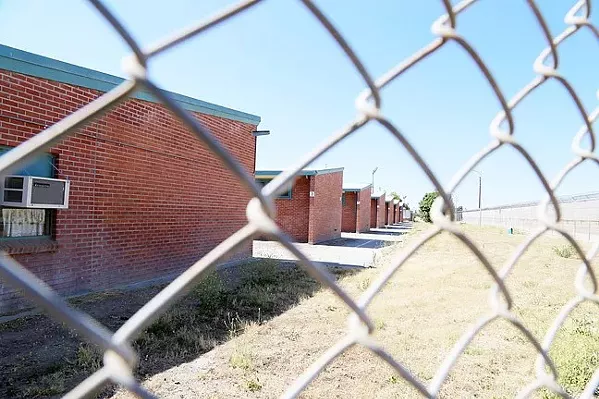 File Photo By Dylan Honea-Baumann
EYESORE NO MORE? The city of Paso Robles is in talks with the state to acquire the Estrella Juvenile Correctional Facility, a 137-acre property that it hopes to use for a homeless shelter and other community projects.
Public Works Director Dick McKinley confirmed that the city and state are in active talks on a sale of the Estrella Juvenile Correctional Facility, and said Paso is the only agency interested in the 137 acres on Airport Boulevard housing roughly 60 buildings and dormitories.
"This has been a long-term goal for the city," McKinley told New Times. "What we want to do is get it to stop being an eyesore and have a productive use for the community."
The state closed the Estrella Juvenile Correctional Facility in 2008, and it's been in a "warm shutdown" since—meaning it's inactive but regularly maintained and supervised by the state. The Department of General Services (DGS) recently designated the facility a surplus asset and, after no state agency found a use for it, the property is "now being offered to local agencies," according to the DGS.
A sale to Paso could pave the way for a vision to provide a transitional homeless shelter, farmworker housing, sports facilities, and other community uses on the property.
Cal Fire plans to retain 23 acres at the north end of the lot where it currently operates a substation.
McKinley didn't say how close the two parties were to a sale or what the price for the land might be.
"We're still talking about that," he said. "It won't be zero."
DGS spokesman Michael Liang told New Times the department is undergoing an appraisal to determine the "fair market value" of the site. He said that process would likely take a few months.
On May 1, the Paso City Council signed off on a plan to submit bids to the DGS for the surplus tools and equipment inside the structures on the property. McKinley said there are some useful items including medical equipment, like gurneys, and tools and parts specific to the facility.
If the city and state don't reach an agreement on the sale, the DGS would offer the land to private developers next, Liang said. Δ