John Nielsen has 33 years of experience working in the fire service, and as fire chief of the Camp Roberts Fire Department, he's dealt with life-threatening situations. What Nielsen doesn't really have much experience in is art, but when he was asked to judge the Hero art exhibit for Studios on the Park in Paso Robles, he said yes.
"I was totally out of my comfort zone, and when it came time to judge the pieces, it came straight from my heart," said Nielsen, who assisted in the effort to contain the Thomas Fire that raged through Santa Barbara and Ventura counties in December.
While others might be more artistically qualified to judge such a show, Nielsen said the show's curator, Susan Naughton, was looking for a public servant's perspective.
The Hero exhibit is a complement to the Veterans' Voices exhibit, a space for those who served in the armed forces to have a chance to express themselves.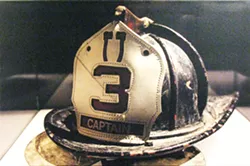 Photo Courtesy Of Becky Silva
REMEMBERANCE A solitary helmet on display is symbolic of a fallen firefighter.
"What you see here is what we hoped would represent each artist's vision of hero," Naughton said. "And when you step into the interim studios, what you have is a veteran's viewpoint of their experience being a hero."
To Naughton, a hero's actions connect her to many feelings that life creates, both good and bad.
"A hero's actions inspire me," she said.
As soon as Nielsen walked into the exhibit, there was a particular piece that stood out and blew him away.
"It was a simple picture of a helmet, but what most people outside the fire service don't know is when a helmet is on display like that it means a firefighter died in the line of duty," he said.
The piece called 9-11-01 Hero is a photograph by Becky Silva. The helmet has the No. 3 in deep red; underneath is the word "captain." The helmet itself has many dings and tears—it tells the story of a fire captain who wore a helmet to shield himself while he performed his duty. Silva said that she took a trip to New York with her husband and went to the National September 11 Memorial and Museum where a helmet was on display.
"I saw that helmet and it struck me. So many people went in to rescue helpless individuals and a lot of them didn't make it out," Silva said.
Photo Courtesy Of Carma Coleman
YOUNG PERSPECTIVE Mixing the harsh tones of red with pieces of CDs, Carma Coleman expresses how she admires and is inspired by music.
Silva said she admired the people who entered the World Trade Center that day knowing that they might not make it out alive.
"These people put their life on the line for others without even thinking about it," she said.
The helmet Silva depicted belonged to Capt. Patrick John Brown of the New York City Fire Department. This wasn't the helmet he used when responding to the 9/11 scene, but it's the helmet he left behind in his car. It's also the helmet that served as Brown's surrogate at a memorial service held on Nov. 9, 2001.
The helmet and everything that it stood for really spoke to Silva and that's what a hero meant to her: a person performing their duty, thinking of others, and helping those in need. Silva won Best in Show for her piece.
In close second was a different kind of hero, not a person but something that helped 17-year-old Carma Coleman. Coleman is a teenager in high school and like many of her peers, she's going through the motions of finding herself while dealing with school, her peers, and balancing family as well.
So Coleman turned to music when dealing with stressful events in her life. Her mixed media piece Boombox Hero is a testament to the different genres of music that she's influenced by and listens to.
"My family, my parents, and my sisters that are older than me like different kinds of music, and what they like really interests me," Coleman said.
On a bright red background that becomes a brick wall upon closer examination, there's a person with a boom box for a head. Broken pieces of CDs surround the figure with some of the names of the artists and bands that Coleman has been listening to over the years. While the theme is edgy with a touch of rock 'n' roll, there are pictures of flowers in the place of the speakers on the boom box.
"Even though I'm 17, I appreciate all music, even the classics. That's what gets me through," Coleman said. Δ
Staff Writer Karen Garcia is thinking of her everyday heroes at kgarcia@newtimesslo.com.