PHOTOS BY STEVE E. MILLER
BOLD AND BEAUTIFUL : Windward Vineyards owners Marc Goldberg and Maggie D'Ambrosia founded the Paso Pinot and Paella Festival, which quickly outgrew its original venue at Windward.
When asked which red wine is most versatile with food, I'll say Pinot Noir every time. Just for the record, with whites I say it's a toss-up between Sauvignon Blanc and Riesling, and you'll find argument on that opinion from both sides. But isn't that what makes wine appreciation so grand? It's the star at the table no matter what you're eating and it always makes a meal more interesting. Admittedly, I never heard of pairing Pinot with paella until Maggie D'Ambrosia and Marc Goldberg of Windward in Paso Robles invited me as a judge during the first paella contest in 2004. Yet it occurred to me it was a natural pairing, later confirmed during the fabulous paella competition, won that year by Andre Averseng of Dining with Andre in Paso.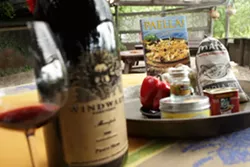 When Goldberg and D'Ambrosia relocated from Southern California to Paso Robles to plant their new vineyard exclusively with Pinot Noir in 1990, they were inspired by pioneer Dr. Stanley Hoffman of HMR Vineyard (Hoffman Mountain Ranch). He planted his Pinot Noir vineyard in the 1960s in Paso's Westside region, in consultation with California's legendary Andre Tchelistcheff, the father of the modern wine industry. Hoffman's vision not only brought fame to the Paso Robles appellation, he proved world-class Pinot Noir could be grown there.
MISS THOSE LATTES?: No doubt about it, recession woes have put the big hurt on Starbuck's with people tightening their belts and skipping their daily lattes. At $3 a day, that's nearly $1,195 a year, and that's a substantial bite out of your annual budget. With this in mind, the "Got Milk?" marketers came up with a great concept to sell more milk: they're providing easy but tasty recipes so you can make lattes at home for a cost of only 35 to 97 cents each. The milk lobby reminds us of another reason we need our lattes: it supplies a third of our recommended daily calcium intake. We all need it and it's essential for women battling osteoporosis. Got Milk? teamed up with the U.S. Barista Champion (2003 and 2007) Heather Perry and Master Roaster Rafael Aguiar to create easy recipes for making addictive treats like steamed vanilla dream and bad hair day banisher with chocolate and almond butter—sounds yummy. Although a Moka Pot or French Press is ideal, you can make these drinks with a standard coffee maker. I remember the marketers' original campaign: every body needs milk. You'll find an array of recipes and nutritional information by visiting gotmilk.com.

Rafael Aguiar's Aztec Cocoa Latte
2 oz. strong coffee or espresso
6-8 oz. milk
1 cinnamon stick
1 pinch ground red pepper
1 T. brown sugar
2 T. chocolate syrup or powder
Fresh dark chocolate shreds
Use the cinnamon stick to mix the coffee or espresso with the red pepper, brown sugar and chocolate. Heat milk in microwave or on stovetop and pour over coffee and chocolate mixture, stirring with cinnamon stick. Garnish with chocolate shreds.
Like Hoffman and Tchelistcheff, Goldberg and his wife established Windward in the Westside region because of its cool microclimate. It's cooled by the Pacific Ocean breezes that reach there through a gap in the Santa Lucia Mountain range, which brings the warm daytime temperatures down by as much as 50 degrees nightly. And Pinot Noir needs ideal conditions to produce great wines.

SUNDAY, MAY 31, PASO PINOT AND PAELLA FESTIVAL: This outstanding wine and food event features 15 top chefs and 20 wineries that grow Pinot Noir within the Paso Robles appellation. Held at the Templeton Park, just one block off Main between Fifth and Sixth streets, it takes place from 2 to 5 p.m. Tickets are $65 per person for all the paella and Pinot you want to taste. Live music by Incendio makes this tasting one big, happy party. Central Coast Dance and Performing Arts will provide a dance exhibition. Proceeds will benefit the children's arts, theater, and music programs in San Luis Obispo County. Go to pinotandpaella.com or call 239-2565 for tickets and information.
When founding Windward Vineyard, the couple brought in Paso pioneer Ken Volk and his winemaker Jon Priest from Wild Horse to consult on planting their vines and the winemaking. "They (Volk and Priest) felt the terroir from our parcel provided an intense and layered complexity that made the wines very special," Goldberg noted. Windward is in the same geographical area as the original HMR Vineyard. When their first wine was released in 1993, it earned prizes for its outstanding quality. From their start they noted, "Our goal has always been to produce a wine that showcases the elegance and finesse found in Burgundy, which sells for two to three times the price of our wines."
Proudly they labeled it "Monopole," the French term for a winery in which the owners have sole control over the vineyard and winemaking. Not only are these passionate vintners committed to their vineyard, they're equally supportive of their peers who strive to make Paso Robles' finest Pinot Noirs.
Over the past five years I've attended all but one of the Pinot and Paella events. I loved the opportunity to judge these great paellas and we found each dish unique, like the Pinot Noirs from the region's best wineries. This year, however, there's no judging. The Paso Pinot and Paella Festival will simply do what it does best: showcase the fine paellas of local chefs and the fine Pinot Noirs grown in Paso Robles by some of the region's best producers. That's what D'Ambrosia and Goldberg wanted when they established this terrific event. I agree this change is for the best. We all have different preferences in food and wine, nothing wrong there, so we can judge for ourselves which chefs and winemakers rank best.
The chefs hail from our best local restaurants: Artisan, Corner View, Deborah's Room, Frankie & Lola's, Giuseppe's, Pier 46 Seafood, Villa Creek, and 10th St. Basque Café, plus caterers and food specialists: Catering Unlimited, Catering by Chef Charlie, 15 Degrees C, Hospitality Catering, Manse on Marsh, Paso Robles Culinary Academy, Sylvester Vineyards, and Summerwood Inn.
The wineries include many that participated from the start: Windward (the founder of Pinot and Paella, Adelaida, Calcareous, Carmody McKnight, Castoro, Jack Creek, Maloy O'Neill, Opolo, Silverstone, Stephen's Cellars. There are also several newcomers this year: Andrew Wine Company, Derby Wine Cellars, and FS Cellars.
You can reach New Times' Cuisine columnist at khardesty@newtimesslo.com.