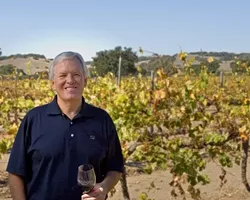 PHOTO COURTESY OF FOLEY WINE GROUP
MAN IN CHARGE : William "Bill" Foley II bought the Firestone Winery in Santa Ynez Valley and acquired the family's Paso Robles winery in the deal.
# Firestone Winery in Paso Robles hadn't yet reached its first anniversary in January when the news came out that it was sold. In reality, it changed hands last August when it was reported that the original Firestone Winery in Santa Ynez Valley had been sold to financier/vintner William "Bill" Foley II. Originally, the Firestone family planned to keep the Paso Robles winery and change the name. But the hassle required hardly seemed worthwhile, so the Firestones asked Foley if he wanted to buy it, too. Obviously, he did, so the only major change is that we lose our local celeb, Andrew Firestone, who moved back to Santa Barbara.
We Americans love our celebrities, whether they're from the motion picture industry or television--and especially when they're notable for their exceptional good looks, like Andrew, who starred on the ABC's reality show The Bachelor. The instant it was announced that he was general manager of the new Firestone Winery in Paso Robles, I heard women of all ages say that they were eager to visit the new tasting room in the hope of meeting the handsome and charismatic star.
However, the Firestone sale took many in the wine industry by surprise. For one thing, it wasn't on the market when Foley stepped up to buy it. More importantly, the Firestone family has advocated for the Santa Ynez Valley wine region for 36 years. In a last-minute switch in the contract that wasn't released to the media, Foley acquired the Paso Firestone. When the news finally broke locally six months later, ironically, it was only because Andrew was leaving the winery.
Foley, founder and chairman of the publicly traded Fortune 500 Co. Fidelity National Financial Inc., was CEO until last year. He retired to begin a new career and created the Foley Wine Group, with which he plans to acquire a series of brands. Owner of Foley, Lincourt, Santa Ynez Winery, and now Firestone in Santa Ynez Valley, he's creating what he describes as a multi-brand sales strategy. Foley said he's patiently searching for the right upscale brands in Napa, Sonoma, and Oregon and Washington states. He also indicated to me that he's looking at the possibilities in the Edna and Arroyo Grande valleys.
"We want to have a book of brands," said Foley, admitting that his goal is to create a portfolio that's similar to Jess Jackson's Artisan Estates Group, which includes Cambria in the Santa Maria Valley. "The multi-brand strategy is to offer eight or nine brands that will sell at different prices. Then we can use our distribution network to leverage those brands in the market."
Unlike the takeover of small family wineries by huge, corporately owned companies--a strategy that typically leads to major change and the loss of jobs for long-term employees--Foley has a different take. He said he appreciated not only gaining Firestone, but its staff, too.
"With Firestone, I got more than a good winery," he said. "I ended up with a strong staff of operating people, from the winemaker and tasting room manager to the various workers."
And as for Andrew? Well, it's clear that the good-looking celebrity won't ever have a problem finding a job.
Paso Robles loses a viticulture pioneer
Paso Robles has lost one of the region's most highly respected pioneers: winegrape grower Jim Coffee Smoot Jr., 67, who consulted for many of the region's top wineries over the last three decades. After a year-long battle with lymphatic cancer, Smoot still managed to get through last year's harvest and promised his wife Treanna their annual vacation in Palm Springs to play golf. Three days after they arrived there, pneumonia overtook Smoot--a complication of lymphatic cancer--and he died on Jan. 14 with Treanna, their children, and his sister all at his bedside.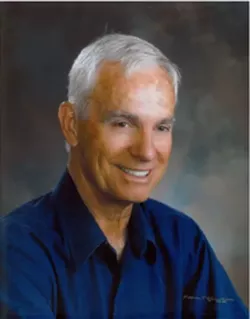 PHOTO COURTESY OF WILKINS GRAPHICS
CELEBRATED PIONEER : Paso Robles recently lost a highly respected winegrape grower: Jim Coffee Smoot Jr., who succumbed to a battle with lymphatic cancer.
# Smoot, a graduate of Fresno State University, began his viticulture career in 1978 in Paso. His peers described him as a visionary who saw the potential of the region to produce premium quality wine grapes. He worked in most of Paso's unique microclimates and soils, consulting for many of the highly regarded wineries in the region.
Gary Eberle, founder of Eberle Winery, said, "People always refer to me as a pioneer in Paso, but Jim was one of the very early pioneers in viticulture."
He explained that Smoot was instrumental in raising the overall quality throughout Paso: "He had a whole lot to do with getting the right grapes planted in the right places."
Smoot's neighbor and close friend Creighton "Mac" MacDonald, director of production at Treana Winery, first met the viticulturist in 1976. MacDonald was working at the famed HMR Winery, owned by Dr. Stanley Hoffman, whose winemaking advisor was the legendary Andre Tchelistcheff.
"We had issues in those days with pests and nutrients and little experience at handling it," MacDonald recalled. "Jim brought a lot of knowledge from his experience in the Central Valley, and he was our first pest control advisor--not just in grapevines, either. He helped farmers growing pistachios and almonds."
Smoot consulted for numerous vineyards while managing his own Smoot's Vineyard on the Estrella Plain, east of Eberle Winery. He and his wife, Treanna, relocated from Bakersfield, where, she explained, his family was noted in history books as early California pioneers. They planted their Paso Robles vineyard together in 1978, working side by side, she explained, and managed it together.
"Jim was a strong man who fought until the end. I kissed him with his last breath," she said.
Recognized by the Central Coast Winegrape Growers Association as "Grower of the Year" in 1994 and 2004, Smoot also served as a board member for that group and for the California Association of Winegrape Growers. Treanna pointed out that her husband was "involved in the farming community throughout California."
"Jim Smoot set a high standard that many after him emulated," said vintner Justin Baldwin of Justin Vineyards. "He was one of a kind and will never be duplicated."
Baldwin first met Smoot in 1981, "when Jim was the only vineyard consultant in Paso Robles." Smoot laid out plans and oversaw the planting of Justin Vineyards and Winery. Baldwin said Smoot was well known for his strict attention to detail and the fact that he prided himself on keeping current with the latest vineyard practices.
His memorial service was held on Jan. 19 at the Atascadero Bible Church. Many members of the wine community pitched in to pay for the memorial to celebrate Smoot's impact on Paso Robles.
"We all wanted to pay tribute to one of the true pioneers of Paso Robles wines," Baldwin concluded.
Contact New Times Cuisine columnist at Kathy@newtimesslo.com.