Voters did not grant the city of Paso Robles with its Measure K sales tax in the Nov. 6 election, and now the city is going back to the drawing board to fill an infrastructure funding gap.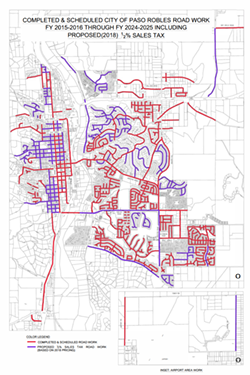 Photo Courtesy Of The City Of Paso Robles
REPAIRS NEEDED Paso Robles voters rejected Measure K, a sales tax increase that would have gone towards fixing roads (highlighted in purple).
The measure would have generated approximately $4.75 million per year for six years to upgrade deteriorating streets and sidewalks.
Paso Robles Assistant City Manager Jim Cogan said that the majority of voters may have decided against the measure, but the city still needs to come up with a plan to pay for its infrastructure needs.
"You know all of the infrastructure improvements that we had in Measure K are still needed, so we do have to figure out how to do that; it just won't be through a sales tax measure," Cogan said.
The city hired a company to survey voters in the area regarding the community's funding priorities for the potential revenue measure.
According to a July 17 staff report, the survey results showed voters prioritized spending in a number of areas: fixing streets and bridges, job creation, firefighting services, improving law enforcement, 911 response, and disaster preparedness. It also showed a lot of support for the tax measure.
But the results of the Nov. 6 election showed otherwise. Cogan said this was a tough election because Proposition 6 was on the same ballot for Paso Robles voters. Proposition 6 was a statewide ballot measure to repeal the gas tax increase that was passed by state legislators to fund road repair projects.
"I think some people thought, 'Well, we're going to vote down Proposition 6 and therefore there will be funding for road maintenance.' We're thrilled Proposition 6 was voted down and the city will get in the neighborhood of $800,000 a year," he said.
Within six years, that $800,000 could be close to $5 million. If the community had voted for Measure K, it would have added $4.75 million to Paso's infrastructure funding in the same time period.