What is brunch? Is it the stuff of boring baby showers and bad business buffets? An excuse to pour an entire stick of butter (hello Hollandaise sauce) onto your meal? To get a little buzzed before noon and sleep off the rest of the day? I'd argue a good brunch is really none of these things.
It's all about self-care.
How often do we linger over a meal, savoring the last bit of laughter and gossip between friends?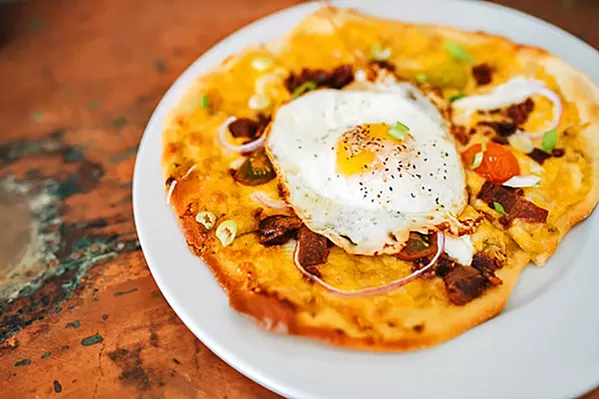 Photo Courtesy Of Amber McGaughey
BRUNCH, BOLDER Fantastical flavors of French toast, bacon breakfast pizza, and Instagram-worthy plates of avocado toast are served till 3 p.m. at Brunch, downtown Paso Robles' newest (and hippest) breakfast hangout.
Rarely, right? Brunch—that deliciously indulgent meal between whenever you wake up and whenever you feel full—is about the people you share it with. You might even turn your phone off. If brunch is happening, it can wait till 3 p.m. Hey, another pitcher of mimosa is on its way!
The owner of a new restaurant in Paso Robles aptly called "Brunch" wants you to experience more of this feel-good brunch-time vibe, and not just on special occasions or Sundays. After hearing about their specialties offered five days a week—most notably a fall-themed pumpkin cream cheese French toast—you'll probably be ready to tuck in your napkin.
Photo Courtesy Of Amber McGaughey
WHAT'S SO SPECIAL ABOUT SUNDAY Sure, you can eat at Brunch in Paso Robles on a Sunday, but why wait till then to get in on these funky twists on classic a.m. goodies? The new restaurant is open 9 a.m. to 3 p.m. Monday and Thursday plus Friday through Sunday.
Brooke Johnson worked in the local wedding industry for nine years before opening up Brunch, located next to her mom's downtown Paso Robles cheese shop, Di Raimondo's. A transplant from Southern California, her family settled in the Atascadero area back in 1989.
"LA is just too busy; I love living in Santa Margarita and that small-town feel," she said. What she did miss, however, was brunch. While brunch is most certainly a "thing" in most big cities, with Instagram accounts solely dedicated to capturing the perfect shots of trendy avocado toast, Paso Robles is more of a scrambled-egg town.
In fact, Johnson said some of the old timers are still completely skeptical of her luxurious brunch concept.
Photo Courtesy Of Amber McGaughey
"Paso has a great food industry, but I felt the breakfast and brunch area had been lacking a bit. I wanted to bring a fun, hipster vibe to this spot," she said.
Johnson herself does not cook, nor does she want to. Instead, she's hired chefs to reverse-engineer her vivacious, picture-worthy ideas. Her wedding industry prowess shines in these plates. Jammy fried eggs dot the Brunch landscape. (Remember Portlandia's "put a bird on it"? Try "put an egg on it.").
"We have a breakfast taco; a breakfast pizza; and twists on the traditional items like biscuits and gravy, but with a really great spicy chorizo; or French toast with a s'mores twist," Johnson said. "In Paso, you can only get brunch on a Sunday, but we're offering it five days a week all day long. Coming from the event industry, we work a lot of weekends, so we don't typically have time to hang with friends on a Saturday or Sunday."
Through this dilemma, Johnson has created something kind of astounding. A Monday or Thursday afternoon brunch? Revolutionary.
"I was thinking about people who can't always do a Sunday brunch, like moms who drop their kids at school and want to get together with the girls for a good, fun breakfast," Johnson said, adding that brunch does not need to include alcohol—although, hey, why not?
Photo Courtesy Of Amber McGaughey
The restaurant offers local chardonnay from Bailyana, craft beer, bloody marys, and (if you must) strong coffee. A unique bubbly flight allows guests to "DIY" their own mimosas.
Yes, you can drop any fresh fruit you fancy into your fizzy flute at will!
What you won't find at Brunch? Those weird new "breakfast salads" fancied by the LA elite (must they ruin everything?) or anemic, sad scones to go. This is brunch, people. Schedule it on your calendar, or don't. Wake up and smell the bacon breakfast pizza, crab cake eggs Benedict, and popular chicken-asiago-sausage stuffed breakfast burrito (best eaten with a knife and fork).
A good brunch takes time, and that's the pleasure of it. Perhaps this is why folks are lining up along the block and weekends often warrant a wait.
"Brunch, to me, is a good, hearty accelerated breakfast food," Johnson said. "This is not your typical omelet and potatoes." Δ
Hayley Thomas Cain believes brunch is for the best of buds. She can be reached at hthomas@newtimesslo.com.