"It was magical."
That might be Nancy Green's favorite statement to make about the theater she helped give birth to. It was born—rather painlessly and passionately—about 25 years ago, three years after Green moved to the hilly hamlet of Cambria from the chaos and clamor of New York City.
Photo Courtesy Of Nancy Green
COMEDY NIGHT Nancy Green (left) and Judy Jesness pose for the playbill of a one-act "Evening of Comedy" with the Allied Arts Association at the old Santa Rosa Schoolhouse in Cambria.
Green, who started her love affair with community theaters in the 1960s, and her friend Judith Jesness, who was a professional actress in New York City for many years, were the loving parents. Born as the Allied Arts Theatre Group in 1992, it shared a space with the Allied Arts Association in the historic old Santa Rosa Schoolhouse (built in 1881 and refurbished a little more than 50 years ago).
It was tiny, but Green said the community made it work.
"We did one-act plays because there was no facilities for anything else, and it was magical," the 87-year-old says with a flick of her wrist. "It was wonderful."
Sitting with her back to a windowed egress in her Cambria home, Green fiddles with her necklace as she talks about how she and Jesness watched, learned, and pushed the theater to grow with the help of the community.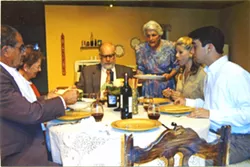 Photo Courtesy Of Nancy Green
ITALIAN MOMMA Nancy Green serves dinner as the mother of a New Jersey family in the SLO Little Theatre's rendition of Over the River.
"Judith was a pro. This was her life and she had performed all over the country. I learned a lot from her because I was just an actress and there's so much to theater," she says, emphasizing the "so" by drawing out the "o." "I just walked into an audition in New York in 1960 and they just told me I got the part."
Leadership of the theater has switched hands over the past quarter of a century, but Green was always around. While Jesness eventually moved away in 2007 and now lives outside of Sacramento (where she continues to work with a community theater), Green stayed on as the Allied Arts Theatre became the Cambria Center for the Arts Theatre and upgraded to a larger space, the old grammar school (yes, another school) that is now the Coast Unified School District's office building.
There, she made it her goal to turn the once tiny community theater into as close to a state-of-the-art facility as she could get it: stadium seating for 99, a larger stage, professional lighting that Cal Poly students helped design, and, most recently, sound baffles for noise mitigation (and hopefully, soon, a remote-controlled spotlight). Things are almost there as she hands leadership over to her chosen successor, Jill Turnbow, who was previously the theater's artistic director.
"This is no longer little amateur in Dixie," Green says with satisfaction.
Facing Green at the table by the window, Turnbow nods her head in agreement.
But Green's retirement from volunteering essentially all of her time to the theater isn't full-fledged. Although she is stepping back from her executive director role, she's still helping to push another one of her babies out the door, the nonprofit's first ("annual, hopefully") Cambria Film Festival, which runs from Feb. 8 through 11.
When asked what she did outside of her work with the theater, Green knits her eyes together behind her thick black-rimmed glasses: "If you're running a theater, you don't have time for anything else. It's a 24/7 job, and you can put that in there," she says seriously with an emphatic point of her finger, before her face softens into a laugh. "But it was a joy."
Photo Courtesy Of Slo Repertory Theatre
LEND ME AN ACTRESS (Left to right) Ali Rahim, Daniel Freeman, and Nancy Green act in a SLO Little Theatre production of Lend Me A Tenor in 2008—which happens to be Green's favorite play.
Her love for theater is palpable in the way she speaks about it, with a certain soft wistfulness in her voice. Even when things got desperate, she says, she always knew they would work out for the best. She had faith that the community would pull together and make things happen. For her, that's what community theater is all about. Well, that, and the acting, which she has strived to make a part of her life since her first foray on stage in 1960.
"I started because it was just fun to be somebody else. It's a very interesting process to develop someone who is not yourself," she says. "You find out stuff about yourself that you weren't aware of."
She continued that fun after she and her husband left New York for Hamburg, Germany, in the mid 1960s. One night, they were sitting around with several other couples talking about how the town needed an English-speaking community theater group.
"We were in our cups one night," Green says.
"They were drinking," Turnbow says under her breath with a laugh.
"And we decided to start one, and it's still going now," Green finishes.
After 10 years in Germany, the Greens headed back to New York City until 1989, when they moved to the Central Coast and Green joined the Allied Arts Association.
She and Jesness decided to start the community theater because they saw a need—at the time, the Pewter Plough Playhouse was still a for-profit theater. They dabbled in attempting to get a children's theater going through the Allied Arts Association, which was fun, but in the end "there weren't enough children," she said. Mostly, though, she said they started the theater because it was a passion, because it was something that they just really wanted to do.
"We've been very fortunate in people who have taken an interest and helped us out. It's been a wonderful journey," she said. "As with most art, it has to be a passion, because the compensation ... it's not there." ∆
Editor Camillia Lanham is passionate about being a journalist at clanham@newtimesslo.com.