Less than a mile from the buzzing activity at the center of Cal Poly's campus, students Connor Riggan and Max Poswillo pick Valencia oranges in a quiet orchard. They move through the trees, plucking the ripe fruit under a near cloudless sky. Across the street, another student—Hannah Lenz—checks a 15-acre grove of lemon trees for signs of an invasive species of insect. North of her, student Nicki Reiff drives a small tractor through a wide field containing everything from peaches and plums to wine grapes.
PHOTO BY KAORI FUNAHASHI
FRUIT OR FACILITIES? : Agriculture students at Cal Poly worry that these juicy peaches could be destroyed to make room for development under the campus's updated master plan.
They're all students with university's College of Agriculture, Food, and Environmental Science. It's May 28, and they're getting their hands dirty on roughly 248 acres of prime agricultural land wedged between the main campus and Highway 1. According to Joel Leonard, an agricultural and environmental plant science student, that land is their classroom, and the work he and the others do on it epitomizes the university's oft-cited creed: "learn by doing."
"This is pretty much where all our education happens," Leonard says, gesturing to fields.
But some of that very land Leonard and his peers are working and learning on could one day disappear, replaced by housing, parking lots, even a hotel. At least those are some of the proposals currently being looked at as Cal Poly works to update its master plan for development.
Troubling plans
In late April, the university released preliminary outlines for a new master plan proposal. The plan aims to address the anticipated physical needs of the campus over the next 20 years. Those initial outlines lay out ideas for a multitude of potential construction projects on campus. When master plan staff debuted the multiple proposed concepts, Leonard and other agricultural students were shocked to find that nearly every one of them included some type of construction or development on the university's agricultural land.
"My initial reaction was definitely surprised," Leonard said.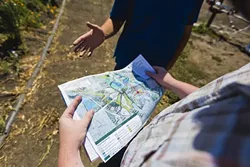 PHOTO BY KAORI FUNAHASHI
LAND GRAB: Conceptual maps for the university's master plan update show several possible construction projects on agricultural land used by students for learning and research.
A map of one of the conceptual plans marked the orange groves where Riggan and Poswillo toiled—and the field where Reiff worked among the plum and peach trees—as spots for possible residential housing and a winery. In another concept, a hotel blots out the lemon orchard where Lenz spends her time. Still others suggest that some of the land the university's agricultural students currently work on could be earmarked for recreational space, parking, and "ornamental horticulture."
The possibility that the land, much of it classified as fertile class 1 soil, would be lost under the updated master plan raised alarm on the agricultural side of campus.
"We realized that this was something that meant a lot to us," he said. "It was blatantly obvious that this land was something that needed to be preserved."
In the wake of the revelations about the land's future, Leonard and his fellow students organized a campaign to raise awareness about the issue and try to steer the university away from building on the ag land. The group met with university staff, began getting the word out to the public, and even started an online petition to save the land. So far, the petition's garnered a little more than 2,700 signatures since May 16. Leonard said he even got university President Jeff Armstrong to come out to the fields and see the land that might be whittled down by the development.
"They see flat land, but we see some of the best soil in the world," Leonard said. "It's so important, it's hard to put a value on it."
The proposed construction on the land also raised the ire of Cal Poly professors. Wyatt Brown, a professor of horticulture and crop science called the proposals "disturbing" and argued that building parking lots, housing, or hotels on it was in direct opposition with the university's motto.
"To have those fields so close to the campus's core truly allows learn-by-doing. … It's invaluable," Brown said. "Building [on the land] would fundamentally change the way we teach."
Brown previously taught at Cornell University, where he said his students had to pile into vans and drive more than 10 miles to get to a hands-on experience in the field. He said he doesn't want to see that happen at Cal Poly.
"They do so much important work on that land, and it's basically right outside their classroom," he said. "It's invaluable."
From rural to urban
The history of the university's land chronicles not only the life of Cal Poly but also parallels California's past. Cal Poly Land, a now defunct website created by students and staff to document the history of the university's land, shows that the land was home to early Native Americans and was later taken by the Spanish, who used the land to graze livestock and grow crops like wheat, vegetables, and wine grapes.
When California was a Mexican territory, ranchers and cattlemen owned the land. It eventually made its way into the hands of American ranchers, who held it until the university was founded in 1901. Eventually, thanks to land purchases, grants, and legislation, the university owned more than 6,000 acres of land by 1983.
Since its humble beginning in the then-sprawling farmland, both the university and the area surrounding it has grown and been urbanized. Each year, students continue to flock to Cal Poly, and the need for space and services to accommodate them multiplies.
The update to the master plan, the previous incarnation of which was approved in 2001, was spurred in part by enrollment growth. According to Cal Poly's data, the university saw approximately 55,000 applications for roughly 4,500 openings for the current academic year. More students mean a need for more housing. According to the university's website, one of the plan's goals is to house all freshmen, sophomores, and 30 percent of its juniors and seniors in on-campus housing. That would bump the percentage of students in on-campus housing from its current 38 percent to 65 percent.
Interim Cal Poly Planning Officer Linda Dalton said reasons for that goal go beyond simply having more housing for students.
PHOTO BY KAORI FUNAHASHI
'LEARN BY DOING': The pastoral fields function as classrooms and research labs for students like Katie Ward, who want hands-on experience in areas like fruit, plant, and environmental science.
"The research on student retention shows that students who live on campus for the first two years are more likely to successfully finish college," she said. "[Also] many freshman are underage, and parents want security for these younger students."
Leonard said he understands the need to manage growth on campus, but questioned doing so at the expense of the university's agricultural land.
"From a construction and monetary standpoint, I guess it makes sense," Leonard said. "But from an educational standpoint, it didn't seem very well thought out."
Dalton said the university is aware of the concerns of those who oppose building on the land. She stressed that many of the conceptual maps indicate that portions of the land are "under study" and that no concrete proposals are on the table.
"What we are doing right now is gathering information," Dalton said. "What we need is a lot more information about the activities going on there so we can make better judgments about what we need and don't need over there."
The fate of the land is far from settled. Dalton pointed to the hotel as an example of the preliminary nature of the current planning stage. One conceptual map shows it in the lemon grove, while another places it near Grand Avenue, on the southeast side of campus. A third places it close to the middle of the campus's core.
"The three land use maps show it in three different locations," she said. "That's a good example of where we are in the process, no single one is proposed."
The students, professors, and others against building on the agricultural land are just one group of many that Dalton and other staff working on the master plan update must hear out as they move toward developing a final proposal. The university's website states that at least six committees were involved in the initial process, and the university held several workshops and meetings with staff, students, and other stakeholders after the conceptual plans rolled out. Dalton estimated that there've been more than 20 meetings on campus since April, in addition to off-campus meetings with local organizations and SLO city and county officials. Dalton said all of that input must be taken into account as she and other master plan staff work to hammer out the final proposal over the summer.
"We have a lot of input," she said. "That's the challenge in front of us this summer. You have to weigh all of the input and possibilities."
As agricultural student Lentz worked in the lemon grove, her input was short and simple.
"I'm for building, just not on our land," Lentz said.
Not alone
The clash between the needs of a growing campus and preserving working agricultural land for students isn't confined to Cal Poly's SLO campus. More than 200 miles south, students at Cal Poly Pomona are also fighting to save the land they use from planned development.
In December 2014, a construction company announced plans to build a $71-million, 176,000-square-foot housing facility on 13 acres of pastureland currently used for student programs, including horse breeding and livestock grazing.
PHOTO BY KAORI FUNAHASHI
SOUR GRAPES: Cal Poly administration is developing an update to its master plan. Students and professors are worried the final proposal will call for destroying some of the university's farmland, replacing it with homes, parking lots, and hotels.
The news shocked Adam Mason, a senior plant science major at Pomona. Like the students in SLO, Mason said the land is a place where students like him to get real-world, hands-on experience.
"It was people with no experience in agriculture who were sitting in offices and deciding what to do with the land. It was ridiculous that they wanted to build on it," Mason said. "People were really upset."
In February, Mason and a group of students staged a protest to draw attention to their cause. He also started a petition to save the land, which is now nearing 2,000 signatures.
According to Mason, their efforts caught the attention of Pomona's administrators. While the project isn't totally off the table, Mason said the university put a hold on the construction pending further discussion.
The experience was eye-opening, Mason said, and his single issue campaign morphed into a desire to raise awareness about the broader issue of protecting agricultural land.
"We are losing our land now," he said. "It's fertile land capable of sustaining life. Once you pave over it, you can't go back."
Mason's advice to students in SLO was to urge them to keep the issue in the public eye and to continue to push the university to drop any plans to build on the land.
"I would say keep protesting. Raise awareness in the public; get them involved," Mason said.
Moving forward
Whether the efforts in SLO will yield results still remains to be seen. Public comment on the possible proposals will continue until at least the end of the academic year. Planning Officer Dalton said the staff would spend the summer creating a more refined proposal and roll it out in the fall.
"There will be time for the campus and the larger community to comment as well," Dalton said.
PHOTO BY KAORI FUNAHASHI
THE FRUITS OF THEIR LABOR: Agriculture students Max Poswillo and Connor Riggan pick oranges in a grove less than a mile from Cal Poly's bustling campus. Both worry the orchard might one day be razed to make room for housing and parking.
The university's also required to conduct an environmental impact study, which will lay out the possible consequences of construction included in the plan, including any projects built on agricultural land.
Poly student Leonard said that the environmental impact report and the 2001 master plan both stressed the importance of the agricultural fields and units, ecological study areas, and design village as part of the school's educational goals.
"'Living laboratories' are central to Cal Poly's mission and must remain integrated with the campus," an executive summary of the previous master plan states.
The additional public review and environmental impact study will continue into next year. Dalton said the staff working on the plan hope to present a final proposal to the California State University Board of Trustees by the end of 2016.
As the planning process trudges forward, the future of the land that Leonard, Lentz, and others feel so passionate about will remain up in the air. Opinions about what the ultimate decision will be vary. Some students hold out hope that their efforts and protest will keep development off the land. Others argue cynically that the open land is just too good to pass up for the growing campus.
In the end, any construction on the land, if approved, may not even begin until students on campus now have graduated. That doesn't seem to faze them. If they're successful, they would preserve the chance for future students to work the lands as they have.
"It's such a great opportunity to get out in the field," Lenz said, standing among the lemon trees that one day might be the center of a busy hotel lobby. "I feel like students who come here after me should have that same opportunity."
Staff Writer Chris McGuinness can be reached at cmcguinness@newtimesslo.com.