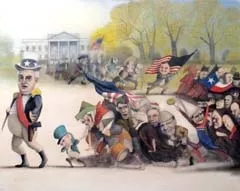 IMAGE BY NATHAN HEMENWAY
CAROUSEL :
If you plan to attend ARTS Obispo's 2009 Open Studios Tour, taking place between Oct. 10 and 25, you have some pretty difficult decisions to make. You have the option of visiting more than 200 artists, but only six days—42 hours—to visit their studios. That's a schedule that Santa Claus himself couldn't maintain.
So you've got some decisions to make. Which is where this article comes in. If you're going to visit an artist's studio or home, why not make it an artist who lives with art rather than makes it in their spare time?
"Art's not for fun. It's a way of life," said Nathan Hemenway, a Los Osos resident whose home studio is available for viewing during the tour. "I just want to create as much good art before I die as possible."
Hemenway's approach to making art is unorthodox and, according to his critics, scattered. The artist creates paintings, sculptures, installations, animation, and music, in defiance of the "jack of all trades, master of none" stereotype. This year marks his second appearance at the Open Studios Tour; prior to that he lived in LA between 1998 and 2007. And before that he lived and studied in Boston and New York. Now, there are very few forms of art you won't find in Hemenway's studio. At MIT, where Hemenway studied, he said students are encouraged to approach their work on a basis of project rather than medium. This was particularly appealing to someone who can divine inspiration from a vast variety of sources.
Among Hemenway's projects that are currently in progress are a puppet show inspired by Metropolis, a silent German science-fiction film; a satirical painting series depicting U.S. Secretary of Treasury Timothy Geithner playing pool with his politician buddies; and an animated film about a sardine that gets caught on a hook and finds itself on a woman's dinner plate at a French bistro. The Metropolis piece, which Hemenway alternately calls a puppet show, modernist light show, and sculptural installation, will likely take another year to complete. Curving celestial figures will be attached to a hoop and manipulated into graceful balletic movements; boxier forms will move in a more mundane manner. According to Hemenway, the piece's narrative is derived from "types of movement accented against each other" rather than a human hidden behind a curtain giving voice to the figures. Once complete, he plans to submit his piece to the Roy and Edna Disney Cal Arts Theater.
The piece is an echo of Hemenway's thesis project at MIT involving a carousel of sculpted steel horses casting shadows against a backdrop of electronic music.
Hemenway's forays into political commentary are directly and unabashedly lifted from 19th century French printmaker Honoré Daumier. The artist of all trades selects a lithograph that seems to match contemporary political happenings and assigns politicians to the piece; Dick Cheney, George Bush, Condoleezza Rice, and Donald Rumsfeld are among his popular recent subjects. He creates new pieces at his own whim and crosses political borders, insisting that both Democrats and Republicans derive humor from the paintings.
"I'm not a political cartoonist," he insisted. "I don't like to have to look for a subject."

PUT ON YOUR WALKING SHOES: ARTS Obispo's 2009 Open Studios Art Tour takes place Oct. 10 to 11 in the South County, Oct. 17 to 18 in the North County with an encore weekend Oct. 24 and 25. Studios are open from 10 a.m. to 5 p.m. Catalogues cost $25 and can be purchased at artsobispo.org or by calling 544-9251.
Perhaps his most potent political piece is called "Play Bomb," a musical map of time and space utilizing information provided by the Oklahoma Geological Survey Observatory Catalog of Nuclear Explosions. The information includes the date of detonation, magnitude, and country responsible for the test.
"I took the data and plotted it as a rectangle and drew a flag for the countries that did the explosions," explained Hemenway. For each country—Russia, the United States, France, Britain, etc.—Hemenway assigned a musical instrument. The United States was a piano. France, of course, is the French horn. Britain is percussive. By the end, Hemenway had become literal; for India he assigned the sitar and Pakistan was the Punjab. In selecting his instruments Hemenway approached the project as a composer. After starting with the piano, he looked for instruments that would complement and accent the sound. A clock at the bottom counts forward from the very first detonation, and as bombs were tested, or used, a note sounds out. The longer the note, the higher the magnitude of the bomb. As years tick by the different instruments blend constantly, an ominous symphony.
"Play Bomb," along with Hemenway's animation projects, can be viewed on his website, kksbolash.org. The animation, by Hemenway's estimation, is easily the most time-consuming aspect of his work. He's lucky to produce 30 seconds of animation in an entire week of work. On the positive side, animation requires the most all-inclusive skill set. Among the animated films on Hemenway's website are Roy G. Biv, The Scary Hair Monster, Whoopsie Daisy, Mr. Hurley, and a trailer for The Great Sardine. Inspiration comes from a variety of sources. Hemenway's not sure where the plot for The Great Sardine came from. But The Scary Hair Monster came from real-life experience.
"I got that idea from always seeing hair in drains," he explained. In particular, he and an ex-girlfriend jokingly pondered what the outcome would be if the hair that clumped at the base of the drain became a monster. Roy G. Biv was inspired by a song that a friend had written, and the film features a guy named Roy singing to farm animals. After completing a project, Hemenway launches it into the film festival circuit.
Working in his favor, Hemenway is capable of building much of the technology required for his projects. He can build his own computers, and he's had years to accumulate what gadgetry he can't construct. On the con side, Hemenway cites life, and funding, as his biggest obstacles to creation. Though he resents being called a hobbyist, Hemenway gave up on the idea of being a professional artist in the traditional sense a long time ago.
"The big challenge is meshing work life and art life," he admitted. "I was tired fairly early on of going around and pretty much having to slut yourself around to galleries. And if you get stuck in one medium, you just become a craftsman. If I move from a sculpture project to a painting project, your hand is not as steady but you're hungry to paint." ∆
Arts Editor Ashley Schwellenbach doesn't really believe in part-time artists. Send tales of a life creatively led to aschwellenbach@newtimesslo.com.