The films of Walt Disney hold a special place in many people's hearts, especially for those who grew up watching them as children, which can include most living generations. The classic Cinderella is especially beloved not just for its timeless charm—the film came out in 1950—but also for the revival it received on the stage in Rodgers and Hammerstein's setting in 1965.
PCPA The Pacific Conservatory Theatre is in the privileged position to bring a new, reconceived version of the beloved Rodgers and Hammerstein classic with an updated book and music by Douglas Carter Beane. The revitalized script and music gilds the already lustrous songs and story, holding on to the classic appeal while playfully modernizing the characters.
PHOTO COURTESY OF LUIS ESCOBAR/REFLECTIONS PHOTOGRAPHY STUDIO
WICKEDLY FUNNY: Cinderella (Molly Wetzel, pictured right) is hounded incessantly by her wicked stepmother Madame (Kitty Balay, center right) and Madame's two daughters Gabrielle (Karin Hendricks, center left) and Charlotte (Annali Fuchs, left) in PCPA's production of 'Cinderella.'
The production begins with a charming overture, showcasing the recorded performance of an orchestra under music director Brad Carroll's baton and cued at sound designer Elisabeth Weidner's command. The music wordlessly introduces the themes of love, kindness, hope, and imagination that characterize the play. Then the lights come up!
I'm always dazzled by the collaboration between all of the members of PCPA's creative team, this time with lighting designer Jennifer "Z" Zornow and scenic designer Jason Bolen's work making a powerful impression immediately, igniting a colorful enchanted forest with glittering hues. When the forest comes alive with its characters decked in the elegant or quaintly simple garb created by costume designer Eddy Barrows, it's hard not to be transported to the magical fairy-tale kingdom.
The story opens with the character Prince Topher (Jordan Stidham) and the knights of his court, played by the always-incredible student ensemble, battling an impressive foe, a three-headed giant (Erik Stein). Stein displays some more of his stilt skills—which he has refined in several productions including Spamalot—as the looming giant, who the valiant prince trounces easily.
Even though the young monarch can slay giants and dragons before lunch, he is still struggling to find his identity as a leader, not just an adept dispatcher of monsters. Topher's closest advisor, Sebastian (Peter S. Hadres), has handled the kingdom's affairs ever since his parents passed, and it appears he is trying to keep quite a bit from the prince.
While on the return to his castle, Topher and his court run into a young peasant girl, the titular character Cinderella, who makes an obvious impression on the prince at first sight. But it's her character that fascinates Topher even more, when she is kind and protective of a beggar woman, whom everyone calls "Crazy" Marie (Elizabeth Stuart). Unfortunately though, the prince is whisked away by his handlers before he can even learn the girl's name.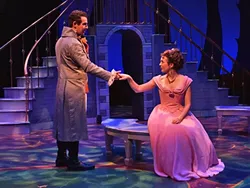 PHOTO COURTESY OF LUIS ESCOBAR/REFLECTIONS PHOTOGRAPHY STUDIO
STORYBOOK MAGIC: Stidham and Wetzel give the fairytale characters Prince Topher and Cinderella fantastic spirit, with youthful charm and powerful harmony.
Cinderella runs into an idealistic young peasant man, Jean-Michel (Matt Koenig), who has a head full of revolutionary ideas and a bosom harboring feelings for one of her stepsisters. Before Jean-Michel can get far into his manifesto, however, the scene is interrupted the high, shrill call of Cinderella's name.
Her stepmother, Madame (Kitty Balay), commands the scene before she's even visible, storming in with the bombastically bright red dress that helps define the wicked, status-obsessed stepmother who spends every day ordering poor Cinderella around. Her two daughters, Gabriella (Karin Hendricks) and Charlotte (Annali Fuchs), parade in after her, dumping all of their accouterments on Cinderella.
The treatment of the three in the musical theatre adaptation is much kinder than Disney's film version, but Madam and Charlotte are certainly nasty in their behavior toward Cinderella. Gabriella is Cinderella's ally, confiding in her that she also has feelings for the firebrand Jean-Michel. Balay and Fuchs are especially hilarious as the antagonists whose machinations keep falling apart.
Wetzel gives Cinderella powerful heart, with pitch perfect performances of beloved tunes like "In My Own Little Corner." Stidham's embodiment of youthful awkwardness as Prince Topher humanizes the character as well, showing that both the prince and soon-to-be-princess are striving for an ideal and a dream. When the two come together, they make more than just perfect harmony with their voices.
Whirling around the two lovebirds is a very fleshed out world, with two tiers of PCPA's student ensemble—the Ensemble and the Magic Ensemble—bringing to life townspeople, woodland critters, magical beasts, and more. The efforts of production stage manager Alex Stewart and stage manager Ellen Beltramo are astounding, from the misty morning of the forest to other special effects. The costume design of Barrows has to be mentioned a second time in the case of Cinderella's transformation thanks to her Fairy Godmother, who also displays some impressive costume effects when changing from "Crazy" Marie.

CATCH THE SHOW: PCPA The Pacific Conservatory Theatre presents its production of Cinderella through Dec. 23, Wednesdays through Sundays at the Marian Theatre, 800 S. College, Santa Maria. Cost is $29.50 to $39.50. More info: 922-8313 or

pcpa.org

.
Longtime PCPA resident artist Michael Jenkinson not only directed the production, but choreographed it as well, which shows in the impressive dance numbers throughout the play that hardly seem to stop, even during simple stage movements during dialogue.
Truly, everyone involved on and off the stage know their steps and timing, resulting in a seamless whole, delightful to all the little girls dressed up and staring starry eyed at the stage, to the parents and grandparents bringing them along, and to the adults who came to indulge their own appetite for magic and wonder.
Sun Arts Editor Joe Payne has a hearty appetite for magic and wonder. Contact him at jpayne@santamariasun.com.