I know what you're thinking. What the hell are we going to do in between Christmas and New Year's Eve? SLO Brew's done, everybody's out of town or on a "stay-cation" (I'm looking at you, Glen!). It's such a SLO time of year.
It's only one week, right?
But the Frog and Peach Pub hasn't gone anywhere. And, they've got a hell of a week planned for downtown in the pre-pubescent New Year's Eve wait for 2015 to turn to 2016.
Bakersfield rock quartet Bar Room Riot dares you to pin their ever-changing rock 'n' roll sound down at the Frog and Peach on Saturday, Dec. 26, at 10 p.m. Jared Cronk (guitar, singer-songwriter) started the group in 2011, joining forces with Mike Montano (bass), Cesareo Gasara (drums), and Tyler Evans (guitar, vocals) to become what an artist bio on reverbnation.com said locals describe as "next level." Their original sound bleeds through each of their songs, crossing into different genres and leaving you wondering.
"One minute you're submersed in a calming wave of indie ambiance, and the next, you're smacked in the face with a chain made out of overdrive," according to an artist bio on reverbnation.com. "Think you know where that alternative rock song with the reggae beat is going? Bam! Now it's a funk song."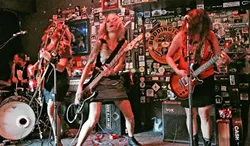 PHOTO BY TINA WAGGONER
TINA TIME: HOT TINA plays at the Frog and Peach for the band's last show of 2015 on Wednesday, Dec. 30, at 10 p.m.
Whoa. I don't know if I'm ready, but I'd be willing to give it a try.
Harmonica draped around his neck, a Central Coast crooner whose musical journey started in Ontario, Canada, Billy Manzik, brings his guitar-laden bluesy folk rock with roots—the toe-tapping kind—to several SLO County spots, including the Frog and Peach on Sunday, Dec. 27, at 10 p.m. I'm listening to "Back to Hell Again" off his new album, Black/White, right now, and well, I'm definitely not sitting still, heel-tapping to his reverberating vocals and guitar.
Manzik also plays Wooly's in Pismo Beach on Saturday, Dec. 26, at 4 p.m.; Arroyo Grande's Fig Mountain Brewery later that night at 8:30 p.m.; Ventana Grill in Pismo Beach Sunday, Dec. 27, at 10 a.m.; and the Creeky Tiki on Thursday, Dec. 31, at 10 p.m.
Alternative rocker and singer-songwriter Ben Nomura and his band from Santa Barbara are swinging back through the California coast after a trip north to Washington and Oregon. They hit the Frog and Peach on Monday, Dec. 29, at 10 p.m.
HOT TINA—the female-fronted five-piece rock ensemble made up of Alexandra Wenzl, Shea Kelly, Rose Hall, Hannah Slobotnik, and Brian Monzel—is going to rock the Frog and Peach floor on Wednesday, Dec. 30, at 10 p.m. for the band's last show of the year. But it won't be the pub's last. That venue is going to squeeze one more show in on New Year's Eve to make the most out of 2015 with Polly O'Keary and the Rhythm Method on Thursday, Dec. 31, at (you guessed it) 10 p.m.
More 2015 fun
PHOTO COURTESY OF KRISTIN BLACK
BLACK ATTACK: As part of Songwriters at Play's final weekend of music, Kristin Black plays Sculpterra Winery on Sunday, Dec. 27. Show starts at 1 p.m.
Songwriters at Play knows you can't go one weekend without good music and a luscious adult beverage, so the group is bringing more than 20 performers to a Celebration of Local Favorites at Sculpterra Winery on Sunday, Dec. 27 (1 to 4 p.m.; free), and Bang the Drum Brewery on Monday, Dec. 28 (6:30 to 9 p.m.; free)—rain or shine!
The Sculpterra showcase features Erin Inglish, PJ Robertson, BajerDan, Kristin Black, John Sandoval, Holly Ann Lewis, Ken McMeans, and Songwriters at Play host Steve Key. And the Bang the Drum lineup includes Brent Dannells, Ynana Rose, Steve Ambarian, Bob and Wendy, Jim Conroy, Jeffrey Pine, Gary Garrett, the Taproots, Tim Jackson, and Damon Castillo.
Songwriters at Play will finish 2015 with almost 200 live music events under its microphone, held at eight venues in Paso, San Luis Obispo, Pismo Beach, and Santa Barbara. "Hundreds of local and touring musicians fill our stages each year," according to press materials. Live shows are recorded with highlights broadcast twice weekly on The Krush, 92.5 FM. The recordings are also available as free podcasts on iTunes, free audio files on YouTube, and on the group's website, songwritersatplay.com.
PHOTO BY LANCE ROSENFIELD
ACTION JACKSON: Bang the Drum grooves with Tim Jackson and a slew of other Songwriters at Play artists on Monday, Dec. 28, starting at 6:30 p.m.
And if you haven't had enough of Christmastime cheer, lights, and celebrations after Dec. 24, than I think you've got problems, but lucky for you, the San Luis Obispo Lighthouse won't be sick of it either. They'll be doing one more holiday get-together with The Shawn Clark Family Band on Saturday, Dec. 26.
If you've never been out to the Point San Luis Lighthouse, you've got to check it out. It's like a window into the past and offers beautiful views of the Pacific, and there's no time like the holidays to visit the historic site, which will be all decked out and offer music on three Saturdays this month.
Tours depart at noon, 1, and 2 p.m. ($40 general admission; $15 for children; call (800) 838-3006 or visit makemerry.bpt.me).
The tours feature "wine by Alapay Cellars, cider, savory and sweet treats, beautifully decorated historic buildings, and 'living history' tours where all docents will be dressed in period attire," explained organizers. "This is one of our signature events and all proceeds help to benefit our ongoing restoration, education, and preservation projects."
Celebrate the year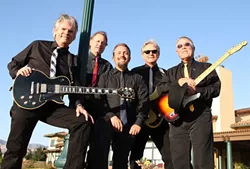 PHOTO COURTESY OF UNFINISHED BUSINESS
CLASSIC JAMS: The 1960s rock stylings of Unfinished Business will roll through New Year's Eve, Thursday, Dec. 31, at the South County Regional Center in Arroyo Grande.
I guess, on that eve of the New Year, you'll be ready to party, party, party, and spend money, and drink, and maybe call that one tow truck that tows your car for free if you're drunk and shouldn't drive it. Or, maybe you'll just be smart about it and stay at home!
But what's the fun in that? SLO County's got a variety of fun planned for that evening in particular, with food, drink, and a little bit of rock 'n' roll on Thursday, Dec. 31. It is, after all, the last night of 2015. And, no, I can't fit every single celebration from Nipomo to San Miguel in this column, but I can show you a couple of deliciously musical options!
Unfinished Business presents its eighth annual '60s Rock 'n' Roll New Year's Eve Bash at the South County Regional Center, 800 West Branch St., Arroyo Grande. Dance to the classic rock beats of the Central Coast band that takes you back to a freer time. An Italian buffet dinner by Giuseppe's Cucina Italiana of Pismo Beach is included with admission. A no-host bar and $10 corkage fee will benefit the Arroyo Grande Knights of Columbus. Doors open at 6 p.m., dinner will be served from 6:30 to 7:30 p.m., and dancing will be from 8 p.m. to just after midnight. Tickets are $80 each, $750 for a table of 10, and available online at NYE2015AG.BrownPaperTickets.com, by phone at 431-3067, or by email at unfinishedbusiness@charter.net.
D'Anbino Cellars starts its New Year's Eve party with hors d'oeuvres, a "land and sea" buffet dinner, and dessert prepared by Just Between Friends Catering. The Mooks! joins the evening with strong vocals and great harmonies. Jack Collins (guitar), Bill Love (drums), and Dale Claiborne (bass) will get your groove going with a mix of classic rock, blues, rockabilly, and funk. Of course, there will be wine, and a champagne toast with cheese course to ring in 2016.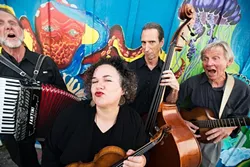 PHOTO BY BRITTANY APP
MUSIC NATION: The SLO Symphony presents a POPS concert with Café Musique at the Christopher Cohan Center for New Year's Eve. Show starts at 7:30 p.m.
The event will be held from 7:30 p.m. to 1 a.m. at Park Place (formally Level IV) located at 1216 Park St. in Paso. Reservations are required. Call 227-6800 for more information or to reserve your table now; it's $95 per person. A portion of the proceeds from this event will go to benefit the Mighty Oaks Warrior Program For more information on the program view their website at mightyoaksprograms.org.
The San Luis Obispo Symphony presents a POPS with Café Musique concert at the Christopher Cohan Center at 7:30 p.m. ($20 to $80). On his way from the Pittsburgh Symphony to the Syracuse Opera, conductor Lawrence Loh leads your symphony in performances of the top symphonic gems until the Times Square ball drops!
Otter Rock Café on the Embarcadero in Morro Bay rings in the last eve of the year with the dirty soul rock of LA band The Letters Home. Dinner reservations start at 5:30 p.m. and The Letters play from 9 p.m. to 1 a.m. Champagne is served at midnight. Al you've got to buy is dinner and drinks!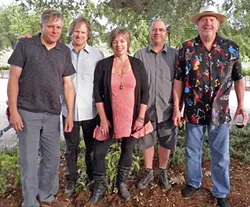 PHOTO COURTESY OF BACK BAY BETTY BAND
SURFS UP: The proceeds of The Siren's New Year's Eve bash benefit Project Surf Camp, and a little Back Bay Betty Band rock 'n' roll will get you in the rafflin' mood.
The Back Bay Betty Band will be rockin' The Siren on Main Street in Morro Bay from 9 p.m. to 1 a.m. with raffle prize giveaways to benefit Project Surf Camp, a local nonprofit that helps those with special needs play in the ocean. Admission is free; raffle tickets are $5 each or five for $20.
A folk band out of the Santa Cruz Mountains, The Painted Horses, joins Luna Red in downtown SLO for its Midnight Under the Moon Dinner Celebration! The early seating for dinner ($48) is for all ages with no show, while the late-seated dinner ($68) is for 21 and older with music from 10 p.m. to 12:30 a.m. and a champagne toast. Call 540-5243 to make reservations.
There are too many hot shows happening on the last night of 2015 to name here, but check out our calendar for more information, and make sure you've got the right thinking cap on once you put that booze between your lips, and call a cab or sleep in the car! We don't want any crazy accidents that night. Stay safe!
Camillia Lanham is New Times' editor. Contact her at clanham@newtimesslo.com. Glen Starkey returns on Jan. 7, 2016.