People have been mining their personal lives for entertainment since Sophocles accidentally married his mother all those years ago. OK, maybe that was fiction, but great theater has always been an exploration of authentic human emotion that derives from real-life experience. Performance artist Rebecca Kling is no different. She writes and performs stories from her life with equal parts humor and pathos in same vein as so many other solo female artists. The only difference is Rebecca Kling used to be a man.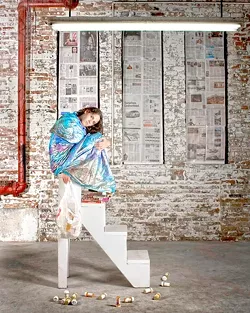 PHOTO COURTESY OF REBECCA KLING
BENEATH THE MASK: Since around 2008, Rebecca Kling has been producing performance pieces centered on the issue of gender identity.
For several years now, Kling has been producing diverse and multidisciplinary pieces centered on the theme of gender identity. She grew up participating in theater programs around Chicago and graduated from Northwestern University with a degree in Performance Studies. Around 2008, she met the acclaimed performance artist Tim Miller, who has been exploring similar issues of gender and sexual identity since the early '80s. It was while working with Miller that she first developed the idea of doing a 
solo show.
"I was doing a workshop on using the tools of solo performance to talk about queer identity—that was sort of the impetus," Kling told New Times. "That was the transforming experience. Since then, it's been a full-time thing."
Indeed, since then, Kling hasn't slowed down one iota. Over the past few years, she's produced six solo shows, served as a member of the board of directors for Pride Film and Plays (an organization that sponsors LGBT theater and film), written for the popular feminist site Jezebel, and released a book, No Gender Left Behind, in 2013. The same year, she was included as part of the Trans 100—a list that celebrates individuals working within the trans community.
It's an impressive list of accomplishments not to be outdone by the variety of Kling's own performances. They incorporate elements of storytelling, comedy, video project, sketch, and movement with minimal set dressing and a focus on both entertainment and education.
BEYOND THE FRINGE: You can see Rebecca Kling's Trans Form at Cal Poly's Chumash Auditorium on Jan. 21, from 5 to 7 p.m. The performance is free and open to the public. For more information about Kling and her performance, check out her website at rebbecakling.com
The show that Kling will be performing at Cal Poly, Trans Form, takes a more biographical look at transgender identity. The piece explores Kling's own life, from her time as a child through her tricky adolescence and her adult life as a transgender woman.
"It's incredibly gratifying to share my own story," Kling said. "It's a personal catharsis. I find those connections and cores in us having a common humanity. It's fundamentally about finding comfort in myself and my identity—something that we all want."
Ultimately, Kling aims for social activism with her performances. 
With her personable stories, she makes the transgender experience accessible to a wider audience. It's a critical time, too. Just last week, at the Golden Globes, the show Transparent, about an older transgender woman played by Jeffrey Tambor, won Best TV Series and 
Best Actor. Slowly but surely, 
transgender people are becoming more and more represented within the mainstream media.
"We're at the tipping point where culture and media around trans [issues] are coming up," Kling said. "You have Orange is the New Black, Transparent. All of these different moments and individuals coming together in this moment."
You can contact Arts Editor Jessica Peña at jpena@newtimesslo.com.