Photographer Janna Nichols began traveling and taking pictures at the age of 16, as an exchange student in Guatemala. Her arrival the year after a devastating earthquake had rattled the nation—destroying much of the country's infrastructure and leaving more than a million people homeless—gave her a new look into the human condition. Seeing a country in the process of rebuilding itself, a young Nichols was struck by "the resilience of people in spite of their circumstances," she said.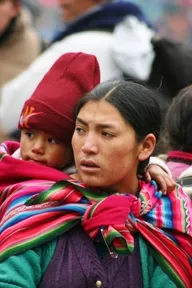 PHOTO BY JANNA NICHOLS
RED HEAD : Photographer Janna Nichols shot this image of a woman and child on a 2005 trip to Huilloc, Peru.
Her year with a Guatemalan family ignited a love of traveling, doing good, and taking pictures, three things which seem to have dominated her life ever since. It's surprising, then, that Nichols' current show "Telling Tales: Colors of Peru," on display at the Photo Shop in downtown San Luis Obispo, marks her first photography exhibit ever.
The pictures, with few exceptions, are saturated with red, a color that dominates the traditional dress of Huilloc, Peru—the Andean town where the images were shot in 2005. Their overwhelming focus isn't mountain scenery or ancient Incan structures but day-to-day people at work and play, some smiling, others caught unawares, their faces chapped and blistered by the cold, dry air and high altitude.
"I would tell anyone to go," she said of Peru. "It's one of the most fascinating places on the planet."
In addition to photos of her journey, Nichols returned with colorful stories and observations, such as that of being invited into the home of the oldest woman in the village, and of the exceptional Peruvian pride in their Incan roots.
Nichols, who majored in business and Spanish, was director of United Way for a decade and currently works as marketing manager for United Blood Services. She has traveled extensively in Central America, as well as to Niger and China.
See Nichols' work at the Photo Shop, 1027B Marsh St. in San Luis Obispo, through Nov. 14. A reception for the artist takes place during Art After Dark on Friday, Nov. 4, from 6 to 9 p.m.