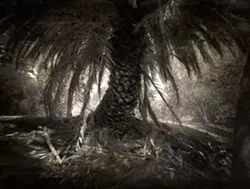 In the past, when Barry Goyette photographed flowers and plants, they were usually dead. But the clematis that he discovered, and shot, while climbing Bishop Peak was very much alive. In fact, for him, it was charged with a kind of sexual energy, waving feathered tentacles that suggested a sperm pollinating an egg. The plant's leaves suggested something different altogether—poison oak. Goyette found himself checking his iPhone while on Bishop Peak to ensure that the plant was not, in fact, toxic.

That photo, taken more than a year ago, was among the first for his new series—Dark/ Phase—shot in three segments that he likes to call acts. The images are on exhibit at the Steynberg Gallery through Aug. 31. The first act was primarily shot one year ago.

"I started playing with shots that have a really formal quality. It's kind of more dangerous," Goyette explained of his silhouettes of plants and leaves. Which are sexual, but not sexy, he argues. The images are stark and strong against a white background.


PHASE/DARK: Dark/Phase, photographs by Barry Goyette are on display at the Steynberg Gallery, 1531 Monterey Street, Aug. 7 to 31. The opening reception takes place Aug. 7 from 6 to 9 p.m. For more information visit barrygoyette.com or steynberggallery.com.
Act two was a significant shift in direction, and started with a nighttime walk in front of Goyette's house. Shadows mingled ominously with plants. He began to stalk the neighborhood at night, looking for more shadowy forms. Some of the photographs were accidental, headlights of a passing car flashing through a yucca. Some of the images, obscured and shadowed, don't resemble plants. Goyette's portraits of flowers resemble nude portraits, with the camera's eye delving into the petals through cast shadows. To the photographer, the images are both abstract and not abstract. Few have names.
In act three, shot mostly during the past two months, the photographer channeled the sexual energy in a direction his camera has focused upon many times before—the naked female form.
"At some point, I started feeling that it was important for me to take it out of this abstract thing and apply it to something. So I started imagining this energy affecting women."
In the beginning, he had a single local dancer who moved through the dark as though possessed by the same spirit emanated by the plants. He shot a lot, insisting that many of his images were worthless. The single figure became two, and the women became characters in an unfolding drama that Goyette intended to be set in an urban forest. The second figure was a Santa Maria resident originally from the Republic of Georgia who recently acted in a film featured at the Sundance Film Festival. She remained clothed during her shoots with Goyette, who was entranced by the flashes of intensity in her expressions.
Initially, Goyette tried to set up his shots, posing the models and staging the photo. When he realized that it wasn't working, he removed his camera from the tripod and asked the girls to skulk through the space together. He gave them modest direction, mostly to keep them in frame.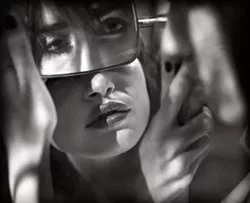 "It's been hard for me to let go," admitted Goyette. "I'm a control freak. This was much more about reacting to what they were doing."
The models almost resemble the innocent and youthful girls of classical paintings, companionably exploring nature, if not for the fact that their expressions are usually heavy with threat and vulnerability. In fact, at some point during the series the power transfers from one character to another. Eventually Goyette decided to embroil a third girl in the scenario, a Variable Velocity dancer who assumed a Puckish, athletic character. She brandishes sticks, twisting and thrashing in the dark. Goyette was afraid she would poke someone's eye out.
It's fitting that the images that Goyette shot differently will also be displayed unconventionally on the walls of the Steynberg Gallery. Goyette points out that it's particularly difficult for artists to sell their work right now, and when you throw in an expensive framing bill, artists can easily find themselves losing money because of an exhibit. So, instead, his prints will be hung simply and inexpensively using a cable system and metal clips. Steynberg has been interested in hosting exhibits with more of an installation feel. When, or if, people purchase a print, they can take it home with them that same day. The purchased image will then be replaced with a new print. And, because he's skipping the framing process, Goyette can work right up until it's time to put his art on the walls.
"We'll put up something new that will change the show, change the story," explained Goyette. "People will have an opportunity to interact with the show."
While strolling through a Richard Avedon retrospective at the Met, Goyette was shocked to discover that there was no glass between the viewer and the photograph. It was practically scandalous, but it also made sense to allow the viewer to get closer still to the image. And Goyette claims that he's trying to make it easier for people to purchase his photographs as well, pricing them (sized between 11" x 17" and 24" x 30") at $150 to $300.
Today, everybody and his brother, and their pet hamster, wields a digital camera. And some people are doing it well. To distinguish himself and his work, Goyette began to treat printing as its own art form. It's the best way to do justice to the images that he has spent the past year and a half creating.

Arts Editor Ashley Schwellenbach haunts rural forests. Call her a tree hugger at aschwellenbach@newtimesslo.com.