Sticking to a tight budget doesn't have to mean you're stuck eating fast food, even if your first thought when you're scrimping and saving is a visit to Jack's. The fact is we've always been able to eat well when money is limited; you just have to be choosy about where you eat. Call me finicky, but whether I'm dining in a café or a fine restaurant, I expect to be served good quality food that's freshly made, healthy, and tasty.
Not only that, I don't want attitude from servers; we should all expect to be waited on by people who are glad we're supporting their eatery. Of course, now you're probably asking where in the world I could promise you're going to find such a place. Well, you'll get all of that by visiting the newest restaurant in San Luis Obispo, Petra Mediterranean Pizza and Grill.
Owned and operated by the Aburashed family, the business is run by Todd and Sana, with their sons Samir and Rammy, and daughters Laila and Summer. The Aburasheds worked together to renovate the site on Higuera that once housed a flower shop and it's a sight to see—everything inside the older building is obviously brand new. When I first met Samir and his parents I was impressed by their top-notch eatery and their reasonably-priced menu, especially considering the heartfelt effort that goes into everything they prepare.
This is Mediterranean cuisine at its best, where everything from the pizza and pita dough, hummus and tabouleh, and intricate sauces are made fresh daily. The menu features the dishes as they're served in the Mediterranean, paired with sides like hummus, tahina, baba ghanough, and shatta (hot sauce). In respect to the northern side of the Mediterranean Sea, they offer delicious pizzas piled high with good quality toppings.
Among the favorites of locals is the Greek feta pizza, covered with Petra's pesto sauce, spinach, onions, tomatoes, artichokes, and showered with crumbled feta cheese. You can get a pizza gyro style with a mixture of roasted beef and lamb with garlic sauce and mozzarella. Or you can create your own masterpiece, choosing from an array of toppings that include the offerings found in any gourmet pizza house: pepperoni, sausage, Canadian bacon, mushrooms, chicken, spinach, sun-dried tomatoes, even pineapple.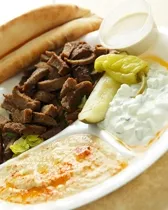 Todd makes at least 96 pounds of dough every day, and makes more when the restaurant is busy so they won't run out. The freshly baked pita bread is served on sampler plates, entrees, and in their delicious sandwiches. Todd preps all of the meats, cutting everything up and marinating them in his special spiced recipes overnight. The next day he stacks each meat on individual skewers to roast in front of the vertical broiler, where it's sliced to serve on sandwiches, entrées, and some of the specialty salads.
"The more spices you put into it the better it tastes," Todd explained of the marinade recipes he uses on the meats. He noted that he makes Shawarma spice mix he uses to season the chicken and lamb, while giving me a tour of the prep kitchen one floor below the street-level dining room. He explained that the lamb is the most difficult food to prepare because it's difficult to guess how much he will sell daily, so occasionally they run out. "Some people say they don't like lamb but once they taste my version they always come back and order it again."
Sana, too, makes everything fresh daily, from her intricate sauces to the delicious cucumber yogurt salad, pesto pasta salad, and Greek salad, among several other versions. She also prepares the soup du jour, using her own special recipes from their homeland of Jordan. Samir boasted that no one makes these dishes as deliciously as his mother does.
The family named their restaurant in homage to Petra, "one of the new seven wonders of the world," according to Wikipedia. Jordan is renowned for its ancient architecture hewn out of solid rock. Petra, which is Greek for stone, is located south of the Dead Sea. Check out the Aburasheds website to view their wonderful photos of the family's visit to the historic site of Petra.
What's unusual about this eatery is the fact that it sits beside another Mediterranean-themed restaurant/deli on Higuera. Samir explained that his father worked at the adjacent deli for many years, as a partner in the business. Unfortunately the partnership eventually split up, so Todd decided to invest his savings in a place of his own that he could operate with his family. The building owner suggested to Todd that he take over the former flower shop and it appealed to him.
"It took one year and $300,000 to remodel the place and my dad worked 18 hours a day to get it done," Samir said proudly. "The flower shop didn't have hot water and there was no foundation in the storage room below the shop. We did everything: updated the plumbing, poured the foundation downstairs, put in the quarry tiles, built a completely stainless steel kitchen, and added the cedar paneling in the dining room." Then he showed off their modernized bathroom with images of the historic Petra on the walls.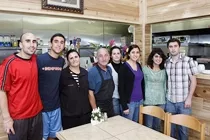 The family has had a long, fruitful history in San Luis Obispo. Todd immigrated to the United States in 1970, and was joined by his bride Sana in 1984. Their first business was the Sidewalk Market at Osos and Pismo streets in 1993, which they operated while raising a family. In 2008 they opened their homage to their homeland with Petra. Samir pointed out: "We named it after the beautiful Petra because of its tranquility and universal spirituality."
One thing sets Petra apart from most restaurants with a banquet room: you don't have to pay a fee to use it for a private party. They believe it's good enough that you come to them for their food and beverages service, they'll gladly accommodate you. They also offer free delivery on orders over $25, and they're licensed to fill your order for wine and beer should you add it.
"Everything here comes with service," Samir said, smiling broadly. "We're not serving hot dogs and burgers, we make everything from scratch several times daily." It's unfortunate that you can't count on all mom-and-pop eateries being equal in providing everything I desire. Petra is wonderful for the fact that it is exceptional.
You can reach New Times' Cuisine columnist at khardesty@newtimesslo.com