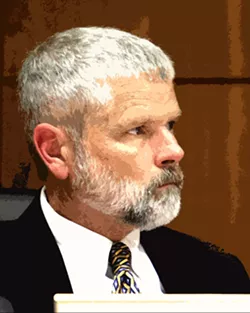 PHOTO BY STEVE E. MILLER
SLO COUNTY SUPERVISOR BRUCE GIBSON:
The creation or expansion of not-for-profit, community-owned electric power utilities in California could be stymied if a proposed amendment to the state Constitution pushed by Pacific Gas & Electric Company qualifies as a ballot initiative and voters pass the measure. The amendment would not only impede the development of public systems in San Luis Obispo County and elsewhere—public systems that could undercut the rates of the virtual monopoly—but it would also undermine efforts to phase in renewable, non-toxic energy sources instead of generators run by fossil fuels or radioactive material.

"This initiative strikes at the heart of consumer choice as well as the continuing discussion of how we produce and consume energy," SLO County Supervisor Adam Hill responded when asked how passage of the proposed initiative would affect local efforts toward community-controlled electric power. "It is not a surprise that PG&E wants to protect its turf, but this is not good for a larger debate on clean, renewable energy.

"A classic argument in business is that competition creates a better product, and this initiative takes consumer choice away. It is the most anti-competitive act I could imagine," Hill continued. "PG&E has been an incredibly important economic engine for this area and has been a good corporate citizen … but to me, this initiative strikes at the heart of creating competition."

He's not the only supervisor critical of the proposal. Supervisor James Patterson commented, "It is unfortunate that PG&E is taking this route as more and more interest grows for communities reaching their own energy needs … This initiative would limit communities from exercising local choices for energy independence."

Supervisor Bruce Gibson reinforced his colleagues' concerns: "This initiative just rubs me the wrong way," he said. "Whoever is promoting this initiative is looking to stifle competition."

They were referring to a proposed initiative sponsored by PG&E originally titled "The Taxpayers Right to Vote Act," submitted to the attorney general's office on June 1 by the Sacramento law firm Nielsen, Merksamer, Parrinello, Mueller, and Naylor. The firm has a history of representing the company in ballot campaigns, a history that includes failing to file reports of $800,000 in PG&E contributions to defeat a public-power initiative in San Francisco until after the election. If enough signatures (about 700,000) are gathered to qualify the proposed constitutional amendment for a ballot and it passes, the measure would prevent community utilities from delivering new electric service unless two-thirds of local voters approve. In other words, if only one-third of voters plus one reject a plan for nonprofit electric service in their area, the vast majority who vote for the plan would be defeated.

The initiative, which the Attorney General's office renamed "New Two-Thirds Requirement for Local Public Electricity Providers Initiative Constitutional Amendment"—to avoid confusion—would hamper communities from establishing or expanding the generation and delivery of electricity or from implementing plans to become aggregate energy providers. A broad range of public entities would be affected, including municipalities, municipal corporations, municipal utility districts, public utility districts, irrigation districts, cities, and counties.

Two kinds of public utilities are targeted: those that generate and distribute their own power, and cooperatives that buy blocks of power to sell to residents at a discount in competition with such private utilities as PG&E.

The City of Lompoc, for example, belongs to Northern California Power Agency, which represents 17 member communities and districts throughout the northern and central regions of the state that own and operate several power plants that together are 95 percent emissions-free. Lompoc supplies power to its customers at commercial and industrial rates at least one-third lower than those of PG&E. Under the proposed initiative, if the city wanted to expand its service area, it "would require a two-thirds vote of the annexed area, as well as a two-thirds vote of the city of Lompoc," explained Jane Cirrincione, the assistant general manager of legislative and regulatory affairs at Northern California Power Agency, "creating a significant obstacle."

The agency and such other publicly owned power generators as the Sacramento Municipal Utility District, an 86-year-old utility, can provide electricity at much lower rates than does PG&E because they don't take profits.

The second kind of energy suppliers—nonprofit cooperatives that negotiate the price of blocks of electricity to sell to customers—may be more threatening to PG&E. A California law enacted in 2002 established Community Choice Aggregation (CCA): the freedom for municipalities, counties, and groups of cities and counties to form nonprofit cooperatives for buying electricity for distribution over lines owned by existing utilities.

Under the law, AB117, communities can establish their own electric service but need not own their own generators, poles, and wires to do so. The cooperatives aggregate the loads of customers within the service area, but each customer has the opportunity to opt out and be supplied by the incumbent distribution utility, which would be PG&E in most cases. Metering, billing, collection, customer service, and equipment continue to be handled by the incumbent distribution company, as the law obligates, but the cooperatives provide the electrons, the juice. The cooperatives can shop for the best price from energy suppliers that compete for their business and can favor suppliers that produce energy from nonpolluting wind, solar, geothermal, and hydroelectric generators.

Marin County, for example, has a CCA plan that proposes a rate structure based on customers' preferences for renewable energy: from "light green" that is at or below PG&E rates but based on 25 percent renewable energy, to "dark green" based on 100 percent renewable energy sources, an option that would cost from 5 to 10 percent more than PG&E rates.

The San Joaquin Power Authority, a huge CCA encompassing 12 municipalities in the Central Valley, planned to provide power at 5 percent less than PG&E rates, according to a statement by the authority, but was forced to temporarily suspend its Community Choice Aggregation plan after being tied up in litigation. PG&E filed a complaint with the California Public Utilities Commission, which ruled in San Joaquin Power Authority's favor, but PG&E filed an appeal that caused lengthy delays and ultimately sidetracked the plan. Several communities, especially Marin County, saw the struggle as a warning that PG&E wouldn't tolerate CCAs cutting into its business.

The strategy

The company has financed the Californians to Protect Our Right to Vote committee, which is soliciting signatures to get the initiative on the ballot. According to a report from the Secretary of State, the committee has devoted $148,473 to the effort so far. John Ewan of SLO Green Build and owner of Pacific Energy notes that "any time there is a grassroots ability to shift legislation as a price-per-signature way to gain a position on a ballot, it is bad policy, and frankly, just wrong." Cirrincione of Northern California Power Agency put it simply: "Large corporations amend the state Constitution to benefit shareholders who live in other parts of the country."

If enough valid signatures are submitted to the attorney general to qualify the initiative, an advertising blitzkrieg is sure to follow. "A misinformation campaign can persuade voters that this is a bad thing," Supervisor Patterson added, referring to communities establishing their own nonprofit utilities.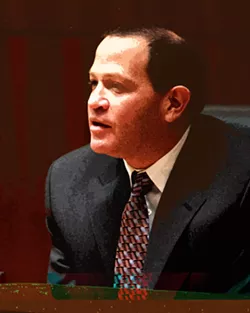 PHOTO BY STEVE E. MILLER
SLO COUNTY SUPERVISOR ADAM HILL:
Municipalities contemplating community power lack pockets deep enough to compete with a corporate advertising budget. "To control the electorate by referendum," commented Andrew Christie of the Santa Lucia Chapter of the Sierra Club, "you can spend all you need to scare who you want to scare, cajole who you want to cajole, and convince everyone that this initiative is the best thing since sliced bread. They call it freedom of choice, when really it is restriction of choice."
The Sierra Club and Women's Energy Matters filed complaints with the attorney general over the proposed title of the amendment. Christine Gasparac, a spokesperson for the attorney general, said the office has the duty to prepare the title and summary of ballot initiatives and that those names "must be true and impartial."
The sole purpose of the proposed amendment, according to PG&E spokesperson Andrew Souvall, who referred to the initiative as the Taxpayers Right to Vote Act, is to "give taxpayers more control over their hard-earned tax dollars" during a time of struggling state and municipal budgets. Souvall said PG&E, by supporting this initiative, is simply reinforcing that "the right to decide [on energy suppliers] is up to the taxpayers."
"A two-thirds vote, generally speaking, is minority rule," SLO Supervisor Patterson pointed out. Supervisor Gibson concurred: "The problem with a two-thirds vote is that it puts control in a small minority's hands."
Souvall recommended speaking to Greg Larsen at Californians to Protect Our Right to Vote when questioned about the legitimacy of a two-thirds vote to determine community energy policy.
Larsen's response was: "We support this initiative because it gives the taxpayers more control over their hard-earned tax dollars."
Sound familiar?
"What this initiative does is set a standard for the state of California to have a vote on major financial issues that will cost the public millions or hundreds of millions of dollars that will be pulled from other programs," Larsen continued. "The two-thirds vote has a long track record of being widely used and widely supported by voters. An example is that a two-thirds vote is required to purchase school bonds."
"The state of California voted to lower the threshold for school bonds from 67 percent to 55 percent," Supervisor Patterson clarified. "In fact, Sacramento has been paralyzed for all but four of 16 years in passing the state budget since adopting the two-thirds law. Besides, PG&E doesn't comply with a two-thirds vote before raising their rates."
The development of a competitive CCA plan certainly takes time. The California Energy Commission has it time-lined out from the beginning of a feasibility study to service delivery at about 15 months.
"CCAs can be a really good tool, but it also has its own set of challenges," Gibson said. "They need a large consumer base to keep rates down, and if consumers are allowed to opt out and go back to PG&E, then that base shrinks."
SLO impact
"As knowledge increases about climate change, local governments—and the public at large—must be empowered to take the action necessary to reduce greenhouse emissions," said Aeron Arlin Genet of SLO County Air Pollution Control District, who chairs the Strategic Energy Alliance for Change (SEA CHANGE).
Though SLO County hasn't yet developed its own CCA or other municipal plan, that's not for want of trying. A 2008 survey by the Air Pollution Control District asked 2,000 residents throughout the county whether they would support efforts on the part of local government agencies to provide additional energy from such renewable resources as solar, wind, and hydro generators. The results: 94 percent replied yes. When asked if they would be willing to pay 5 percent more for energy from renewable sources, 64 percent still replied yes.
"When asked if they would support [renewable energy] if there was a drop in rates," Genet said, "it was unanimous."
The survey suggests San Luis Obispo County residents aren't necessarily dedicated to PG&E; they want renewable energy, and if they can get it for less than the commercial utility's rates, that would just be the icing on the cake.
In August 2007, Cal Poly was host to a Strategic Energy Alliance for Change Central Coast regional energy planning conference titled "It's Our Choice." Keynote speakers represented the Sierra Club, California Energy Commission, SLO County Air Pollution Control, SLO Green Build, and PG&E. At the conference, the Renewable Energy Team from the California Energy Commission stated California is committed to aggressive renewable energy deployment, which can be accelerated to the benefit of local communities through CCA.
PG&E made a presentation at the summit that was in subtle contrast with a statement made by David Rubin, director of service analysis for PG&E, just the previous year.
At the Smart Energy Solutions Summit in SLO in October 2006, Rubin said PG&E supports Community Choice Aggregation as an option, and a viable one at that, in terms of renewable energy use. A year later at the SEA CHANGE summit, though PG&E mentioned their "local and state government partnerships"—and admitted the link between greenhouse gas emissions and global warming is "convincing"—the company didn't mention the words Consumer Choice Aggregation.
As communities throughout California are seriously considering CCAs, PG&E seems to have erased the word from its public vocabulary. When asked to cite PG&E's current official stance on CCAs, Souvall said, "CCAs are serious financial risks for inexperienced local governments to take in this economic time. They don't have the experience or the resources to run a successful energy company. Examples of these are Marin County and SJPA [San Joaquin Power Authority, whose plan was halted due to a lawsuit by PG&E]. Recent developments show that CCAs have failed to serve
electricity to its customers."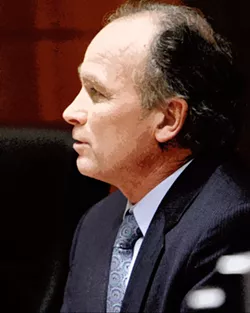 PHOTO BY STEVE E. MILLER
SLO COUNTY SUPERVISOR JAMES PATTERSON:
Larsen, from Californians to Protect Our Right to Vote, said this: "CCAs are serious financial risks for inexperienced local governments to take on in this economic time. They don't have the experience or the resources to run a successful energy company."
There seems to be one cheat sheet for this project's proponents. According to the secretary general's campaign finance report on the proposed amendment, PG&E is the only donor at this time, with two outlays of $750,000 each.
The Northeast Ohio Public Energy Council is the largest CCA nationally, serving nearly 600,000 customers. On its homepage, the Ohio council states that by joining a large buying group, individual customers gain leverage in the deregulated marketplace. Another energy aggregator, Cape Light Compact in Maryland, serves 200,000 customers and offers them expanded green options. Rhode Island Energy Aggregation Program serves 36 cities and towns and claims to have saved those municipalities $18 million in electricity charges since its inception in 1999. The experience of those providers appears to contradict the argument by Souvall that nonprofit community CCAs lack the expertise to successfully operate utilities.
A common theme among public energy proponents and renewable energy proponents is the need to keep alternative means of supplying energy to the citizenry an ongoing and viable dialog. Larsen said the PG&E-backed initiative "doesn't stop folks from discussing [CCAs]," yet every San Luis Obispo community leader interviewed for this article stated the contrary. SEA CHANGE, in particular, the host of the energy summit at Cal Poly in 2007 and a leader in the energy discussion locally, has faced a "die on the sword'" conclusion in regard to discussing CCAs due to their 100-percent consensus policy, when only two years ago they hosted a grand energy summit.
Last, another topic of concern is the timing and cost involved with holding elections: "People need to realize the cost of voting protocol," said Genet from SEA CHANGE.
Under current law, elected representatives have the right and the power to approve CCA plans, but the proposed initiative is threatening to take that power away through minority rule. Elected officials are responsible to constituents, but corporations such as PG&E, though philanthropic at times, always will be beholden to their shareholders.
Where to from here?
Though CCAs are off the table at SEA CHANGE meetings, it's by no means the end of discussion. Community leaders locally and statewide are joining together to take charge of the future of California's energy resources, to fight greenhouse emissions, global warming, and exorbitant pricing. In terms of this initiative, "most people see it for what it is, and it is not good for consumers," said Supervisor Hill. ∆
April Worley is a local freelance writer. Contact her through the editor at econnolly@newtimesslo.com.