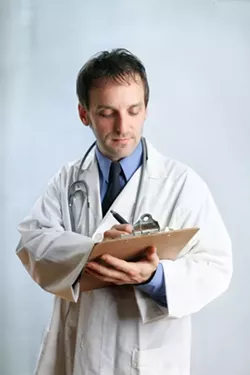 FILE PHOTO
WORRYSOME : Marine biologist George Loney unsettled the Board of Supervisors when he described a black sludge that inhibits plankton production.
A

ccording to a recent presentation by marine biologist George Loney to the County Board of Supervisors, the U.S. Geological Survey has discovered a black sludge beneath the local sea floor that threatens plankton and thereby the aquatic food chain.
Loney said the sludge changes the ocean's pH, inhibiting plankton photosynthesis. Krill and small feeder fish at the base of the food chain depend on plankton for nourishment. Los Osos Mayor Micheal McDougle, who attended the presentation, said in response, "We can't allow this to happen. We're all reasonably intelligent adults. Surely we can find a solution."
His plea provoked a chorus of shouted ideas ranging from importing Canadian plankton to building a laboratory that could breed and pump plankton into the ocean. But Loney dismissed such ideas as impractical.
Four men conspicuously dressed in what appeared to be expensive Italian suits entered the room following the clamor. Each had a black moustache yet graying hair. One of them, Jeroen Van der Veer, announced, "We hear you have a sludge problem." Van der Veer is the chief executive office of an unnamed company whose logo is a bivalve. "My associates and I are very concerned about the health of the oceans. We are willing to finance and oversee the complete removal of this contaminant," he announced.
Van der Veer described a plan to build several rigs to remove sludge at offshore points near Cambria, Morro Bay, and Pismo Beach. The installations could be completed within three years, he estimated, and would employ hundreds of construction workers. One of Van der Veer's partners handed a thick contract to the supervisors for consideration.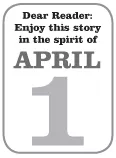 McDougle spoke with New Times
following the meeting. "We just witnessed a beautiful example of America's potential," said McDougle, as a tear sparkled in the corner of his eye. "These gracious men have worked their way up the economic ladder, and now that they're on top, they recognize their civic duty to protect and improve the world we all share. They are truly heroes."
McDougle feared the sludge could be "horribly disastrous," and asserted that the county depends on tourists who are drawn to the Central Coast by the abundant ocean wildlife. He added that Cal Poly is in part so appealing to applicants because it's situated by such a beautiful and thriving area of the Pacific.
Van der Veer spoke with New Times before boarding a black helicopter emblazoned with the words Big Oil."That's a typo," he said. "It should say Big Ocean, because we love oceans, but few interns these days seem to do anything right. You get what you pay for I guess."
Van der Veer emphasized his crew could remove all of what he called "the delicious sludge," to save the fish. He said the philanthropic project would require considerable time, effort—and privacy—so the contract would grant his organization exclusive rights to remove the black underground sludge for 100 years.
When asked how he would dispose of the sludge, Van der Veer brought his hands together near his face, just as a cloud passed over the sun, casting him in shadow. "Oh we'll think of something," he said.
Intern Nick Powell contributed this feature. Contact him via the editor at econnolly@newtimesslo.com.