There's nothing quite like old cars, their weathered patina, their sleepless and expanding cancerous rust, their promise of rebirth.
Today, modern cars are like Bic lighters—meant to be discarded when they're past their prime. But there was a time when cars were made to last, made to be rebuilt and refurbished. Can you imagine anyone 50 years from now wanting to restore a Kia Rio5 or even a Cadillac CTS Portfolio? They're all plastic and computer chips, crumple zones and microfibers! You crash a car like that going 35 miles an hour and it's totaled.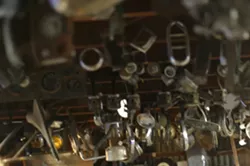 There was a day not too long ago, however, when Detroit built cars out of steel, and the best designers in America struggled to outdo one another with ever-rising fins, series of taillights, and retro-future dashboards.
These resting phoenixes can be found throughout the county, laying in the tall weeds near a creek bed, forgotten under tarps in old barns, resting on jacks in people's driveways. Some look at these majestic old hulks and see scrap metal and eyesores; others look and see what they could be, restored to former greatness, washed and waxed, loved and pampered. What do you see? ∆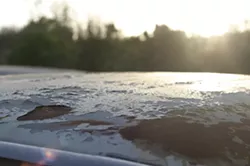 Glen Starkey takes a beating and keeps on bleating. Keep up with him via twitter at twitter.com/glenstarkey, friend him at Myspace.com/glenstarkey, or contact him at gstarkey@newtimesslo.com.