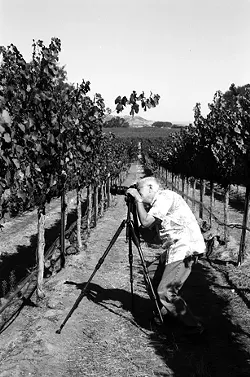 PHOTO BY ANNA WELTNER
THE MASTER AT WORK: Jim Vincolisi, pictured, leads tours of the Santa Margarita Ranch for photographers—both amateur and accomplished.
Jim Vincolisi is stoked. It's just after 7 a.m. in Santa Margarita, and the fine art photographer, gallerist, and now tour guide is wide awake, greeting each bleary-eyed participant on his newly established Santa Margarita Ranch photo tour. I'm the first to arrive at the tour's meeting place, the Margarita Adventures office, where Vincolisi's van is waiting, stocked with water, pastries, and coffee. Fellow participants Don and Leslie soon follow.
"Welcome!" says Vincolisi, returning their mild grumbles with his gleeful laugh, practically a giggle.
Under the auspices of Margarita Adventures, Vincolisi's photo tour takes photographers—both seasoned and amateur—to sites of scenic and historic interest throughout the ranch. On Vincolisi's tour, groups of eight or fewer are granted access to areas generally closed to the public, with Vincolisi playing both historian and chauffeur.
The tour officially starts at 7:30, in order to capture the best light. We wait for the last participant, Jim, to arrive. (I'm referring to the tour's participants by their first names, since they didn't ask to be in this story, and also because there are two Jims.) A flustered Jim insists he's on time and we're all early. Vincolisi just giggles, and we're off.
Photography has gotten sort of easy, hasn't it? It's easier to take a good picture when you can play with the lighting, focus, and filter settings on your iPhone after the fact. Everyone on Instagram is a photographer. Perhaps out of some kind of mostly imagined nostalgia, or simply to make things a good deal harder on myself, I've brought along a Nikon film camera I barely know how to use and several rolls of black-and-white film. I've downloaded an instruction manual and have been practicing at home, on my cats.
On the way to the first site, Vincolisi gives us a rundown of the many owners the ranch has had throughout its history. In 1779, Padre Juan Crespi selected the site as a place to establish an assistant mission to Mission San Luis Obispo de Tolosa. In 1841 the ranch was given to "Spanish playboy" Joaquin Estrada as a land grant. Unfortunately, the effects of a severe drought combined with Estrada's lavish lifestyle (he would hold fiestas lasting weeks at a time) forced him to sell the ranch in the 1860s for $25,000.
"Are those numbers adjusted for inflation?" I call out, pen at the ready.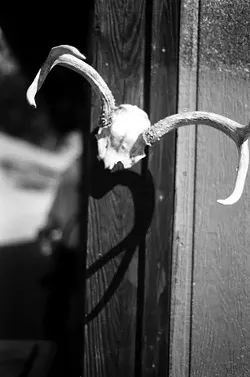 Vincolisi merely giggles, and carries on: The ranch's next owner was Patrick Murphy, a man who played a key role in establishing the town of Santa Margarita. For a time, the ranch prospered, but by 1900 another drought combined with a Murphy's ostentatious hospitality led to the sale of the ranch. The ranch changed hands several times over the course of the next hundred years. Today, the ranch is owned by three local families.
At the first site I have a minor crisis owing to my camera not working. I react with the same panic as one would experience when holding someone else's crying baby. Through a group effort, it is determined that I am out of film. Once replenished, I commence taking a series of photos of varying blurriness. Covered wagons, cattle skulls, old pots: there's nothing I won't take a blurry picture of.
By the second site, I have mastered a few pointers, and my use of dials is no longer merely arbitrary. I enjoy the tactility of the camera, the mechanical crunch of the shutter closing. I am intoxicated by possibility. I can make art out of anything. See that ground squirrel? Bam: Art.
EXPLORE THE RANCH: Upcoming photo tours are Wednesday, Oct. 9; Wednesday, Oct. 16; and Sunday, Oct. 27. To book your tour, contact Jim Vincolisi at 674-0337 or jim@margarita-adventures.com. The tour spans four hours, starting at 7:30 a.m. for best light. The meeting place is the Margarita Adventures office, at 22719 El Camino Real. Amateur and accomplished photographers are welcome.
We see cabins, a lovely pond (feeling particularly arty, I venture out onto a rickety dock, hoping to take some reflection-y shots of the water, but retreat when it seems likely that the structure will collapse under my weight), a vineyard, and a barn.
By the time the sun is high in the sky, I have spent enough time reading the manual in the van to understand a few basic technical things. I am now tossing around insider terms like "aperture." I am also taking better photos, by which I mean the subject is in focus. I spend a lot of time engaging in a kind of photographic intimacy with an old tractor.
We get back on the road and head to the other side of El Camino Real, passing a cemetery to our right.
"There's a wood carving of a clown angel," Vincolisi points out. "Not sure of the significance of that, but … ."
All in all, the tour spans four hours. By the end, I am delirious with sunshine and beauty and wonder. As a tour guide, Vincolisi is not only knowledgeable but abundantly gracious, offering thoughtful assistance on the lowliest of matters. And I've found a new hobby.
Arts Editor Anna Weltner can be reached at aweltner@newtimesslo.com.