Dusk is desolate and bitter cold in Panamint Springs, near Death Valley. Secretive desert animals—coyotes, bats, and big spiders—had just begun to slink out from their hiding spaces when Matt Shara and Kory Worl flipped on several vibrant tubes of white LED light towering taller than their heads. Just like that, the scenery transformed into something else entirely.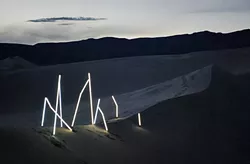 PHOTO COURTESY OF MATT SHARA AND KORY WORL
BRIGHT LIGHT: Illume no. 1, a radiant photo collection crafted by SLO design duo Matt Shara and Kory Worl, is on display now at Kreuzberg through August. Pictured, the artists' bright installation glows against a Panamint Springs desert backdrop.
One look at the duo's new photography exhibit, Illume no. 1, reveals their odd mission in the desert: Bands of brazen light streak the sparse landscape like strange cacti. Other photos show a fiery Montaña de Oro sunset punctuated by LED beams standing, sitting (and nearly swimming) in the foamy surf. These ethereal light installations—created by the design team to project a thick streak of illumination in an otherwise natural setting—have a way of taking you out of everyday life.
"I like that they have character to them," Worl said. "They almost stand as a symbol for a human figure."
If you happened to be walking down Higuera Street on Friday, Aug. 7, you might have seen a radiant square of light hanging just outside the Kreuzberg doorway. Like a neon picture frame, it was an invitation to experience a whole new world, or as Worl likes to call it, "a sensitive container."
"When I'm moved by architecture, there's a physical reminder of values, whether in attention to site or detail or a combination of both," Worl said. "I find it very interesting and very comforting to go to a place where there has been so much interest and so much care put into a space that's meant to hold you."
The new show aims to produce a similar stirring, and the team even created custom curved picture frames to hang on Kreuzberg's curved walls. This way, each image appears to be a true portal to the other side.
Shara and Worl are certainly on the same wavelength, but they met in a boring way: during a 2008 parent-student welcome event at Cal Poly. They were both bound for lives in architecture—and that bound them together instantly.
PHOTO COURTESY OF MATT SHARA AND KORY WORL
VIVID VIEW: Brilliant bands of light play against a Monta'a de Oro sunset.
"Kory was the first person I met at Cal Poly," Shara said with a laugh. "We took a few studios together during our third year, and, as we discovered our own interests in architecture, we discovered they were similar."
Added Worl, "There was an interest in quality of space, material, and human experience."
The word for how you feel when entering a space is actually "phenomenology"—"the study of structures of consciousness as experienced from the first-person point of view"—but the guys don't like to throw such thick academic words around.
"We really try to get to the root of an issue, and not just from a square-footage idea, but more from a very, very human perspective," Worl said.
This philosophy lies at the heart of the duos' work and emanates from Illume no. 1. Constructing bands of light and placing them in different environments ignite an emotional reaction in the viewer that is hard to put your finger on. Perhaps, that's the point.
Shara deconstructed Blackhorse Coffee, where I conducted our interview.
"This site is doing a good job; it's not trying to be anything it's not. It's a coffee shop and people meet and get coffee. Honesty is huge," he said. "Architecture that taps into the root of what 'it is' is a huge interest for us."
ILLUMINATED: Photography exhibit Illume no. 1 will show at Kreuzberg though the month of August. Kreuzberg is located at 685 Higuera St. in downtown SLO.
The friends completed their Cal Poly architecture thesis together with another collaborator, producing the vivid, 5-foot-by-3-foot square of light that hung in front of Kreuzberg for one night only during Art After Dark.
The group broke the elements of the school's architecture building down to its smallest geometrical building blocks. This is the inspiration for the square shape (yes, architects are made from weird stuff, aren't they?).
"We had this idea to build a light for the terrace, where we work at night," Shara said. "It became more ephemeral, less practical, but it really reflected our deeper values of building something that augments the site but still connects you to it."
And, as both architects know, connecting to a space is everything. It could be a doctor's waiting room or a coffee shop filled with photographs of light installations. As long as the space is congruent with the values of its creators, magic can happen. Knowing that, I suggest we enter all spaces at our own risk.
"People emulate environments," Worl said. "They play a role in who we are as humans."
Hayley Thomas is blinded by the light at hthomas@newtimesslo.com.