Six photographers. Six months. Six photo sessions. New Times
is issuing a challenge to local photographers—amateurs, professionals, and students alike. We're looking for six photographers to compete in Photography Wars, a series of six photo shoots plus one special project that will be happening between March and September. The competition will be featured in the paper's Autumn Arts issue, which prints Sept. 23 and readers will be invited to vote for the photographer who should win the war.

Why? Thanks to the advent of digital technology anyone can take a great picture. It might take time. And equipment. But anyone can. So, what happens when you take six talented photographers and give them restrictions and guidelines? Control the space they interact with? We're about to find out.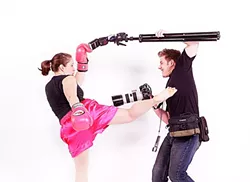 The six photo sessions will take place at an unspecified location, and the photographers won't know what they're working with until they arrive at each site. Once there, they will each be given one hour to shoot. From there, in order to prevent competitors from processing their work to death, they will have one week to turn over their favorite five photographs from the shoot. Locations will be both indoor and outdoor and span the entire county.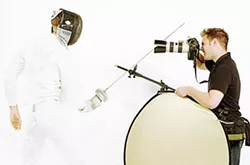 Photographers interested in participating in Photography Wars must submit an application no later than March 15
. The six photographers selected to compete will be announced on April 1. To apply to compete, send the following information to Arts Editor Ashley Schwellenbach at aschwellenbach@newtimesslo.com or bring a physical copy of this information to the New Times
office at 1010 Marsh St.: name, city of residence, e-mail and phone number, a description of photography background including any formal education and past exhibits, a description of your work, and, if possible, a website where your work can be viewed. In addition to this information, please submit six photographs that represent your work, either as physical or digital copies. Before entering, take the time to consider that the competition will require a time commitment from each competitor. Any questions about Photography Wars can be directed to aschwellenbach@newtimesslo.com.
Arts Editor Ashley Schwellenbach is epic. Send psalms in her praise to aschwellenbach@newtimesslo.com.