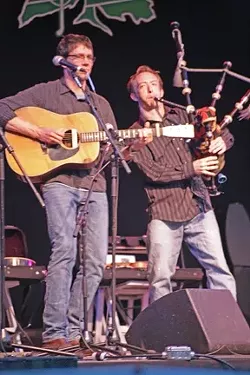 PHOTO BY GLEN STARKEY
MUSICAL BRETHREN : Stuart Mason and David Brewer of Molly's Revenge delivered the goods.
What's your perfect weekend? Maybe it's lounging on the couch in sweats and watching the Lord of the Rings trilogy. Maybe it's playing 36 holes of golf with your cronies. Maybe it's rummaging through garage sales, thrift shops, and antique stores.
For me, the perfect weekend is filled with music, friends, and food. I got that in spades at this year's Live Oak Music Festival, where I saw more than a dozen remarkable acts, witnessed plenty of impromptu campsite jams, and hung out with an amazing group of friends to taste wine and beer and create communal meals, all under the sleepy oak trees of Santa Barbara County.
Sure, I slept on a leaky air mattress, took communal showers in less-than-warm water, and somebody out there stole the tie-dyed T-shirt I made in the craft area (that is NOT the Live Oak way, jerk!), but I also saw the most amazing '50s vintage trailers campsite, listened in to Joe Craven wax poetic to Old Man Luedecke over dinner backstage, and got my first Father's Day card from my girlfriend's son (Thanks, Jaden!).
I still marvel at the instant community that springs up every year at Live Oak. It seems to attract people like me whose perfect weekend is kicking back with friends old and new to listen to musicians—some I've heard, others not—and enjoy the camaraderie of fellow travelers. Till next year, Live Oak. Bravo!
Glen Starkey takes a beating and keeps on bleating. Keep up with him via twitter at twitter.com/glenstarkey, friend him at Myspace.com/glenstarkey, or contact him at gstarkey@newtimesslo.com.
A FACE IN THE CROWD : The myriad acts on Live Oak's main stage garnered rapt attention from the throngs of concertgoers.
THE LITTLEST ROCKER: A kid gets into the spirit atop the shoulders of his dad.
HAVING A BALL : The crowd went nuts for Brazilian-style samba band SambaDá.
NIGHT CROWD!: Spectators watched late into the night during the Live Oak Music Festival.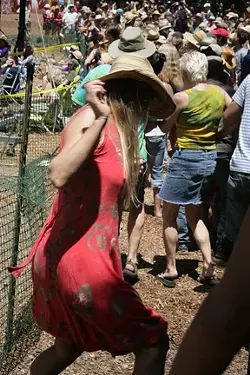 SOLO DANCER : A dancer got her groove on at the edge of an expansive crowd.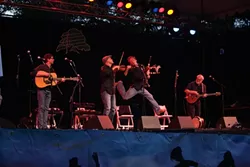 JUMPING FOR JOY! : Molly's Revenge got the crowd revved up with their high-energy Celtic music.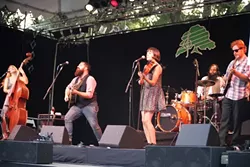 SHOWMAN! : The David Mayfield Parade wowed the crowd with its front man's enthusiastic showmanship.
THE MAIN STAGE: The Texas Tornados presented an amazing Tex-Mex show on the main stage.
BLING NOT BOMBS : Forrestt Williams displayed one of the From War to Peace items he sells, made from bronze recovered from decommissioned missile systems.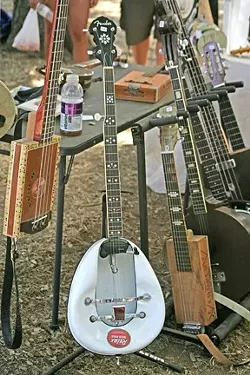 BEDPAN BANJO! : A luthier displayed a vast collection of his unusual one-of-a-kind stringed instruments in the vendors' area.
KIDS' CRAFTS : A little girl checked out the crafts drying on a table.
VINTAGE TRAILER CAMP!: This Live Oak camp created a vintage '50s trailer theme.