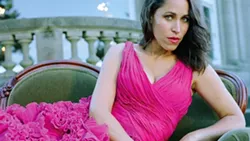 PHOTO COURTESY OF CHINA FORBES
CHANTUESE!: Lead singer China Forbes spoke to New Times about all things Pink Martini.
Fun, classy, but thoroughly accessible—Pink Martini delivers the sort of show you might have seen in Vegas or Paris or London in the '60s, the sort of show that would have seemed anachronistic even then as rock'n'roll was consuming all the pop culture oxygen. Hailing from the same sensibilities of, say, Esquivel's space-age bachelor pad music, Pink Martini does timeless melodies and classic songs.
On their newest album, Get Happy, they tackle tunes such as "Ich Dich Liebe," made famous by Mamie Van Doren from the 1964 German film Freddy und das Lied der Prarie, and "Quizás, Quizás, Quizás," the 1947 Osvaldo Farrés song, sung in Spanish. Other tracks are in Japanese, French, Chinese, Farsi, Turkish, and Romanian!
I think my favorite song on the album is one written by lead singer China Forbes and one of the album's many special guests, Philippe Katerine, called "Je ne t'aime plus (I don't love you anymore)," an effervescent sounding duet with hilarious lyrics that belie the happy sound:
(Translated) First sung by China: "I am angry with you tonight/ Because you told me that I belong to you/ And I think you are fat/ And I know that you are bald/ And I think that I don't love you anymore." Then sung by Philippe: "Even if my hair returned one day/ You still wouldn't want more of my love/ Even though you think I am fat/ Even though you know I am bald/ Why don't you love me any more?" Then China again: "I would like to be free like when I was small/ How am I able to love an egotistical brute/ Even if you were thin once more/ With a full head of hair/ I think that I don't love you anymore." Philippe: "Let me hold you again once more/ Do you remember when we walked in the woods?/ And I thought that you were beautiful/ And I knew that you were the one/ Who would stay with me forever." China: "Ahh … you are so persistent!/ You are the wolf? And I, the sheep who bleats/ I thought that you are fat/ And I think that you are bald/ But I think that you will be my lover." Philippe: "I will be your crème d'amant/ And we will be lovers."
It's such a charming melody. I spoke to China via telephone when she was home in Portland, asking how she and French singer Philippe Katerine came up with the idea.
"It's sort of an absurd moment. I don't exactly remember, but he said we were on a bed, hanging out at some loft in Portland while he was here with his band, and we were just making up these silly songs and making really unflattering statements," she vaguely recalled. "It was fun to reconnect 16 years later and sing that song, and for the record, he was not fat and only a little bald."
Wow, 16 years in the making. Even back then China was an instrumental part of Pink Martini, which started in 1994 when band leader Thomas Lauderdale was working in politics, thinking he would one day run for Portland mayor. After attending various fundraisers to get a handle on the political landscape, he realized the music at these events was underwhelming to say the least, so he formed Pink Martini and called his former Harvard classmate China Forbes to join in the following year. She's been there ever since. Has the band evolved or has it remained true to its earliest conception?
"It's definitely … well, it started out … ah, let me put it this way. It's almost returned to its earliest incarnation. It certainly evolved from a band formed to play covers to more a classic band with more original material, but it's returned to more of these vintage cover songs."
PHOTO COURTESY OF PINK MARTINI
LIGHT UP YOUR LIFE!: Pink Martini and lead singer China Forbes performs on Dec. 4 at the PAC.
And how are these tracks chosen, pop songs from Iran, Japan, China, and beyond?
"Thomas often finds them, or sometimes fans will suggest songs, come up after a concert and say, 'Oh, I know an amazing song in Farsi,' and Thomas does a lot of research, goes to a lot of record stores."
China took a yearlong hiatus from the band when her vocal chords needed surgery, and she was replaced by Storm Large. Now they both share lead singer duties. For instance, during their current tour, China performs the first ten dates, and Storm performs the final eight. Are both she and Storm capable of singing one another's songs as they appear on the new album, or is the repertoire different depending on who's singing on any given night?
"It's different, but we're both capable of singing whatever songs we have to. So far I have sung the Farsi song just once, and I have not sung the Romanian song. She does the German songs, so yeah, it's sort of certain songs I do and she does."
China speaks French and Italian, but what about all these other languages she sings in? How does she learn the other songs?
"I meet with someone who's a native speaker and get coached on the pronunciation and meaning and then when I sing them I just pretend I'm a little bit drunk. I find it sounds more authentic that way," she quipped.
Has she ever had a native speaker come up after the show and assume you speak their language?
"Sometimes … ," she admits.
Pink Martini seems to be filling a vacuum in the music market. It's not exactly nostalgia, but maybe a need for some sophistication and a sense of humor? How does China describe the thing that's missing that the band so aptly fills?
"I would imagine it's the very homemade quality about our sound, because it's not very packaged or slickly produced and auto-tuned to perfection. We make mistakes, play real instruments, and I think you feel the hand more of the people creating it, and maybe people are tired of the programmed electronic-based pop. If you don't want to go strictly with classic music, it's sort of in between and people are hungry for it."
Pink Martini, with China Forbes on vocal duties, plays Wednesday, Dec. 4 at the Cal Poly Performing Arts Center (7:30 p.m.; all ages; $40.50 to $85; call 756-4849). What can you expect from the experience?
PHOTO COURTESY OF LED ZEPAGAIN
ALMOST ZEPPELIN!: Led Zepagain: The Ultimate Tribute to Led Zeppelin, plays on Nov. 30 in SLO Brew.
"It's a very life affirming band and the music leaves people feeling great joy and hope, so anyone who comes will too!"
I also highly recommend the new album Get Happy, which debuted at No. 1 on Billboard's Jazz Albums chart and features special guest vocalists Phyllis Diller, Philippe Katerine, Meow Meow, Ari Shapiro, The von Trapps, and Rufus Wainwright.
Old punks, classic rock, rap, alt, and jazz … oh my!
SLO Brew has all your music genre desires covered this week starting with punk icons Suicidal Tendencies this Wednesday, Nov. 27 (8 p.m.; 21-and-older; $30 presale or $33 at the door). The Venice-based act formed in 1983 and was instrumental in developing the skate punk sound. Outspoken vocalist Mike Muir has been the one constant in the thrash metal that's had dozens of members over the years. They have a new album, 13, their 13th studio album.
PHOTO BY STEVE E. MILLER
THE MONROE!: New Times Music Awards "Best Live Performer" winners The Monroe, featuring Morgan Monroe, play Dec. 3 at SLO Brew.
Your only hope for seeing Led Zeppelin again is in heaven, but your next best chance is Led Zepagain: The Ultimate Tribute to Led Zeppelin, playing Saturday, Nov. 30 (8 p.m.; 21-and-older; $13 presale or $15 at the door). The band presents the 1977 tour, when Led Zep was at the peak of its powers. Lasers and fog, plus updated lighting, video screens and more create a complete multi-media experience.
Get your hip-hop fix with Problem with TeeFlii and Clyde Carson, Monday, Dec. 2 (7:30 p.m.; all ages; $12 presale or $13 at the door). The 26-year-old artist Problem (aka Jason Martin) was born in Germany and raised in Compton. His musical inspirations are Eminem, NWA, Lil Wayne, Isley Brothers, Prince, Aaliyah, R.Kelly, The Temptations, Dj Quik, The Jacksons, and DeBarge.
PHOTO COURTESY OF CHARLIE HUNTER AND SCOTT AMENDOLA
TWO ON THE TOWN!: Cutting edge jazzmen Charlie Hunter and Scott Amendola bring their unique sounds to SLO Brew on Dec. 4.
The Silent Comedy with The Monroe and Naked Walrus play Tuesday, Dec. 3 (7:30 p.m.; all ages; $11 presale or $13 at the door). San Diego-based The Silent Comedy is a group of musicians "mixing Americana, folk, and rock'n'roll into a sound that is best understood by experiencing their live show," they say.
Finally, jazz greats Charlie Hunter and Scott Amendola perform Wednesday, Dec. 4 (7 p.m.; all ages; $16 presale or $18 at the door). These two longtime collaborators are both cutting edge artists and well known in the jazz world. With Hunter on guitar and Amendola on drums, these two will take you to unexpected places.
Huge in Hollywood!
PHOTO COURTESY OF SHAUFRAU
HOLLYWOOD!: Shaufrau, a Paso-based band that is blowing up the Sunset Strip in Hollywood, makes a rare local appearance on Dec. 1 at Frog and Peach.
Shaufrau is coming to Frog and Peach on Sunday, Dec. 1 (10 p.m.; 21-and-older), and though this duo is based in SLO County, they seem to play Hollywood more than their home turf (They'll be at the Whisky A-Go-Go on Dec. 15, for instance).
"I think you'll get a kick out of our story," said guitarist Khristian Shaufrau. "I'm Khristian and my fiancée is Heather and we were raised here in San Luis Obispo County. We are in the band Shaufrau and are blowing up in Hollywood on the Sunset Strip.
"It all started almost two years ago today in November. Heather and I were in Hollywood for one night to see a friend's band play. It was Heather's first time ever in Hollywood. It was my first time in Hollywood for a purpose other than getting drunk and chasing skirt. We got done with the show and were all excited, singing improvised songs a cappella on the Sunset Strip and this guy, T-Roy Berry, owner/founder of Surge Event Hollywood, walks up and says he loves the vibe and sound and offers us a slot at the Viper Room in West Hollywood. Keep in mind we played our first open mic at the end of February that same year. So we wrote a couple of songs, had a friend's nephew drive out from Arizona and play drums, which we had never heard play the drums and he had never heard any of our songs until the curtain opened at the Viper Room. I like to say we faked it well enough to get booked back. This time with no drummer we faked it again well enough to get booked back a third time. All of a sudden, Bekah Stern from The Whisky A-Go-Go e-mails saying they would like to book a show with us. Then AMPLYFi wants us to play Key Club, House of Blues, Universal City Walk, Good Hurt Club, SXSW, and on and on.
"We are so fricken new to the 'Music Scene' it's a bit embarrassing sometimes," continued Khristian. "There are quite a few people of interest that think we are going to do real well and love our style; by the way everyone agrees that our sound is definitely a new genre we coined, 'Modern Revival.' I don't know, it could be all bullshit. I do know that every time we play in front of people we make people feel better and create new fans. It would be awesome if sometime you are lacking material you could maybe mention that this couple from lil' ol' Paso Robles has made a mark and a name for themselves,
in and on one of the most difficult music scenes in the world to break in on: The Sunset Strip!"
Some songs are getting radio play, TMZ interviewed them, Access Hollywood may play their music on its show, and they've been getting ink in various music publications. This may be a band on the verge of greatness.
Keep up with Glen Starkey via twitter at twitter.com/glenstarkey, friend him at facebook.com/glenstarkey or myspace.com/glenstarkey, or contact him at gstarkey@newtimesslo.com.