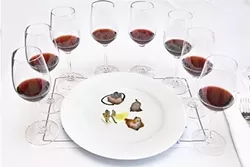 PHOTO COURTESY OF WORLD OF PINOT NOIR
BACK TO SCHOOL : Learn something new about Pinot and experience some delicious taste combinations at the Iron Sommelier seminar during WOPN.
I've just received a very real indicator that the economy is improving: The fabulous World of Pinot Noir (WOPN), an annual two-day wine celebration in Shell Beach, is selling out fast. And this event doesn't take place until the first weekend of March 2010. This time these wine zealots will raise a hearty toast to their 10th anniversary of bringing Pinot Noir enthusiasts from around the world together on the Central Coast. The extravaganza packs one amazing educational experience about Pinot Noir into two fun-filled days that you'll hope never end.
The events, all of which can be purchased à la carte, include informative and engaging seminars; two days of grand tastings with a roster of unique wineries that specialize in Pinot Noir; three Pinot Noir-focused dinners with renowned chefs from the Central Coast and Hawaii; a rare Burgundy tasting with Domaine Fourrier of Gevrey-Chambertin; and the grand final party that takes place at Au Bon Climat with a Santa Barbara-style Paulee dinner. Besides the events taking place in Shell Beach, seminars are hosted by Pinot Noir producers throughout the South Central Coast, assisted by a panel of sommeliers from the best restaurants in the country. It's the premise of the movie Sideways come to life, and if you're not obsessed by Pinot Noir yet, attend any session of this monumental event and you'll soon be joining the rest of us in the cult.
"Unlike last year, we're filling up fast, and many events are close to sold out," reported Felicia Montemayor, event coordinator for WOPN. "But there are still tickets available for most events, and they make a great Christmas present. We can have the tickets back to you in one day with a confirmation letter, or we can provide a handwritten card with the recipient's name on it."
The most difficult decision for me was over the Friday night dinners. One features chef Budi Kazali of the Ballard Inn, this year's winner of "Ultimate Central Coast Chef" contest in CCM. I was among the judges in the contest and have always been a strong advocate of this talented chef. At Lido in Dolphin Bay Resort, Kazali will prepare his French-Asian cuisine to pair with white and red Pinots. At the Cliffs Resort, chef Roy Yamaguchi, known worldwide for his fusion cuisine at Roy's of Hawaii, will also prepare a multi-course meal to complement white and red Pinots. Yamaguchi opened his first restaurant in Hawaii in 1988, and now has 33 Roy's worldwide. I've had his amazing foods many times and dine in his restaurants whenever I'm fortunate enough to be near one. I'm excited about seeing this great chef here to participate in WOPN.
The winery seminars take place on Friday with a choice of two; again, good luck trying to decide which one to attend. Seminar Combination A, held at the Cliffs Resort, features a 10-year retrospective of the renowned Williams-Selyem library Pinot Noirs, lunch by Marisol chef Gregg Wangard, and an afternoon tasting with Maximilian Riedel where participants walk away with a set of crystal Pinot Noir glasses worth almost as much as the admission price. Seminar Combination B, held at the new Foxen Winery in Santa Maria Valley, offers a vineyard examination of the Santa Lucia Highlands Pisoni Vineyard by a panel of esteemed winemakers who make Pinot Noir with grapes purchased from Pisoni, including Gary Pisoni, James Hall of Patz & Hall Wines, Gary Franscioni of Roar Wines, Adam Lee of Siduri Wines, Jeff Fink of Tantara Wines, and Rob Jensen of Testarossa Winery. Lunch will be prepared by New West Catering with barrel tasting of Pinot Noirs in new and neutral oak barrels by each of the participating wineries.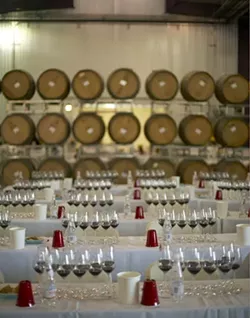 PHOTO COURTESY OF WORLD OF PINOT NOIR
The Friday and Saturday Pinot by the Sea Grand Tastings take place in the afternoon at the Cliffs with 100 different Pinot Noir specialists each day. Gourmet appetizers will be prepared by the Cliffs' team of talented chefs. The Cheese Shop of Carmel and Santa Barbara will be slicing up their outstanding array of artisan cheeses. And there will be a silent auction of collectible Pinot Noirs in varied-size bottles, including double magnums.
Saturday morning, seats are still available at the Iron Sommelier seminar and tasting at Lido in Dolphin Bay Resort, although the Domaine Fourrier seminar is sold out. I've attended the Iron Sommelier since it started and always find it rewarding. No matter how much you already know about Pinot, you'll experience some delicious taste combinations and learn something new. You'll walk away better informed about choosing wines with your meals whether at home or in restaurants; I certainly have. The Paulee dinner at Au Bon Climat presents extraordinary food and wine, but this event is not for the shy at heart.
"If you're not familiar with the Paulee dinner, it's a walk-around wine tasting and dining that's unlike anything you've experienced before," Montemayor explained. It's not a sit-down, formal dinner, but it features chef Budi Kazali of the Ballard Inn and many other excellent chefs, cooking at stations set up around the winery. Guests walk up to the chefs to get a dish of food from each one. "This event is for the adventuresome Pinotphile. Everyone brings one or two magnums of Pinot Noir to share, and you walk around the winery tasting the Pinots among winemakers and sommeliers. It's a two-day event crammed into three hours, and we're here to have fun!"
Bus transportation is available for all events held outside the Cliffs and Dolphin Bay resorts, but you must reserve early to guarantee your seat. And at this event there's so much wine to taste you won't want to drive anywhere afterward without a designated driver. Ticket prices are per person: Dinners are $195, seminars are $185, and the grand tastings are $95. For details and tickets visit wopn.com or call Felicia Montemayor at 489-1758. Although this tasting is for the serious "Pinotphile," at these prices, the winemakers and consumers who regularly partake in the experience at WOPN wouldn't dream of missing it.
You can reach New Times' Cuisine columnist at khardesty@newtimesslo.com.