PHOTO BY STEVE E. MILLER
TIMES TWO : Ash Mehta, in partnership his wife Lissa Hallberg, have reproduced in Pismo Beach the very successful wine bar they own in Solvang
W
hen word got out the owners of Tastes of the Valleys (TOTV) in Solvang were opening a clone of their popular wine bar in Pismo Beach, I was excited. If you're into wine like I am, wine bars are great for discovering new brands, new varietals and new blends, and for meeting like-minded wine lovers. TOTV has a definite Central Coast focus when it comes to wines, but their contemporary, upscale tasting room reminds me of the vogue Ferry Plaza Wine Merchant in San Francisco.
TOTV has an array of excellent wines available by the taste, glass, bottle, or flight. "We'll serve any wine in the house by the glass if someone wants to order it," owner Ash Mehta grinned, but that doesn't include tastes. "I'm waiting for someone to come in and order a glass of the Seasmoke." Undoubtedly, it's one of the Central Coast's most popular Pinots thanks to the Oscar-winning Sideways, but there are many other fabulous wines here: Au Bon Climat, Margerum, Chamisal Vineyard, and far more.
The focus is big on Santa Barbara County, but Ash is expanding his selections from SLO County. When locals come in, as Ash did with me, he asks which wineries are their favorites. Later he visits winemakers they recommended to see if he wants to spotlight their wines in his shop. TOTV in Pismo Beach is owned solely by Mehta and his wife, Lissa Hallberg. In the original Solvang version, they have other business partners. Ash said they were looking for a place to open that was closer to their home in Shell Beach. He explained that he asked his partners if they would allow them to use the same name and they agreed. "It was a good thing for both tasting rooms. When travelers discover one of the tasting rooms, the experience motivates them to stop in at the other tasting room.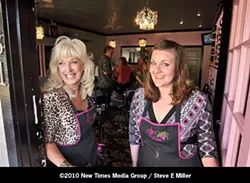 PHOTO BY STEVE E. MILLER
BEGUILING : Cindy Giovacchini and Johnna Bramblett have opened an intimate wine bar within steps of the popular Cracked Crab restaurant on Price Street.
Mehta is excited about a business preparing to open across the street, Utopia Bakery. He's working with them to bring their sandwiches, wraps, and bread in for sale in TOTV after the bakery closes at 3 p.m. He will also be offering Full of Life Flatbreads you can purchase to enjoy with your wine tasting.
TOTV offers an amazing array of great wines by the glass. They use a wine preservation system called "Wine Station by Napa Technology," using argon gas to keep the open bottles from oxidizing. They offer tastes of anything from a large list of possibilities. Of course, the best value is in ordering flights that range from $10 to $15 and $20 for six wines, titled Taster Flight, Club Flight, and Grand Cru Flight, respectively. Flights are also available from one producer, like Arcadian, or you can also order a custom flight based on your preference for Pinot Noir or Bordeaux blends. The best part of all: the pricing is lower than retail from the winery.
"The focus here is to be a local bottle shop where you can taste before buying," Mehta explained. "You'll never find a bottle priced above retail, and we always provide locals discounts." For example: taste Au Bon Climat's flagship Knox Alexander 2007 Pinot Noir, it's $4.50, a glass is $14.50, or a bottle enjoyed here is $50, only $5 above retail. But buy that bottle to go, it's only $42.50.

FIDDLE FEST AT FIDDLESTIX VINEYARD :

Saturday, June 19, 1 – 5 p.m.

In celebration of this noteworthy vineyard in Lompoc, 14 great wineries that produce Pinot Noir, white, or Rose wines from its grapes will gather for a afternoon of good times. Each winemaker pours several wines for tasting, while chef Frank Ostini of the Buellton Hitching Post BBQ will be grilling up an awesome lunch. It includes live music and an auction of collectible wines and private party tastings. It benefits the nonprofit group, People Helping People, for vineyard workers. Pre-sale tickets cost $72.80 each (the vineyard's mile marker on Santa Rosa Road is 7.28). You can still reserve tickets at fiddleheadcellars.com/events or call 800-251-1225. If they aren't sold out, tickets will be sold at the gate for $85 each.
"This is serious wine tasting. When you order a flight, we bring the wines out one by one so we can talk about them and provide a learning experience," Ash pointed out. "People come here for the wine tasting experience." Watch for their upcoming grand-opening announcement, a four day celebration with winemakers and chefs, around the end of June.
FIND IT HERE:

Tastes of the Valleys

911 Price St.

Pismo Beach, 773-8466


Vino Versato
781 Price St.
Pismo Beach, 295-6622
The tiny but cozy Vino Versato (VV) wine bar is all about fun, thanks to the super-friendly owners, Cindy Giovacchini and Johnna Bramblett. In fact, that was their plan for this respite in busy downtown Pismo. "We're old school. We hand pour the wines, love chatting with customers, and we carry wines no one else has," Giovacchini explained. Should you find the place packed inside, there are picnic tables out front where you can kick back with a glass of wine or two, and something to nibble on. With the Cracked Crab restaurant next door, the patio provides prime spots for people watching.
From what I've witnessed, people coming are enjoying the company of each other. "Look around," Giovacchini nudged me, when VV filled up suddenly. "People all start talking to their neighbors, and getting to know each other. It's always like that in here." But it's not just their patrons that have them excited; they're establishing good relationships with local vintners.
They serve only wine and beer, but they offer a menu of wine-friendly appetizers. In fact, weeknights from 5 p.m. to 6:30 p.m. the ladies offer a "5 at 5" weekday special: You get a choice of one of six white and red wines offered and choice of one appetizer for $5 each. Their menu includes such appetizers as roasted artichoke endive boats with green beans, white-bean hummus and a salad drizzled with toasted balsamic dressing, and such desserts as Belgian chocolate pudding with wafers and French truffles—not a bad deal.
"We want to be a destination, not a location," Giovacchini noted. "We're also lady friendly. We tell everyone, look for the bright pink door on Price St."
You can reach New Times' Cuisine columnist at khardesty@newtimesslo.com