"What are the three most important things to consider when opening a new restaurant?" ma"tre d'hŸtel/instructor Jean-Michel Jeudy asked my freshman class on our first day of attendance at the California Culinary Academy in San Francisco in 1987. "Location, location, location," the French major domo contended. Twenty-one years later his admonition still holds true.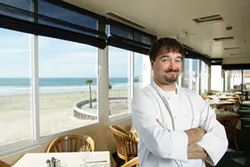 It's not difficult to imagine the frustration of a talented chef whose restaurant is in an out-of-the-way-corner of Pismo Beach that gets no drive-by traffic, has absolutely no signage, and isn't within eye-view of the street. That would be SeaVenture Resort, where chef Paul Novak prepares an excellent menu one rarely finds in a hotel dining room. He's been SeaVenture's chef since mid-2005 and has turned this hotel's dining room around. For years it seemed there was a revolving door to its kitchen, so many chefs went through it but never stayed long.
SeaVenture is one of the nation's number one spots for a beach wedding, but Novak has made the dining room a destination for locals. Two weeks ago I attended a media dinner to sample his new fall/winter menu. He impressed everyone with his soulful dishes that highlight seasonal produce in traditional southern recipes. He described the new menu as a "dynamic mix of comfort cuisine and clean, light flavors." Those dishes and many other exciting new treats on his menu will be presented to their guests beginning Thursday evening, Nov. 13.
Among the starters was an irresistible winter chicory salad of radicchio, endive, and frisee, with apples, toasted walnuts, and creamy blue-cheese dressing, topped with fresh, crispy bits of smoky bacon ($8). We all loved it. Other new starters include clam- and-mussel steamers with pancetta, herbs, white wine and cream ($14), and pan-fried Cayucos abalone with spicy remoulade and winter root slaw ($15).
One of my favorite dishes was the New Orleans seafood jambalaya, chockablock with clams, mussels, tiger prawns, sea bass, and Andouille sausage cooked in dirty (from herbs and seasonings) rice ($25). Next we were served a delicious mustard-crusted sea bass with horseradish potato rosti, creamed Bloomsdale spinach, and fried sweet-potato strips ($32). As if that wasn't enough, then came the double-rib pork chop, seasoned with sea salt, brown sugar, and sweet paprika, with decadent sides of Napa cabbage sauteed with that fabulous smoky bacon, and Granny Smith-apple-and- caramelized-onion marmalade ($26). The last dish received mixed reviews (perhaps because we were stuffed), but pork lovers will undoubtedly like this comforting dish.
Other new entrees include an eight-oz. filet mignon crusted with blue cheese ($36), potato gnocchi with braised lamb ($25), and braised lamb shank with parmesan risotto ($30). Everyone complained of being stuffed but still managed to eat dessert. I tasted the quintessential crÀme br8lee with its crackly caramelized sugar top and the warm apple crostada with caramel sauce and Doc Burnstein's vanilla ice cream, both quite good. All of the desserts, except the ice creams, are made by Novak's team of cooks.
When I met Novak in ɉ he explained his cooking style was influenced by two chefs he respects: Sean Kelly of Aubergine Cafe in Denver and David Gingrass of Postrio in San Francisco. Novak left the latter to move to Shell Beach, attracted by the Central Coast wine scene. He was a welcome and needed addition to the Five Cities restaurant scene then and he still is: we don't have many choices for fine dining. Besides Novak's fine menu, SeaVenture provides stunning views of the Pacific, from the third-story patios or inside the restaurant. It's a great choice for a romantic dinner or a leisurely Sunday breakfast or lunch.
Friday – Sunday, Nov. 14 - 16
Last Chance for Reservations—The 3rd Annual Friends of James Beard Benefit Dinner
When Lido at Dolphin Bay Resort opened in fall 2006, executive chef Evan Treadwell established the first Friends of James Beard Benefit, now an annual event weekend celebration. It's nothing less than James Beard, respected as the father of American gastronomy (1903-1985), would've done himself. Admittedly there's nothing inexpensive about this event, including the tab at $200 per person for reservations. But this epicurean feast goes far beyond a treat for guests. It benefits the JBF and Cal Poly's Sustainable Agriculture Resource Consortium (SARC).
Beard was a syndicated food columnist, frequently on television and radio, who advised food producers and chefs. He wrote nearly two dozen cookbooks and established a cooking school in his Greenwich Village home. Julia Child made his townhouse America's first culinary center, the James Beard Foundation (JBF), which honors chefs, restaurateurs, journalists, and cookbook authors worldwide.
Lido's weekend celebration begins Friday at sunset with a Champagne and caviar tasting with samples from around the world of grand cuvees and the selections of premium quality caviar, $95.00 per person. On Saturday, "the next generation luncheon" will feature three courses by Treadwell and his team paired with wines by three new local winemakers, at $65 per person.
Sunday night's dinner begins with passed appetizers and Laetitia sparkling wine followed by a seven-course meal. It's a command performance with such epicurean treats as: baby red abalone with Talley Chardonnay Oliver's Vineyard butter-poached Maine lobster with Tangent Albarino foie-gras-and-scallop ravioli with Laetitia Pinot Noir Les Gallets ballotine of guinea fowl with Domaine Alfred Grenache Wagyu beef rag_ with McKeon-Phillips Caberent Franc ricotta rosemary cheesecake with Claiborne & Churchill Muscato Douce Amie and Scharffen Berger Chocolate and persimmon bread pudding with Saucelito Canyon Late Harvest Zinfandel.
The 3rd Annual Friends of James Beard Benefit, Lido at Dolphin Bay Resort in Shell Beach, Friday through Sunday, November 14 - 16. Reservations required: contact Lido event coordinator Kari Roose at 773-4300.
Seaventure Resort & Restaurant
100 Ocean View Avenue, Pismo Beach
773-4994, www.seaventure.com
---
You can reach New Times' Cuisine columnist at khardesty@newtimesslo.com